First-tier motherboard makers, including Asustek Computer and Micro-Star International (MSI), have revealed their latest graphics cards adopting AMD's Radeon HD 3000 series GPUs.
Among the offerings are Asustek's EAH3870X2/G/3DHTI/1G and EAH3870X2/G/HTDI/1G graphics cards.
The EAH3870X2/G/3DHTI/1G is equipped with upgraded DRR3 0.8ns memory modules with two exclusive extra DVI outputs. The card also features specially designed dual fansinks.
The EAH3870X2 series also provides several features, including EMI shielding for stable signals, DIP Spring Chokes for better cooling and Japanese polymer capacitors for system stability.
MSI also unveiled its latest 55nm graphics cards, the ATI R3870X2, R3600 and R3400 series.
The ATI R3870X2, R3600, and R3400 series support ATI CrossFireX and Hybrid Graphics technology to provide better performance with multiple GPUs, while MSI is also including its exclusive image quality enhancement technology, Vivid for card users to easily adjust their screen display settings.
Asustek's Radeon HD 3870X2 series graphics card specifications

Model

EAH3870X2/G/3DHTI/1G

EAH3870X2/G/HTDI/1G

Graphics engine

Radeon HD 3870X2

Video memory

1GB DDR3

Engine clock

825 MHz

Memory clock

1.8GHz (900MHz DDR3)

Memory interface

256-bit

DVI Max. resolution

2560×1600

Bus standard

PCI Express

DVI output

Four DVI-I

Two DVI-I

HDCP compliant

Yes

HDMI output

Yes, via DVI to HDMI adaptor

D-Sub cutput

YES, via DVI to D-Sub adaptor

HDTV output

YES, via HDTV Out cable
Source: Company, compiled by Digitimes, January 2008
MSI's ATI Radeon HD 3000 series graphics card specifications

Model

R3870X2

R3650

R3450

Memory interface

256-bit x 2

128-bit

64-bit

Engine clock speed

850MHz

750MHz

600MHz

Memory clock speed

1800MHz

1600MHz

1000MHz

Stream processing units

320 x 2

120

40

Texture units

16

16

8
Source: Company, compiled by Digitimes, January 2008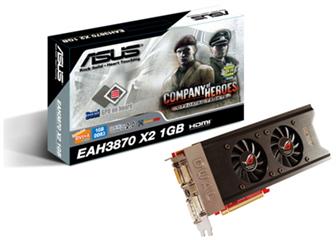 Asustek EAH3870X2/G/3DHTI/1G graphics card
Photo: Company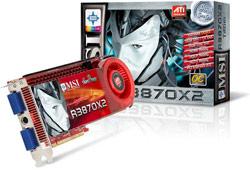 MSI R3870X2 graphics card
Photo: Company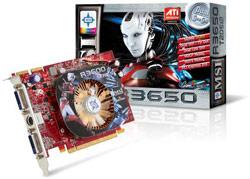 MSI R3650 graphics card
Photo: Company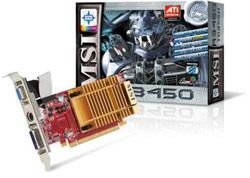 MSI R3450 graphics card
Photo: Company