With the impending arrival of the 5G generation in Taiwan, CIRC has developed its 5G autonomous drone solution that leverages Chunghwa Telecom (CHT)'s high-speed 5G connection to achieve remote control of the autonomous drone with real-time video streaming at 4K resolution. President Tsai Ing-wen also participated in the demonstration as the guest of honor to witness the value of application that is made possible with the 5G AIoT Intelligent Drone.
With the dawn of the 5G+AIoT era, the autonomous drone is poised to be the IoT intelligent product of choice that can take full advantage of low latency, high bandwidth, and big connection that 5G mobile network promises to deliver. CIRC has taken the lead to develop fully autonomous AI drone platform technologies and applications by integrating the latest 5G communication module from Thales Group coupled with CHT's 5G mobile communication. In the demonstration, the drone took off from the experimental field of CHT's Training Institute in Banqiao on autopilot, taking the default route and designated flight mode to inspect the perimeters of the training institute from the air while transmitting the image captured and flight data to CHT's HQ in Taipei City via 5G real-time video streaming at 4K resolution, making it possible to monitor the status of the Training Institute at any time. Once the drone has completed its mission, it will automatically return to the charging station at the top story of the Training Institute for automatic charging without the need for manual replacement of the battery.
As an AIoT product, the 5G autonomous drone has proven its capacity to collect quality big data aerially at high performance. Thanks to the 5G high-speed network along with various AI applications, users will now have access to real-time decision-making capabilities for different fields of vertical application such as security surveillance, key infrastructure inspection, power line inspection, disaster and environmental change management, aerial logistics, and so forth at high performance and service quality that is expected for the 5G era.
After collaborating with telecom service providers from Japan and Korea earlier in April this year, CIRC has once again partnered with CHT- the leading domestic telecom service provider to integrate relevant innovative technologies of 5G network, drone solution, IoT, and AI to create comprehensive aerial intelligent applications using 5G technologies, paving the way to the development of more innovative 5G solutions.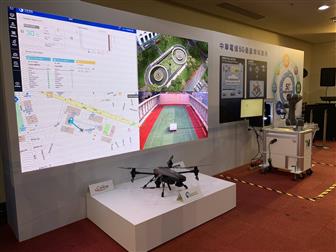 CIRC's 5G autonomous drone solution to take off with CHT's collaboration
DIGITIMES' editorial team was not involved in the creation or production of this content. Companies looking to contribute commercial news or press releases are welcome to contact us.