Pat Gelsinger, CEO of Intel, said that with the surge of global digital transformation, the four superpowers of Ubiquitous Computing, Pervasive Connectivity, Cloud to Edge Infrastructure, and Artificial Intelligence have become the core elements, and the world has embraced this trend even faster under the impact of the pandemic in the past two years. Intel has a complete set of hardware platforms, software technologies, open architecture, and ecosystem resources that have led many industries in digital transformation. And the digital innovation in the healthcare industry is actively developing at a faster pace, turning people's imagination of technology around and introducing solutions that will help the future.
Hospitals around the world currently generate up to 3 terabytes of data per day, accounting for 30% of the world's electronic data, growing even faster than manufacturing, financial services and media, but less than 3% of that content is fully analyzed. Intel works with many medical and academic institutions around the world, in the Americas, Europe and Asia, and with health and life science leaders to turn this big data into meaningful and actionable insights and provide cutting-edge technology to remove obstacles on the road to smart healthcare.
Intel has observed the trends in the healthcare industry and has made them one of the priorities for development. The first is healthcare and payment reform in which the previously universal, volume-based care will be replaced by a value-based care, with each patient treated differently based on symptoms and severity of illness, and priced according to the quality of care. More importantly, healthcare facilities are able to allocate resources accordingly.
The next step is the development of more precise and personalized medicine, which caters to the attributes of different patients and provides more tailored treatment. Precision medicine is an obvious example, by using further information, such as blood/DNA analysis, imaging, tissue biopsy, etc., to provide patients with personalized medical treatment, as well as post-healing and post-surgery related assessment and care, and even in-home or telemedicine services.
Patients can experience a series of personalized services and feel the quality of services of medical institutions, thus improving the doctor-patient relationship, strengthening the interaction with patients, enhancing the satisfaction of medical services, and avoiding the "Consumerization" of the healthcare industry. Of course, all of this requires a transformation toward digitization, software definition, and multiple/hybrid clouds, as well as increased agility, data security, and patient privacy, as the foundation for advanced analytics and smart healthcare.
In Taiwan, we have a globally prestigious healthcare system, a historical foundation of electronic medical record databases, and a strong focus on the information and communication industry, making Taiwan well suited to be a pioneer in smart healthcare. Recently, Intel and the Institute for Biotechnology and Medicine Industry (IBMI) signed a four-year alliance memorandum of understanding (MOU), hoping to bring Taiwan's medical experience and solutions to the world by combining Intel's innovative and superior technology with global marketing and communication resources.
Intel has recently partnered with ASUS and Taipei City Hospitals to build mobile medical carts that allows multiple doctors to see patients simultaneously through secure cloud transmission and better mobility. In addition, Intel has also worked with Cisco and LEOSYS to build a high-speed computing AI center for Chang Gung Memorial Hospital, providing the high-performance computing resources required by the lab and hospital. At the recent Healthcare EXPO Taiwan 2021, Intel also introduced the OWL (cOllaboration Without Limit) digital pathology platform with Kaohsiung Veterans General Hospital and Wistron Medical Technology, using OpenVINO toolkits to accelerate AI image processing up to 5 times faster.
Looking ahead to the next decade, Intel believes our opportunity has never been greater. By unlocking computing and data insights and integrating corporate responsibility strategies, we are using the power of common good to create value and social impact. In the spirit of the RISE (Responsible, Inclusive, Sustainable, and Enabling) strategy and goals for 2030, Intel is committed to create a smart healthcare technology ecosystem in Taiwan with an international perspective.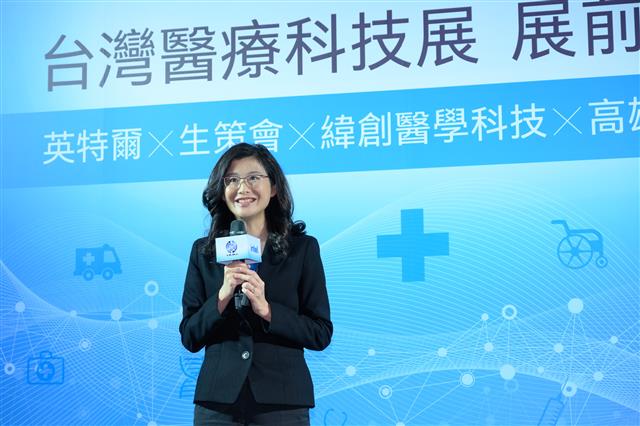 Grace Wang, VP and GM, Sales, Marketing, and Communications Group, Intel Taiwan
Photo: Company