The completion of 5G NR R16 standard from 3GPP has been announced the freeze in early July 2020. It is establishing aggressive targets for low latency and massive connection scenarios. The global telecoms are introducing a multitude of applications and use cases that most associate with 5G NR specification and boosting revenue to enable B2B commercial deployments to begin. Taiwan industries take a look at the possible potentials in smart manufacturing and smart healthcare sectors.
Meanwhile, as millimeter wave technologies fast forwarding into the future with 5G landing applications, some IC design companies are working together to figure out the new direction to link with low orbit satellite communication technologies and seeing what it will be. The vertical integration of 5G service is getting more attentions.
Auden Techno Corp. together with the Electromagnetic Compatibility (EMC) Chapter of the Institute of Electrical and Electronics Engineers (IEEE) co-organized the fifth symposium in Taipei on the topic of "SmartLife for Next Generation - Quantum Leap in Linking 5G Science and Technology" on September 10, 2020. The full event, hosted at Hua Nan Bank International Convention Center, began with General Session of Technologies and Bio-electromagnetic Keynote Speeches and Technical Sessions with three major tracks.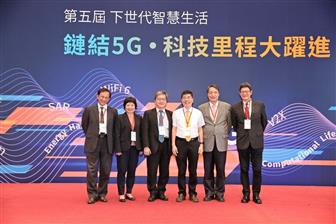 Dr. Ruey-Beei Wu, TEMIAC Coordinator, Dr. Li-Fung Chang, Chief Architect of the 5G program Office in MOEA, Dr. Zse-Hong Tsai, Executive Secretary of Taiwan Executive Yuan Office of Science and Technology, Dr. Tzong-Lin Wu, Associate Dean of College EE & CS of NTU, Nain-Ling Jou, Assessor, A2LA American Association for Laboratory Accreditation and Daniel Chang, CEO of Auden Group (from left to right)
Auden Group establishing communication platforms for 5G technologies
Dr. Tzong-Lin Wu, as the moderator of the symposium, invites Mr. Daniel Chang, CEO of Auden to give the welcome speech. This is the fifth time for Auden Group to Co-host this event at Taipei. Due to the coronavirus pandemic still at risks, there are more than 300 attendees and 30 honor guests from sector of government, industry and research institute in this event. Chang hopes the facilitating government-industry-academia idea exchange communication platforms of this event will help Taiwan industries to gain the development momentum to 5G and Bio-electromagnetic technologies.
Dr. Zse-Hong Tsai, Executive Secretary, Taiwan Executive Yuan's Office of Science and Technology, points out 5G enabled applications with potential and rapid development in many categories. He further emphasizes the growing role of low-earth-orbiting (LEO) satellites and millimeter wave technology. Both create the great potentials of new business opportunities. Taiwan government's policy is promoting cooperation among industries and academia.
The consecutive invited honor guests to give the welcome speech include Dr. Li-Fung Chang, Chief Architect of the 5G program Office in the Department of Industrial Technology (DoIT) of Taiwan's Ministry of Economic Affairs (MOEA), Dr. Ruey-Beei Wu, TEMIAC Coordinator, and Mr. Nain-Ling Jou, Assessor A2LA American Association for Laboratory Accreditation.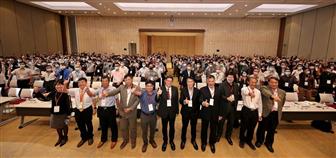 This yearly symposium is the 5th times for Auden Group to co-host the event. There are more than 300 participants join the event
Auden Techno Corp, founded 1990, provides R&D services to help customers to build and manufacture antenna systems to fit the requirements of mobile communications, automotive electronics and industrial applications. For providing better service to the customers with complete front-end design, pre-development testing and product authentication, Auden invests several compliance testing laboratories cross Taiwan straits including the first SAR (Specific Absorption Rate) testing Lab in Taiwan. By actively leveraging the testing lab efforts and RF technology core strength, Auden tries to help Taiwan ICT industry to shorten the gap to develop bioelectronics medical devices aiming the professional medical solutions.
The electromagnetics measurement of Wireless Power Transfer and charging systems
The first keynote speech presented by Professor Niels Kuster, ZMT's President of the Board. He is the founding Director of IT IS Foundation with well-known research on the exposure of a mobile phone user to radiofrequency energy. Professor Kuster also highlights the status of current SPEAG's effort to develop various validation systems for measuring SAR and help standard associations of US, Germany, China and Swiss to setup regulations and specifications.
His presentation over video conferencing is a lecture related to the electromagnetics measurement of Wireless Power Transfer (WPT) systems. The interaction between human and electromagnetic fields have been highly considered by research institutes and technology industries. This is an overview of his latest research results covering WPT applications from wireless power transfer to electrical car charging systems. The measurement system is leveraging SPEAG's Magnetic Amplitude and Gradient Probe System (MAGPy) for fast and reliable compliance testing. The results will be sent by Sim4Life software for further comparison and evaluation study. The current tentative test standard for WPT is based on IEC/IEEE 63184. It will be scheduled in the third quarter of 2022 for the first draft version.
Nokia looks at 5G next
Nigel Chan, Nokia Taiwan Regional Head of Technology, presents the comparison of 5G markets in Korea, China and Taiwan as a start. There is noted good news to see Taiwan 5G download speed wining the global top 4 position according to OpenSignal statistical reports. This speed is 6.5 times of 4G/LTE speed marks in Taiwan. And the number of 5G global penetration rate will be exceeding 50% in 2023.
Talking about major millimeter wave applications targeting low latency and smart manufacturing sectors, he shows current private networks use cases including sport stadiums, factories, harbors and mining fields. Meanwhile, in the Industrial Internet of Things sector, the new specification of NR-Lite is getting more attention. This new technology is aiming to co-exist with NB-IoT standards and addressing the new IoT devices to expand 5G to all industrial usages considering cost effective and mass deployment requirements.
He also talks about the hot topic of low-earth-orbiting (LEO) satellites for enabling real global coverage of mass IoT devices deployment. The new technology of NTN (Non-Terrestrial-Networks) is catching sight. For predicting the near future, he states the next big things from 2020 to 2023 from Nokia point of views. This will include several high potential technologies such as new spectrum technology to detect physical objects leveraging MIMO, ORAN, AI/ML air interface, low power technology plus security and trust.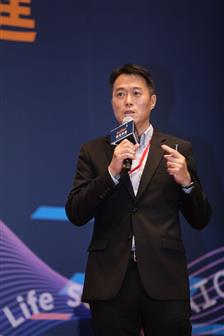 Nigel Chan, Nokia Taiwan Regional Head of Technology speaks of what comes next while 5G continuing to evolve
Mediatek looks at the new technology trends beyond 5G
Dr. I-Kang Fu, Director of standard strategy, Mediatek, speaks 5G standardization development and experience of Mediatek active participation in the meeting and contributed to 3GPP work. He involved the works of standardization from 2G to 5G generation. For the past decade, he noted the main stream of mobile technology is focus on transferring wired Ethernet networks to wireless format. But the 5G technical evolution will drive by creating higher value of data and help telecoms to gain more incomes. In short, he states the real difference between 4G and 5G is "Data Differentiation". Furthermore, he highlights the value of data bits transmitted could have huge different when you compare mobile phone use case and smart manufacturing scenarios.
The 5G networks contain a multitude of data usage and characteristics. One of the most exciting concepts enforced in 5G is one network fits all applications. That's the reason why 5G infrastructure designed by several sub-systems to fulfill different needs of data requirements. It combines with 4G/LTE networks because the return of previous investment does matter. From business model perspectives, 5G use cases won't all be ready at the same time. The end customers won't be equally applicable to or profitable in all markets. And each will require a different kind of 5G networks to work best. Pushing eMBB applications is the first focus of Telecoms while launching 5G services in the first phase. In this period of time, the driving force of high data speed will drive end customers to buy 5G phones for generating immense revenue incomes for Telecoms and investing 5G infrastructure construction more.
The next phase, it will come to the stage of selling the value of "Data Differentiation". The focus will shift to the URLLC applications such as industrial automation or smart manufacturing. It will also boost the use cases of NB-IoT and eMTC to connect more devices for creating more data value.
The eMTC applications raise the 5G coverage issues while current mobile network coverage is only 40% of land space in the earth. For expanding connection to all IoT devices, satellite networks can easily to provide the broad outdoor coverage to connect massive IoT devices. MediaTek is pushing the boundaries of advanced IoT 5G satellite communications with a successful field trial that transfers data through Inmarsat's Alphasat L-band satellite, in Geostationary Orbit (GEO) 35,000 kilometers above the equator. The results of MediaTek and Inmarsat's IoT field test will be contributed to the 3GPP's Rel-17 standardization work on Non-Terrestrial Network (NTN). The successful test builds the foundation for satellite and cellular networks to enable new 5G IoT services at a global scale. Mediatek is pushing the boundary of technology and find new path to lead further success.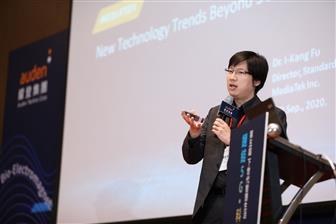 Dr. I-Kang Fu, Director of standard strategy, Mediatek, talks the 5G Satellite IoT technology
5G Private Networks seeing the future trend
Mr. Tim Lou, General Manager, Transnet Corporation presents the topic related to build 5G enterprise private networks and solutions. His presentation is looking at two major focuses of smart manufacturing and smart healthcare. Germany and Japanese governments lead policy of 5G private networks. Both countries opened a process to allow private companies applying for private 5G licenses without having to resort to public mobile networks.
The 5G private networks have strong potentials to promote smart manufacturing and smart healthcare to help industries to find path to grow new business and help people to live more valuable life. Both are the important investment for nations.
The importance of 5G enterprise private networks are welcomed by Taiwan ICT and OEM/ODM industries. Transnet is conducting the Proof of Concept (PoC) projects to verify possible opportunity to kick starting the business. The integration tasks are involving RU, DU and CU plus combining MEC to form an end-to-end solution in the next year.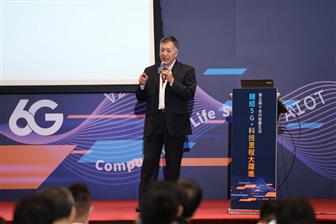 Tim Lou, General Manager, Transnet Corporation, speaks the private 5G networks
Millimeter wave technology applying to Minimally Invasive Spine Surgery
Professor Sheng-Fuh Chang, NCCU, shares his PoC to provide an alterative smart healthcare solution for Minimally Invasive Spine Surgery use case. He uses 4 Frequency Modulated Continuous- Wave or Continuous-wave (FMCW/CW) radars using 24GHz millimeter wave technology for fine positioning in surgery. The surgical operation was conducted in Kaohsiung Veterans General Hospital. The results were reaching the accuracy to 1.8 millimeter precision range. This successful PoC project builds the possible use case for millimeter wave solution enabling new ideas of high precision positioning in a cost effective manner.
In parallel technical sessions, there are three Tracks covering 15 key topics with the technical subjects - Track A: Millimeter Wave Beamforming technologies and AiP design, Track B: 5G NR technology and Conformance Test, and Track C: Smart Healthcare Solutions. The invited speakers are, Professor Chow-Yen-Desmond Sim, Feng Chia University, Professor Chao-Kai Wen, NSYSU, Dr. Alex Chou, Auden Techno. CTO, Professor Tzyh-Ghuang Ma, National Taiwan University of Science and Technology, Dr. Jie-Ying Zhong, Academia Sinica Institute of Astronomy, Dr. Bin-Chyi Tseng, ASUSTeK Computer Inc, Prof Han-Nien Lin, Feng Chia University, Dr. Alan Tang, Auden Techno. Vice President, Professor I-Fong Chen, Jinwen University, Dr. Eric Chen, A Test Lab, Vice President, Dr. Antonino Cassara, IT'IS Foundation & ETH Zurich, Dr. Yue-Loong Hsin, Chung Shan Medical University Hospital, Nathan Lin, WHALETEQ General Manger, Professor Shuenn-Yuh Lee, National Cheng Kung University, Professor Jin-Chern Chiou, National Chiao Tung University.
This symposium is widely addressing the advanced topics of 5G and Bio-electromagnetic technologies. There are more than 300 participants to attend separated sessions and exchange ideas for further discussion. The demonstration booths also showcase the instruments and solutions to test various design of RF PCB boards, AiP modules. As Dr. Tsai, Zsehong, Executive Secretary, Office of Science and Technology, Executive Yuan, talking in his welcomed speech, 5G applications will open up several growth opportunities and lead to the emergence of a large business scale and large scale development. The industry, academia, and government collaboration will be a game changer for Taiwan economic future and help Taiwan industries to grasp the further growth.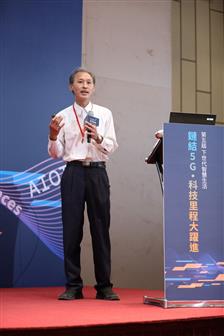 Professor Sheng-Fuh Chang, NCCU, shares his PoC project in Minimally Invasive Spine Surgery
DIGITIMES' editorial team was not involved in the creation or production of this content. Companies looking to contribute commercial news or press releases are welcome to contact us.