The mobile devices with eye-catching design always have a place in our hearts. With the stylish looks, new smartphone and other shinny mobile devices are breathtaking. Most mobile devices are battery-powered. In addition to smarter features and larger batteries, innovative charging solutions allow us to do more with our mobile devices. Users expect to have a quality charging experience, especially when the new fast charging technology enables a superior user experience.
Following this trend, USB power delivery technology becomes one of the major technologies for charging devices through USB Type-C interface. With the widespread of the USB Type-C plugs and its innovative features such as data transmission, video transmission and fast charging, Type-C is getting increasingly popular. Either Apple or Android phones support this standard. Users can deliver power, data and video through the USB-C cable. But there is still common frustration with the standard varied by different power ratings to setup for different requirements of charging various devices. Furthermore, being charged by different chargers, even of the same current and voltage ratings, often does not have the same charging speeds. That's why the safety regulation and product certification are the most concerns when end customers purchase the fast charging products.
In a recent interview, KK Yang, president of Energear, introduced the full product lines based on USB-C PD technologies. Energear presents three major product lines including wall chargers, car chargers and power banks. The power range is from 15 to 85 Watts. Wall charger series have the following wattage, 15, 27, 30, 46, 65 and 85 Watts. Yang highlights the 45W Power Bank that has two-way fast charging features for fast charging and recharging. There is few power bank with this feature in the market that has got the certification. Yang also mentions the 45W car charger, which can charge laptop, tablet and phones. All Energear products have certifications from USB-IF, UL, CE, RoHS and so on. They are compatible to most global brands of smartphone, tablet and laptops.
Energear worked with GRL, NAC and SGS testing labs for more reliability
The uniqueness of Energear product series is that Energear are granted multiple product certifications from world-famous third-party testing laboratories. This is a huge investment before brands to establish a strong foothold in the market. When Energear started the cooperation with those testing labs two years ago, there were very few labs that knew how to test those USB-C PD products. This was because there were only a few USB-C PD products in the market at that time. Energear selected GRL (Granite River Labs) as the first testing partner to do the product testing. For some testing items, Energear even needed to provide the testing fixtures to GRL so that GRL could complete all the tests. It was a very time-consuming task for these testing projects, Yang adds.
Through close working with the testing labs, the Energear engineering team gained more experience to refine the products before launch in the market. After passing the product certification, there is another big challenge for mass production because there are five ratings to test and debug. Although those stages are very time-consuming, it is very rewarding because quality and product performance are the priority, Yang points out.
In addition to work with GRL (Granite River Labs) and NAC (National Analysis Center) lab, Energear builds an in-house test lab for compatibility and verification tests. This is an important step to help end users trust Energear products' quality and performance. Energear not only provides chargers with PD2.0 and PD3.0, but also chargers with PPS.
Distributing Energear products in Japan and North America
After getting all the related product certifications, Energear selected Japan to debut. Japan has a highly competitive retail market. Energear started its first entry into the Japanese market through I-O Data Device, Inc., a leading Japanese manufacturer and provider of high-quality computer peripheral products.
The market promotion activities initiated with the product roadshow across major cities in Japan. The promotion activities included product demonstration and introduction of PD technology. Yang mentions that one special promotion program getting attentions was a bundle kit of Energear 65-Watt PD charger and Panasonic Notebook PC. The promotion program went very successful. Then Energear products showcased in the market and had very good sales. The successful products of Energear in Japan market are 46W and 65W Wall Chargers. Both chargers sell very well. Customers can recognize this brand and appreciate the premium quality of the product.
Regarding the North American market, Energear has different strategy to launch its products. Energear selects Amazon, the e-commerce giant in North America, to sell products to end customers directly. Energear works with a professional marketing company to promote and advertise on Amazon. Energear products can be purchased now at Amazon USA. It is expected that Energear this brand will be well-known soon and the chain stores will start to carry.
Energear showcased a full range of PD products at Computex 2019 in Nangang Exhibition Hall 1. Many visitors came to the booth and they were amazed by the complete line of PD products and the certifications Energear has. If you are interested in getting to know more about Energear and PD products, please visit https://www.Energear.com.tw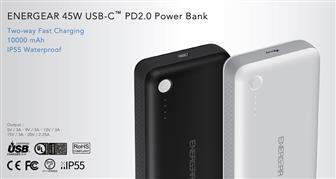 Energear 45W USB-C PD2.0 Power Bank with two-way fast charging feature. It can be fully recharged in 90 minutes. It can charge laptop, tablet and phone.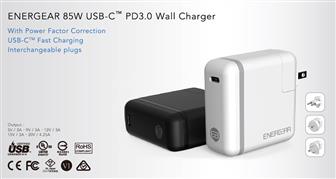 Energear 85W USB-C PD3.0 Wall Charger with interchangeable plugs. It can charge laptop, tablet and phone. With PFC (Power Factor Correction) design, this wall charger is more efficient, more stable and has more saving in power bill.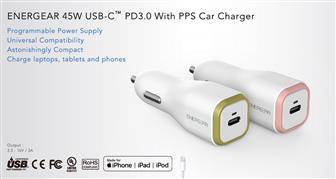 Energear 45W USB-C PD3.0 with PPS car charger. With PPS (Programmable Power Supply), this car charger is more compatible and more efficient. It can charge laptop, tablet and phone.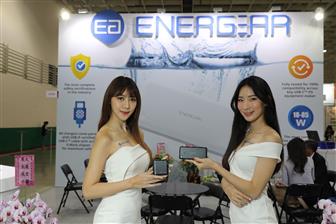 Energear attended Computex 2019
DIGITIMES' editorial team was not involved in the creation or production of this content. Companies looking to contribute commercial news or press releases are welcome to contact us.