Artificial intelligence (AI) and Internet of things (IoT) are seeing explosive growths. Obviously, things like deep learning are quite exciting, and they are starting to impact various aspects of people's daily lives. Service providers are opening up cloud infrastructures for smart applications at a rapid pace. The advent of increasingly powerful processors, wireless communication technologies and sensors offer new design concepts for embedded systems. With such advances come new business opportunities for embedded system makers and solution providers. The AIoT era is coming.
Smart embedded systems and AIoT solutions are getting complicated. Apart from faster Internet connection and interconnectivity between network nodes, the performance of embedded systems is ramping up substantially. And the trend towards high level integration of the embedded systems raises the bar for solution providers.
Founded in 1979, SECO is an Italy-based leading embedded system and industrial solution provider with complete control over the entire design cycle to mass production of embedded solutions. The company designs standard solutions as well as custom embedded systems to meet specific needs of customers. After almost 40 years with a core capability of strong vertical system integration, SECO maintains long-term partnerships with both x86-based CPU/APU and ARM-based chip makers. SECO offers product lines powered by AMD, Intel, NXP, Nvidia, Qualcomm and TI embedded processors. In a recent interview, Gianluca Venere, SECO Director of Global Sales & Chief Strategy Officer, explained the company's global strategies for developing embedded system market sectors and its further business development in Asia region.
One of the most well-known product lines of SECO is its computer on module (COM). It embraces a cross-platform philosophy with a modular design aiming to provide flexibility of switching between different CPU/APU with the same form factors. Whether it is switching from x86 to ARM-cored CPUs, or changing different grades of ARM-cored microprocessors to tackle cost concerns, SECO's cross-platform carrier boards give the freedom of switching CPUs without adjusting any dual inline package switch (DIP switch) or changing jumper settings. The beauty of this design comes from the similar concept of seamless transformation satisfying diverse applications with intensive computing requirements in various embedded systems, enabling both extreme flexibility and vast scalability.
Today, this cross-platform design has been extended to support FPGA chips, Venere stressed. Customers could change between FPGA chip vendors such as Xilinx and Altera. As far as the promising AIoT and edge computing are concerned, intelligent medical solutions are just beginning to take off, and edge computing powered by AI-enabled FPGA chips is even more exciting. With the advantage of flexibility, fast speed and low-power consumption, FPGAs have been rapidly more attention from smart medical solution providers, Venere highlighted.
FGPA technologies have advanced to the point where engineers can build much larger, more complex chips with pre-built modules for anything from processor cores to custom algorithm accelerators. Leveraging the on-the-fly reconfigurable nature of FPGAs, SECO has implemented the new design with hardware-software integration to meet customers' requirements. Besides FPGA technology support, the cooperation with Wind River, a global leader in embedded software and a real-time operating system vendor, also helps SECO provide complete embedded solutions to customers.
As the center of the global economy gradually moves from the west to east, attention is shifting from mature to emerging markets. With the unique strength of cross-platform technology to provide customers with flexible and fast time-to-market solutions, SECO has been servicing the fast growing Asian markets since 2012. Medical solutions are currently a key focus of development. Although it will take time to build relationships with targeted first-tier partners/customers in Japan and South Korea, Venere still feels very optimistic because of SECO's complete range of embedded system solutions.
To establish a strong presence in Asia, SECO will establish a solution development center in Taiwan in 2019. This is an important investment for linking with Taiwan's IT talent and industry, and providing support for customers in Asia.
SECO is showcasing its products at Computex 2018, at Nangang Exhibition Hall 1, Booth K0102. On display are solutions in SECO's Qseven, COM Express and SMARC product lines. SECO welcomes visitors to its booth to get first-hand experiences of its products.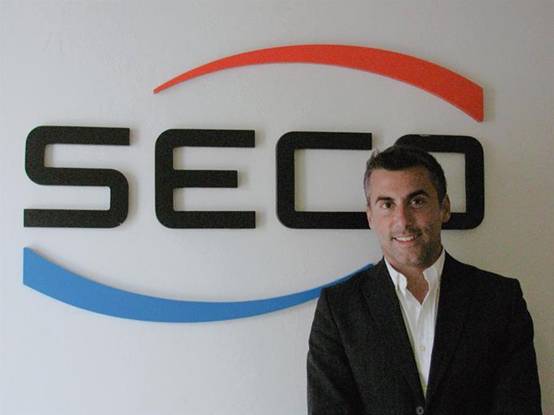 Gianluca Venere, Director of Global Sales & Chief Strategy Officer, SECO
DIGITIMES' editorial team was not involved in the creation or production of this content. Companies looking to contribute commercial news or press releases are welcome to contact us.