WiMe five-in-one multi-function car starter FlashJumper
Press release
To address diverse needs of outdoor life and provide leisure activity gear and equipment to bring users fresh experience and convenience, WiMe has launched in 2016 a whole new car starter, FlashJumper, a five-in-one multi-function device that is not only fun but also useful in emergencies.
FlashJumper combines a car starter, mobile power bank, LED warning tripod, ultra-high brightness flashlight and three outdoor white-light lamps. The design integrates these common outdoor tools in a 32x7.8 cm package for easy assembly and portability. FlashJumper's innovative and user-friendly design meets all user needs by providing emergency assistance in the case of traffic accidents, convenient light sources during outdoor activities and safety warning when the car stops at roadside. The product is patent pending in the invention, utility and design categories in the US and China.
Unexpected circumstances may arise when traveling outdoors, such as the car battery suddenly running out. FlashJumper provides a capacity of 10,000 mA with a cable to bring the battery back to life and the trip back to fun. Furthermore, people nowadays usually bring electronic devices, including smartphones, cameras and tablets, to their outdoor events. FlashJumper enables plug-and-play anywhere free from the limitation by jumper cables and electric sockets.
Combining a warning tripod with 36 high-brightness red LED, FlashJumper protects users in a vehicle stopped in the dark from accidents, ensuring traffic safety by warning other vehicles on the road and preventing collision with approaching cars.
FlashJumper's ultra-high brightness flashlight, equipped with a 5W LED spotlight with 350 lumens, can light up a dark campsite and can easily be seen from a distance. FlashJumper is detachable into three 2W diffuse lights to meet the use scenario for multiple light sources on a camping trip. For latest information on FlashJumper, please visit www.wime.tw. Inquiries relating to the product can be directed to sales@wimegroup.com.tw.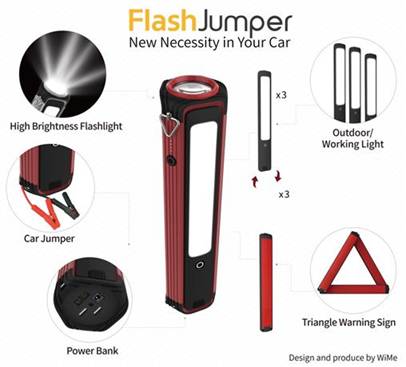 Photo: WiMe FlashJumper