Exosite accelerates innovation and business transformation through IoT solutions
Sponsored content
In a quest to differentiate their businesses, leading semiconductor companies are focusing on developing technologies that enable data-driven applications - such as power reductions, sensor capabilities, mobile smart device features, and Internet connectivity. This combination of technologies is used to create Internet of Things (IoT) devices - it is one of the most disruptive technology breakthroughs for the industry. In terms of scale, while mobile phones consume 1-2 billion chips every year, IoT devices are projected to consume over 100 billion chips per year. This booming sector is fast becoming the driver for growth in the electronics and semiconductor industries.
IoT is enabling another industrial revolution by fundamentally changing the business model for various industries. The model for durable goods OEMs is changing from a transactional model (sell and forget) to a service model (sell and continue to serve) as enabled by IoT technologies. To stay competitive in this changing landscape, companies are collaborating with leading solution providers in order to enable and deliver this business transformation through IoT.
To further explore industrial transformation through IoT technologies, Digitimes recently interviewed Hans Rempel, Exosite's CEO and co-founder, to discuss the company's vision, how it is helping organizations IoT-enable their business, and the outlook for the IoT market.
Using Data Analytics, IoT Enables Enterprises to Successfully Compete
Exosite provides a reliable, secure, and scalable IoT software platform that enables organizations to pursue new business opportunities through connected devices. Exosite customers include leading companies in industrial automation, smart home automation, safety surveillance, wearable and industrial energy management sectors. Global brands use Exosite IoT solutions to strategically differentiate their products and services from their competitors.
"When Exosite was founded in 2009, the Internet of Things was not yet even a term," Rempel said. "Although technologies have advanced, the transformative nature of IoT remains the same today and is enabling a revolution in how companies do business."
Some key trends contributed to this IoT revolution. First, massive amounts of information have been collected due to the lower cost and availability of networking technologies, connectivity, and sensors. This mountain of data has created a strong need to leverage the power of data analytics.
Second, Big Data analytic tools have made it possible to derive new insights from the data and to visualize customer trends. These insights are used to build innovative applications that provide real-time decision making guidance, and which leverage IoT-enabled cloud infrastructure and connected devices. Rempel said, "IoT is not only the technologies itself, but the vehicle upon which business transformation is delivered."
By adding connectivity to devices, applying data analytics, and enabling new product designs, companies realize a more streamlined manufacturing process and sustainable product development cycle. In business-to-business IoT applications, the intelligent data analytics provided by Exosite's cloud platform also helps to improve process and workflow of enterprises. And, most of all, IoT-enabled products help companies enhance their user experience , forming an expectation of reliability and visibility that creates new business value.
Legacy Business, New Value Proposition: How IoT Transforms Business
Rempel pointed out that traditional manufacturers are one of the best beneficiaries of IoT. A smoke detector is a great example - almost each family has this kind of sensor device installed in their house. With a traditional unconnected product, it is difficult for the smoke detector manufacturer, and also the home-owner, to understand whether the smoke detector is functioning properly. A properly functioning smoke detector fulfills the key value proposition of the device - that it alerts the occupants in the very rare occurrence there is a fire. This weak link is improved by applying IoT solutions. By leveraging the Exosite IoT platform, it is easy to build a connected smoke detector that can communicate pro-actively if there is a problem (e.g. low battery), so that the device is ready for service when needed.
According to Rempel, IoT has redefined value propositions and created innovative new ways for companies to do business. By leveraging data analytics on their product data, manufacturers can gain insights into how the product is being used, and can turn those insights into new value-added services for the end customer. For example, a pump manufacturer can change their value proposition of selling a pump with certain specifications into selling the assurance of reliable fluid flow and pressure. The pump maker sees IoT technology as a way to help ensure the pumps are performing at peak efficiency. Through the use of data analytics, manufacturers can provide an improved maintenance service and build a more reliable fluid supply system. By providing the pump product as a service, a one-time payment of equipment sales can be converted into monthly utility payments. This transactional sale migration to a service sale is revolutionizing the value chain of the entire business engagement process. IoT is not just a matter of connecting things - it is a matter of transforming business through the value that connectivity brings.
Exosite solutions help leading companies focus on the value their product is providing to their end customers by helping define and deploy their connected product strategies, and by supplying best-in-class IoT software to enable and sustain the deployments. By working in conjunction with OEMs and their solution partners, Exosite's goal is to accelerate and de-risk the exciting process of business transformation through IoT technologies. Some of Exosite's customers are manufacturers who have done business for more than 100 years - they are leaders in their sectors. Exosite's software and team are leaders in IoT technologies. By combining these two experts, manufacturers can shorten time to market, set new standards of excellence in their industries and maintain stronger relationship with customers. Rempel emphasized, "If customers want their products connected to the cloud, Exosite is the one to provide the best cloud solution."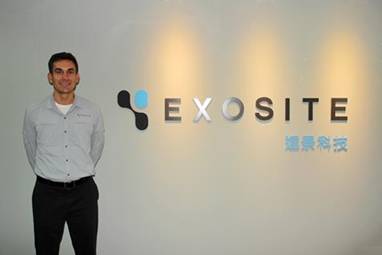 Photo: Hans Rempel, Exosite's CEO and co-founder