NewEdge Technologies, Inc., a leading company in supplying wireless power integrated circuits, announces Qi compliant medium power transmitter and receiver ICs.
NE6101, a medium power receiver, supports Qualcomm QC2.0 and Spreadtrum Communications' quick charger interfaces. Its output voltage can be varied between 5V and 12V with a maximum output power at 18W. NE8151, a medium power transmitter IC, with external inverters at 5~15V input voltage, can meet medium power transmitter requirements. It supports FOD (foreign object detection), and temperature protection. It is one of few solutions available at the market today.
Dr. Tim Lu, CEO at NewEdge, said, "Wireless power provides the foundation for ubiquitous charging. I believe that consumers will expect that they can access charging stations everywhere, just as they expect to have access Wifi services. So, when people are at coffee shops, restaurants, airports, hotel, and pubs, they expect to be able to browse the web while having their cell phones charged. In addition, quick charging technologies will complement wireless power and help the penetration of public charging stations. If you are always out of the office and find your battery almost depleted, wireless charging can be a life saver especially if you left your charging cable at home. Combined with quick charging, your phone will be charged to 70-80% while sipping your coffee at Starbucks. Wireless power with quick charging can be very attractive to many consumers."
With the advent of various wireless charging technologies, in conjunction with growing public charging stations, more manufacturers will produce portable products with embedded wireless chargers. Today, Samsung and LG smartphones already support wireless chargers. "It is highly likely that the next iPhone will be equipped with this (wireless charging) technology", said David Green, a research manager at IHS. "As consumers better understand the technology, and adoption increases in various applications, consumers will start making demands for power-charging capabilities they want in their next devices." IHS also indicated that "in 2016 the one-millionth wireless charger will be installed into public infrastructure" and as "the proportion of consumers with wireless-charging-enabled mobile phones rises, so does the potential for hotels, restaurants and other businesses to entice them with offers of free and convenient power." As for wearable products, according to IHS, "The wearable technology market continues to rapidly expand and by 2020, 40% of all wearable devices shipped will be enabled to charge wirelessly." Wireless-charging-enabled wearable devices have already been introduced by high-profile volume manufacturers, and the potential for growth is immense.
In addition to medium power transmitter and receiver ICs, NewEdge has also developed 5W transmitter and receiver ICs (NE8051/NE6053) and a highly integrated receiver for wearable products (NE6011).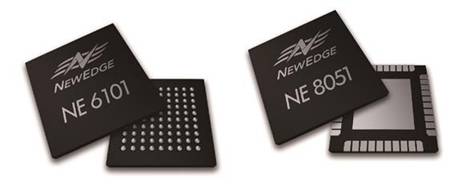 NewEdge NE6101 and NE8151 transmitter and receiver ICs
About NewEdge
NewEdge Technologies, Inc., an innovative fabless IC design company headquartered in Shanghai, was established in May 2013. NewEdge has a sales office in Shenzhen and will set up more branches worldwide to provide better services. NewEdge focuses on state-of-the-art SoCs (system on chips) design for wireless power related products and applications. The team is experienced and has successful track records in innovative technologies and business development. NewEdge is committed to providing customers with high performance cost effective products and in-time support.
For further information, please visit our web site at: www.newedgetech.net