OCZ Storage Solutions showcasing SSD solutions at Computex 2015
Sponsored content
Through Toshiba's acquisition in 2014, OCZ Storage Solutions has been further strengthened presence in high performance solid-state storage drives (SSDs) market. Alex Mei, CMO and GM Client Business, recently spoke about the prospects of the storage market and OCZ's deployment for the storage ecosystem during Computex Taipei 2015.
1. What is OCZ's product plan toward 2015?
Through an exciting organization transformation as part of the Toshiba Group, we have streamlined our product roadmap and collaborated with Toshiba to focus on our strength areas, which are primarily SATA and PCIe for client and enterprise applications. Over the second half of this year you can expect to see new TLC based SATA SSDs as well as M.2 PCIe for our client offering, and new NVM Express based enterprise drives across a variety of form factors that have an extensive feature set and more robust endurance and reliability.
One of our most exciting recently launched enterprise drives was the ZD-6000 Series that combines PCI Express (PCIe) Gen 3 and Non-Volatile Memory Express (NVMe) technologies to support a variety of enterprise applications and ecosystems. The Z-Drive 6000 SSD portfolio is well-suited for compute-intensive, analytical, online transactional and cloud-based enterprise applications that require high-performance and low-latency I/O responses, and has the capabilities that drive massive parallelism and high scalability to meet various storage requirements.
2. What's the highlight feature of these new products?
COMPUTEX is always a great venue for us to launch new products. This year, we are unveiling two new products. The first is our new Trion 100 Series which leverages controller and TLC NAND technology from Toshiba to offer end-users an optimal mix of performance, features, and value, leverage the benefits of a high quality yet affordable SATA SSD.
In addition to the Trion we will also provide a first look of the upcoming Z-Drive 6300 NVM Express (NVMe) Add-In-Card (AIC) for enterprise customers. Featuring speeds close to 3GB/s and 700,000 IOPS with capacities up to 6.4TB, the Z-Drive 6300 is designed to be easy to deploy and help take business and data center applications.
3. How OCZ adapts the rapid market change to develop worldwide market?
We continue to see the market grow, and while traditional SATA continues to still be the dominant interface and also increases widespread M.2 adoption as more platforms become available in the coming quarters. NVMe is also a game changer as it features a streamlined memory interface, command set and queue design that delivers faster access to critical data and highly resilient storage capabilities. This enables both system builders and storage vendors alike to develop different parts of a storage ecosystem to a standard specification. NVMe should open new opportunities for faster, better and stronger flash-based storage applications while significantly improving PCIe SSD deployments coming soon.
The SATA-based Saber 1000 Series effectively solves demanding key customer business challenges and supported by an enterprise-optimized feature-set, large storage capacities, and low total cost of ownership.
4. Please talk more about how OCZ and Toshiba leverage the strength of each other?
We now have much greater resources in which to develop next generation products. The complete access to Toshiba NAND has enabled OCZ to accelerate development, and fully optimize our next-generation controllers and firmware to take advantage of the latest flash technologies and product quality. OCZ's strength has also been our established client channels and with Toshiba's support we have been able to enhance both the number of our product offerings as well as our support in emerging key regions, like APAC for example.
5. What will be the future development in SSD sector?
Competition with both hard-disk based storage systems and other solid state drive makers will continue to drive the performance envelope, as well as enhancements in reliability, and cost efficiency. To get there OCZ will leverage Toshiba's BiCS 3D NAND which will not only help lower per bit costs but do so with higher performance and reliability. Companies that have direct access to the newest NAND technologies and the capability to create their own controllers and firmware to fully leverage the newest Toshiba NAND technologies will sustain strong advantage.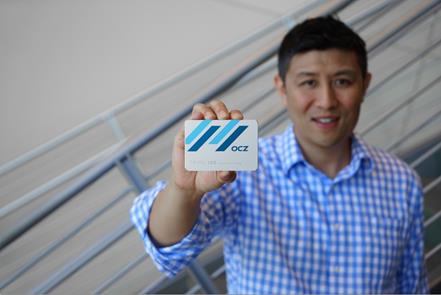 Alex Mei, CMO at OCZ Storage Solutions launched a new Trion 100 Series
Photo: Company