Targeting USB Type-C and Windows tablets opportunities, Good Way Technology expands niche docking station products
Sponsored content
USB 3.1 is expected to become widely adopted after 2015 with advantages in transmission speed at 10Gbit/s and reversible Type-C connector, which supports charging at double speed as well as audio/video transmission and can be plugged in either way. Eying the tremendous opportunities for peripherals arising from the appealing USB 3.1 standard, Good Way Technology leads the market in launching Type-C docking stations.
Driven by IEC and USB-IF, new USB 3.1 and USB Type-C standards have been finalized. USB Type-C is receiving great attention as it has won support from industry leaders including Apple, Microsoft, Intel, and Google. Therefore, the market will see a variety of devices with Type-C ports, including desktops, notebooks, tablets, and even smartphones, launching in 2015, bringing massive business opportunities for peripherals.
In light of this, Good Way, a global leader in multi-function docking stations, USB peripherals, cloud smart home control systems, is a step ahead of competitors in the R&D of USB 3.1 and USB Type-C products. Kenny Lin, Vice President, PM Div., Good Way Technology, states Good Way has readied the building blocks in the supply chain from hosts to devices for the new Type-C standard and is prepared to put these products on the market according to schedule to meet varied user needs.
Integrating DP and PD, Type-C offers multiple crucial functions
USB 3.1 is greatly anticipated in that it transmits data at much higher efficiency, 10Gbps, doubling the speed of USB 3.0 and twenty times that of USB 2.0. Furthermore, Type-C connectors can be expected to be implemented on USB 3.1 and will integrate both power delivery (PD) and DisplayPort(DP) AV signals. Therefore, Type-C connectors plus USB 3.1 is augmented from signal transmission to being a power control center and an audio/video expansion center. Business opportunities to emerge from this combination cannot be overlooked.
Under the circumstances, USB Type-C, combining power, data, and AV signal transmission, is truly a "universal serial bus" delivering effective savings on time, cables, and costs that users have long desired. This is mainly because Type-C delivers a maximum of 100W power capacity and supports power current of 900mA so the charging speed is doubled, cutting down charging time by half. Data transmission at 10Gbit/s also makes delivery of Full HD AV signals and even Ultra HD signals a piece of cake. Time saving is easily achieved with the significant boost in data transmission rates.
It should be noted once the Type-C interface is widely adopted, devices including notebooks, smartphones, and tablets will be able to use the same type of cable for charging, reducing the need for cables by half. In addition, users will no longer need to buy HDMI cables for audio/video signal transmission. Only one Type-C cable will satisfy all the uses, offering remarkable savings on wire costs and hence on the overall costs as well.
Good Way offers two modes of Type-C docking stations, USB and Alternate
Kenny Lin points out Good Way will exhibit two types of Type-C docking stations, USB mode and Alternate mode, at COMPUTEX TAIPEI 2015. The former, named USB C Standard Docking Station, which has the upstream using the popular Type-C connector, is considered a full-function Type-C docking station supporting DisplayPort as well as HDMI AV output, one Gigabit LAN port, four USB 3.0 ports, and MIC in/audio out input/output. This product is particularly suitable for general point-to-point (P2P) applications.
Good Way's Alternate mode Type-C docking station, named USB C Tripple Display Docking Station, features three simultaneous video outputs, one of which supports Ultra HD signals. In terms of power delivery, the upstream supports a maximum of 36W power supply, equivalent to Profile 3 spec. The downstream has one USB Type-C port supporting 36W power supply and one USB Type-C port supporting 15W. The docking station also has one Gigabit LAN port and four USB 3.0 ports, two of which are standard and the other two are BC 1.2 compliant.
Type-C connectors supporting power delivery appeal to consumers because not only do they enable high transmission speeds but more importantly they have created an innovative power charging scheme. The host can supply power to the device through a USB Type-C port and the device can also deliver power reversely to the host.
Rise of BYOD boosts demand for Windows tablet docking stations
Windows tablet docking stations are another exhibition focus of Good Way at COMPUTEX TAIPEI 2015. Kenny Lin indicates iOS and Android have long been dominating the world of tablet operating systems. Windows, originally taking up only a small share, is showing an upward trend against the slipping tablet market since 2014. Windows' share grew from 2%-3% to 5% and is expected to further ramp up to 8% in 2015, according to research organizations.
Good Way foresees the launch of Windows 10 will elevate sales of Windows tablets, likely to take up 8%-15% of the market in 2015 and challenge the 25% level in the future. A few factors give rise to the promising outlook on Windows tablets. First of all, Microsoft is to kick off a new license plan with the launch of Windows 10 that will exempt license fees for operating systems in tablets under 9 inches. This is expected to strongly boost sales and stimulate growth of Windows tablets.
Furthermore, with Bring Your Own Device (BYOD) being a global trend, the devices employees prefer to bring to work have to be lightweight, portable, and easily connected with existing systems at work. Under the circumstances, Windows tablets, compared to devices with other OS, can better meet user needs and therefore are gaining popularity. According to IDC, 32% of users expect their next tablet to be running Windows OS, which is also a result of BYOD.
However, one inherent disadvantage in using tablets for work purposes is that the device usually only comes with only one connector, which is often prioritized for charging and thus is inadequate for additional connections with mouse, keyboard, printer, storage, etc. Moreover, another drawback is that tablet display is generally too small. To overcome these shortcomings of tablets for business use, Good Way has designed a docking station specifically targeting Windows tablets.
Kenny Lin points out Windows tablets supporting USB On-The-Go (OTG) can transmit data and deliver power at the same time. That is, the upstream can be used to supply power to the host so there is no need to worry about running out of battery power with long use of the tablet.
Although business Windows tablets are forming a trend, they are nonetheless employees' own devices so they should still support entertainment uses. As such, Good Way's Windows tablet docking station offers an optional remote control for the user to control tablet switch, display pause or resume, volume adjustment, and other functions.
It should be noted that Good Way's Windows tablet docking station scheduled to launch in July provides extreme flexibility for users to choose among different options. The docking station can support single display output or dual HDMI 1080P/VGA outputs. In addition, there are one Gigabit LAN port and six USB 2.0 ports, one of which is BC 1.2 compliant. Good Way has also designed a special foldable holder so that users can make adjustments for the best view angle.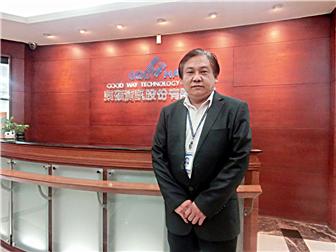 Kenny Lin, Vice President, PM Div., Good Way Technology, expects market demand for peripherals to ramp up with growing popularity of USB Type-C and Windows tablets, opening up tremendous opportunities for Good Way.
Photo: Company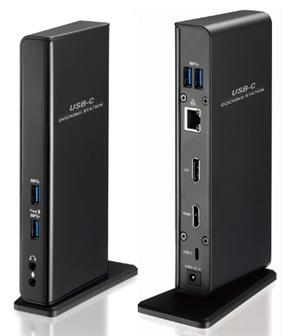 USB-C Docking Station-DUD10A0
Photo: Company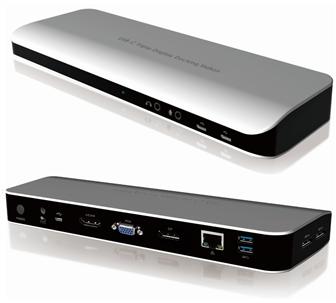 USB-C Triple Display Docking Station-DUD10B0
Photo: Company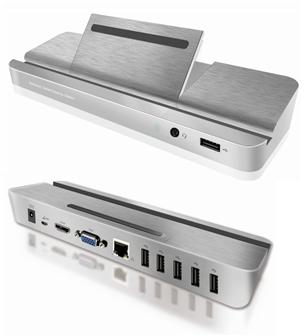 Windows Tablet Docking Station-DU21050
Photo: Company