Imagination Summit 2014: Showcasing Complete IP Solutions, Powering SoC Innovative Designs
Sponsored content
Imagination Technologies, a global leader in silicon intellectual property (SIP), held its annual summit recently in Taiwan, with separate sessions in Hsinchu and Taipei. Company CEO Hossein Yassaie and key partners attended the event and introduced the latest trends in the market and technology development.
The ever-closer integration of mobile and cloud technologies has been accompanied by rapid advances in next-generation smart applications such as those for Internet of Things (IoT), wearable devices, and connected cars. In the 2014 summit, Imagination showcased its turnkey SoC IP solutions, such as those for graphics, video, communications, and CPU applications, helping customers bring innovative designs into reality in response to the latest market trends.
Imagination's product portfolio continues to expand from graphic IP to audio, video, imaging and RF, with the addition of the MIPS CPU series last year, enabling Imagination to deliver comprehensive services to customers, indicated Maxwell Lin, Director of Sales, Taiwan Imagination Inc. in his welcome address. Imagination will unveil its newest 64-bit MIPS CPU, which will not only be a trend-setting product, but also lift Imagination's position in the CPU IP market and offer the industry an alternative with superior features.
Opportunity Opens up Where Market Turns
Hossein Yassaie, CEO, Imagination, in his keynote speech entitled "Market Turning Point Will Open Up Infinite Business Opportunities," pointed out that from the perspective of a global IP leader, the process of developing an innovative technology would take as long as four to six years starting from the IP core, then SoC, and finally the end product on the market. IP providers have to grasp market and technology trends, so that they can accurately predict future advancements and lead product development in the right direction.
"This has always been Imagination's spirit of innovation, persistently devoting resources to developing new technology that will come into use in the future, much as our previous success in bringing GPU's extensive applications to mobile devices," said Yassaie.
Yassaie noted that there are multiple crucial market trends, some of which are being highlighted in the smartphone and tablet segments. The mobile trends as exemplified by smartphones and tablets are reaching maturity and the concept of mobile connectivity is spreading to other market segments, such as that of connected cars. Wearable devices form another emerging market where low power consumption is crucial and designers must be able to come up with ingenious solutions to deliver consumer satisfaction.
Furthermore, thanks to the industry's effort in making open architecture. For example, programming languages such as HTML5 and LLVM are able to support various operating systems and deliver higher performance.
The IoT and cloud computing are also playing key roles, driving the needs for security technologies. According to Moore's Law, the growth of the semiconductor industry is reaching its limit. But this will not put a cap on the development of the industry and the technologies. The above-mentioned applications will help bring semiconductor technology everywhere in people's lives. Therefore, the ability to offer winning solutions is the key to success, and the importance of domain knowledge matters more than ever before.
Opportunities, emphasized Yassaie, are everywhere under the trends, offered by wearable devices, home wireless networks, automation and robotics, advanced driver assistance systems (ADAS), IoT devices for use in medical care, energy, and agriculture, instant and Big Data analytics, which will bring a completely new look to the industry development.
Imagination's Unique IP Solutions
Imagination's IP product portfolio includes the Ensigma communication processor, PowerVR graphic and video processor, and MIPS general purpose processor, featuring low power consumption and compact area, providing answer to the challenges of next generation applications and assisting customers in developing superior network SoC solutions, indicated Yassaie.
Imagination technologies are built into many products in mobile, consumer electronics, multimedia, computing, network, automobile, and energy applications, with accumulative shipments reaching over 7 billion units in the past few years, meaning on average 3 million units of products built-in with Imagination technologies are put on the market each day. Imagination has won the industry's 100% support and recognition.
In particular, after merging with MIPS, Imagination has been exhibiting great determination and commitment to continue expanding MIPS CPU technology. Yassaie emphasized that the industry desperately needs another architecture solution and with the ongoing development of MIPS technologies, future market competition will be reshaped.
Looking back at the development history of silicon intellectual property (SIP), technologies for video, graphics, RF, imaging and others were all still relying on external chips only seven to eight years ago. Now advanced mobile application processors integrate all these technologies on a single chip. In the next wave of IoT devices, an SoC needs to embed CPU with low-power consumption communications and peripheral functions. Imagination has all these solutions ready.
While the speed of SoC integration is picking up, IP performance is also advancing quickly. Taking mobile GPU for example, the performance has increased 300 times over the past five years, and PowerVR, which Imagination is going to launch by Imagination by the end of the year, will boast a performance 400 times as fast. It is capable of delivering desktop-level graphics onto mobile devices. However, at the same time of boosting performance, it is crucial that energy consumption be kept similar to previous levels or even more optimized, a goal that Imagination has always been keen to achieve.
Furthermore, Imagination is able to bring interactive imaging to mobile devices with maturing new ray tracing technology, which is a breakthrough in graphic technology.
Imagination has launched the PowerVR Wizard GPU family based on PowerVR Sseries6XT Rouge architecture with built-in ray tracing technology to bring vivid dynamic light mode into reality, rendering augmented virtual experience with a real sense of presence. Meanwhile, Imagination is also actively expanding the ecosystem of ray tracing for more developers to make use of the technology.
He stressed that in the next three to five years, this will completely change graphic experiences on mobile applications, so consumers will be able to create video content having quality never seen before.
Ensigma RPU (RF processor) is another innovative technology Imagination is bringing forth. Much as the case of the GPU becoming an integral part of an SoC, the inclusion of communication features such as Wi-Fi and Bluetooth in a system-on-chip will be an inevitable trend, Yassaie indicated.
Ensigma RPU is programmable and supports various emerging and evolving communication protocols, and with minimum energy consumption and low costs, Ensigma RPU is ideal for all types of cost-sensitive IoT devices.
In conclusion, Yassaie reiterated Imagination owns comprehensive IP technologies propelling the next wave of innovative advances in SoC, and is actively expanding the MIPS and PowerVR ecosystems. Imagination focuses on building long-term partnerships with customers, with whom Imagination works to bring forth new network SoCs supporting IoT, wearable and other devices.
TSMC Collaborating with Imagination to Drive Technical Innovations
Suk Lee, Senior Director, Design Infrastructure Marketing Division, TSMC, talked about the advantage and evolution of the fabless manufacturing model in his keynote speech. He pointed out TSMC has the necessary fabrication technologies to serve customers in response to the massive opportunities arising from IoT.
According to market research reports, the IoT market will grow at an amazing pace over the coming years with shipments of 50 billion units of various types of connected devices worldwide in 2020.
Lee indicated there are wide ranges of IoT applications, from smart meters and smart power plugs adopting entry-level 8- to 16-bit processors, smart watches and smart lighting with mid-range 16- to 32-bit embedded processors, to home gateways, smart thermostats, and smart glasses integrating high-end 32- to 64-bit processors.
Foundry processes for logic ICs, as well as analog, RF and MEMS devices, embedded flash memory, and image sensors, have to advance to keep abreast of the developments in the new generation of diversified smart. He predicted 0.18um RF CMOS, 90/55/40nm ultra-low power RF, 28nm ultra-low power RF, and 16nm FinFET will be the main processes catering to IoT devices from the entry-level to high-end segments.
TSMC has been much devoted to building a complete design ecosystem and working with IP and EDA partners to build an Open Innovation Platform (OIP) to drive technology development. Cooperation between TSMC and Imagination is well underway, on not only the current and new generation 16nm FinFET process but also PowerVR Wizard ray tracing GPU as well as MIPS CPU and connectivity technologies.
According to testing results, the performance of PoweVR6XT GPU, when moved from 16nm FinFET to 16nm FinFET+ process, is able to increase by 15% with the power consumption level staying the same. This means graphic capabilities of mobile devices will continue to grow in the future.
The Era of Smart, Display, and Big Data
Eddie Chang, product line supervisor at Realtek Semiconductor Corp., explored the future trend in the development of smart features and display technologies.
He pointed out smart devices and display technology will be the two major trends as the market expands. As such, TVs, smart phones, wearable devices and white goods will become new spotlights. People will demand more on intelligent features, interactivity, connectivity, display quality, and cloud connection.
The whole industry is aggressively bringing more and more smart devices to the market, and with more devices connected to the cloud, massive opportunities arising from Big Data will be divided into three aspects: capture, analysis, and protection of Big Data, Chang explained.
From the perspective of data capture, device suppliers as well as brands, SoC and app developers can record audios, videos, photographs, and information, while cloud server providers save data and behaviors on both private and public clouds.
Now data from connected devices is directly uploaded onto the cloud for storage, but issues about privacy and security are gaining attention with the growing availability of connected devices. In the future, in order to ease the demand on power and performance of IoT devices, data from home devices or sensors may be gathered and computed locally at the device and then uploaded onto the cloud. This approach, however, will pose new requirements on intelligence and security features that the industry is trying to answer to.
He thinks that there will be "insurance cloud" which is a type of service that functions as an agent or manager for individual and family users. When an individual or family uploads data, the data will be protected through "insurance cloud" and the data may be for sale upon the user's consent. This will trigger new operation modes in the times of Big Data and open up more opportunities.
Expert Opinion: Overcoming Challenges in SoC Design
Tony King-Smith, EVP Marketing, Imagination, hosted a panel discussion with experts from partners including Realtek Semiconductor, Synopsys Inc., Cadence Design Systems, and TSMC, who exchanged views on future application trends and technical challenges.
How to develop cost-effective, high-performance, low-energy consumption chips with the shortest time to market has become a demanding challenge for chipset designers as the complexity of SoC escalates.
Eddie Chang from Realtek indicated the management of IC design technologies is becoming crucial. It is important to establish improved design flow to more accurately estimate power consumption and efficiency so that the designer can have a better project schedule and better control of the design quality.
Phil Dworsky, Director, Strategic Alliances, Synopsys, said that in response to the IC design industry's needs, EDA providers have to offer suitable design methodology, solutions for establishing operation procedures and optimizing PPA(power, performance, area), testing tools, and fast prototyping so that the industry can accelerate the design of chips with higher complexity, lower energy consumption, and optimized cost structure.
Jack Chen, Manager, Technical Support and Service, Cadence, noted that the GPU is taking up more and more area of the SoC, almost exceeding 50%, so PPA optimization has become very important in chip design. In addition to technologies satisfying high-performance chip design, developments in low power and assembly technologies are also playing meaningful roles with the rise of IoT devices.
Chek-San Leong, Project Manager, Silicon IP, TSMC, pointed out as IP quality is critical, TSMC works with partners to jointly establish optimum reference procedures for new fabrication processes so that our customer's needs are addressed. He thinks that ultra-power power 28nm process will be the major process for the emerging IoT market. However, this is a very diverse market requiring different processes for making embedded flash memory, analog devices and sensors. These processes may rely on existing or new platforms. This will be the next important trend for the industry and is still under development.
MIPS Architecture Back in the Game
Imagination acquired MIPS in February last year and the merger has made quite significant progress on several items in the past year. MIPS architecture has unique features but it still needs investment of additional resources for it to expand to more applications, indicated Executive VP Tony King-Smith.
Especially, MIPS architecture has new development opportunities thanks to open source operating systems and independent ISA. He emphasized Imagination has developed many new MIPS processors based on the original MIPS Aptiva family. Combining Imagination's industry connection and technical reputation, King-Smith believes MIPS CPUs will be an alternative for the industry.
In line with the product roadmap of MIPS CPUs, Imagination has launched the new MIPS Series 5 Warrior offering high performance P-Class, mid-range I-Class, and M-Class for embedded systems.
He said MIPS is a proven 32/64-bit architecture technology, having a 20-year shipment history. The 32- and 64-bit technologies are seamlessly compatible in binary. The architecture is capable of executing multiple threads, cores, clusters, hardware virtualization, and multi-domain security.
MIPS is the ideal scalable architecture that has been adopted in various applications from embedded micro-processors to 64-bit advanced communication processors. He reiterated Imagination is committed to delivering complete, state-of-the-art IP solutions to help customers develop products with differentiating features.
Imagination is also looking to build up an ecosystem for MIPS technology to be used in more applications. Imagination has joined forces with industry leaders Broadcom, Cavium, Ikanos, Ineda Systems, Ingenic Semiconductor, Lantiq, Nevales Networks, PMC, and Qualcomm and formed the prpl foundation, supporting the MIPS architecture and open to others with a focus on enabling next-generation datacenter-to-device portable software and virtualized architectures.
Imagination is also working with Oracle to ensure Java can fully support all 64-bit and 32-bit MIPS platforms, including Oracle JDK and Java SE Embedded. On the other hand, Imagination is also making efforts in building an Android ecosystem, which has already been capable of completely supporting the MIPS architecture in addition to toolchain and fully portable app programs.
Grasp New and Emerging Opportunities
Imagination's Vice President of Strategic Marketing, Andy Thompson, said that Imagination's IP is already being used in mobile phones, tablets, consumer electronics, mobile multimedia devices, networking and automotive applications, as well as IoT. However, because of cloud computing and IoT technologies, he pointed out, previously independent segments will become interlinked. For example, mobile phones may become linked with wearable devices, televisions, the cloud, as well as home networks, which would be a completely new usage model and market opportunity.
In this type of market, he added, IP vendors must provide even more comprehensive solutions in order to meet market demand. Therefore, solutions that establish platforms will become increasingly important.
In addition, since various types of devices will be interconnected, the importance of software portability as well as security will increase. Furthermore, IoT as well as wearable devices will result in strict requirements in terms of power consumption, performance, form, and size. They will also drive heterogeneous computing as well as the emergence of new platform architectures.
At the same time, he also believes that the industry will see wider application of image processing technologies, including advanced driver assistance systems, posture recognition, facial recognition, and real-time image filtering, which will all drive new usage models. The ubiquity of network-connected SoC applications will bring forth new demand for voice, video, gesture and image processing technologies.
In response to this trend, Imagination has created an innovative IP platform solution using its PowerVR, MIPS, Ensigma, as well as FlowCloud technologies. It is also dedicated to establishing a strong ecosystem to provide complete tools support, heterogeneous processing, hardware virtualization, as well as security, allowing it to meet the various development needs of the future market.
IoT and Wearable Device Design
IoT and wearable devices are the new bright spots of the industry. Imagination's Senior Vice President of Consumer Strategy, Simon Forrest, pointed out some of the most important things that the industry needs to consider when designing these types of new products.
He said that the development of IoT devices will see shipments of consumer devices reach 20 to 30 billion units by 2020. The IoT trend will also expand to industrial applications, with shipments beginning to rise in 2016 and reaching a scale of 100 billion devices by 2025. And beginning from 2020, virtually all devices will be interconnected. This is a multi-trillion dollar market that will completely change the way people live.
The growth potential of wearable devices is just as astonishing. According to statistics, the number of wearable devices will reach 465 million units by 2019, of which medical, exercise, and smart watches will be the primary product category, with medical devices accounting for 32%, exercise devices accounting for 31%, smart watches accounting for 20%, and smart glasses accounting for about 8% of those 465 million devices.
He emphasized that these types of new product designs require new computing architectures. If the current mobile SoC designs are used, the products would not be accepted by consumers due to excessive power consumption. In order to achieve optimized performance, wearable devices must have SoCs that are tailored to specific applications.
In addition, low power consumption will play a critical role. Imagination's Ensigma Series 4 RF processor was specifically designed for wearable and IoT devices. It is capable of integrating low-power Wi-Fi, Bluetooth, and television broadcast communications standards in one chip.
Imagination Ensigma's Vice President of Business Development, Chakra Parvathaneni, also pointed out that the Ensigma RPU is a software-defined baseband technology that includes a complete solution for everything from RF to software and supports multiple communications standards. Ensigma includes the Explorer Series and Whisper Series products. Explorer provides high-performance communications, whereas the Ensigma Whisper provides low-power operation, both of which are specifically designed for wearable and IoT SoCs.
The All-New MIPS Warrior Series Processors
The MIPS Warrior is Imagination's latest product after acquiring MIPS and includes the P-Class Series, M-Class Series, as well as the newly announced 64-bit I-Class Series. MIPS Processor Business Director, Mark Throndson, points out that the MIPS Warrior includes comprehensive 64-bit and 32-bit versions, with each product providing best-in-class performance. Benefiting from the MIPS architecture, these products are able to provide seamless migration from 32 bit to 64 bit for high-end, mid-level, and entry-level microcontroller CPUs.
In addition, Imagination will add hardware virtualization to its full line of cores, providing enormous benefits to applications migrating from compute-intensive enterprise environments to low-power mobile platforms.
The P-Class P5600 core can support multicore configurations, with each cluster having up to six cores. It also provides high-performance cache consistency, hardware virtualization, 128-bit SIMD, as well as an optimized microarchitecture design for maximum SoC performance. The P5600 also includes enhanced virtual address (EVA) as well as extended physical address (XPA) support to ensure expandability and scalability for future generations of products.
The M-Class is the world's first microcontroller (MCU) class CPU IP core to have built-in hardware virtualization technology. It provides a new level of flexibility, safety, and reliability to entry-level applications. Throndson poined out that virtualization has long been viewed as a powerful technology in high-end applications (such as servers). Imagination foresees that the future development of CPUs will trend towards advanced multi-context security as well as multiple execution domains, which is why it has decided to add virtualization technology to its MCU-level cores, which will provide new design possibilities for embedded applications.
During the summit, Imagination announced its newest I-class I6400 CPU product, which is the first IP core to combine a 64-bit architecture with hardware virtualization technology. This product's scalable performance is enabled by multi-threading, multiple cores, as well as multi-cluster coherent processing technology.
Throndson said that the MIPS Warrior I-class processor core has already set a new standard for mainstream 64-bit applications, which include embedded, mobile, digital consumer, advanced communications, networking, as well as storage applications, forming the widest range of applications supported by a single MIPS core. The I6400's outstanding features as well as its industry-leading advantages in terms of performance/power/area allow it to stay ahead of all competing products, helping customers build cores with the same performance but smaller area, or, cores with the same area but faster speed.
In addition, in light of the increasing importance of security, the MIPS processor further enhances its security features. Tony King-Smith pointed out that to ensure security, the basic approach is to implement multiple security domains in heterogeneous architectures, which is a feature systems of IoT to data centers must all have. The MIPS processor's virtualization technology can provide hardware firewall security, scalability, as well as necessary isolation. It also provides secure content delivery, secure payment, identity protection, as well as other features applicable across a variety of applications.
PowerVR Graphics, Video, and Imaging Technology
As the industry leader of GPU IP, Imagination has always been a leader in the development of graphics technologies. Imagination's Graphics Processor Business Development Director, Kristof Beets, said that graphics processor applications are finding increasingly widespread application in areas including IoT, UHDTV, set-top boxes, mobile phones, automotive, servers, and game consoles, which covers various markets ranging from the low-end to the high-end. Different applications have different requirements in terms of performance, cost, area, power, graphics features, and GPU computing performance.
Imagination's PowerVR graphics processor has excellent scalability, per-watt performance, per-unit-area performance, as well as reduced bandwidth, which all lead other products in the same class. Furthermore, Imagination has also been aggressively building ecosystems, providing leading API support, free SDK, as well as training, thereby meeting the needs of different applications with complete solutions.
In terms of video applications, PowerVR Video and Imaging Business Development Director, Chris Longstaff, pointed out that consumers continue to pursue better visual experiences. The traditional method is to increase resolution. However, factors that affect the visual experience include frame rate, color depth, dynamic range, as well as compression format.
In addition, mobile devices, cars, cameras, and wearable devices all have different requirements in terms of image quality. PowerVR's decoder has exceptional scalability and low-power features, making it capable of providing optimal imaging and video solutions.
Visual applications are one of the key areas that Imagination focuses on. Longstaff, said that camera applications are becoming increasingly widespread, including in cars, smart TVs, as well as surveillance equipment. They also tend to integrate with augmented reality as well as location or object recognition features. With the advancement of technology, the resolution and frame rates of cameras have been increased to meet the requirements of advanced visual features.
The PowerVR Raptor heterogeneous visual platform is Imagination's new breakthrough camera image signal processing (ISP) architecture, which has been optimized for the integration of next-generation SoCs and is applicable towards a wide range of video and imaging applications. Longstaff pointed out that by integrating the ISP into the SoC, vendors will be able to achieve higher performance as well as reduce cost and power consumption. Imaging systems will be the main driving force for consumer technologies as well as a key differentiating factor in smart phones, tablets, IoT devices, as well as emerging automotive applications.
Digital Networked Home Solutions
Imagination's Senior Manager of Consumer Strategy and Marketing, Simon Forrest, pointed out that the networked home includes consumer electronics, network technologies, the smart grid, home automation, health care, security, and smart appliances. With the advancement of technology, the development of the digital home is also gaining speed. In the future, consumers will be able to enjoy multimedia content on their mobile phones, tablets, or televisions from any corner of their home through wireless networking and cloud technologies. At the same time, all of the smart appliances and equipment in the home will be interconnected, creating a whole new way of life.
Imagination's solutions for the digital home include A (audio), B (broadcast), and C (communications).
In terms of audio, Imagination's Caskeid provides the most accurate synchronous wireless multiroom audio interconnect and streaming technology, and is capable of achieving delays of less than 20µS, providing exceptional high fidelity stereo audio playback quality, and supporting all 802.11 WiFi standards.
In terms of broadcast, with TVs developing towards higher 4K/8K resolutions as well as Android support, Forrest pointed out that set-top boxes will also become smarter. In the future, gaming and hardware virtualization features will be added to support paid TV as well as OTT services. Imagination can provide 10-bit color HEVC decoders as well as relative display, graphics, and CPU solutions to meet the needs of emerging smart TV services.
Finally, in the communications space, Wi-Fi standards are continuing to evolve. Currently, there is the newest low-speed 802.11ah standard that targets free spectrums of 1GHz and below, which are designed for IoT devices. It is foreseeable that various wireless communications technologies will exist simultaneously in the home of the future, including wireless communications technologies for lighting, 802.11ah (for security), 802.15.4, Bluetooth LE, as well as 802.11n/ac (for TV and set-top boxes). Imagination's Ensigma communications processor can help vendors integrate various communications standards into their SoCs in order to satisfy various usage requirements.
Furthermore, Imagination can also provide FlowCloud technology, which is a set of modularized infrastructural features and underlying services that can provide optimized designs for embedded IoT applications as well as cloud connectivity applications, thereby ensuring security and flexibility.
Forrest also noted that the world is currently at the starting point of a digital home evolution. In the next five to 10 years, more advanced technologies will appear, including computer vision, holographic projection, full ray tracing, object oriented audio, as well as 14-bit color. Vendors must keep up with these trends to be able to take advantage of the next wave of innovation and opportunities in the industry.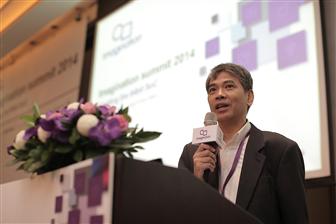 Opening speech by Maxwell Lin, director of business in the Taiwan region.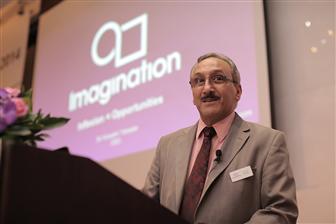 Imagination CEO Hossein Yassaie participates in the event along with key industry partners to announce the latest developments and trends in the market as well as in relative technologies.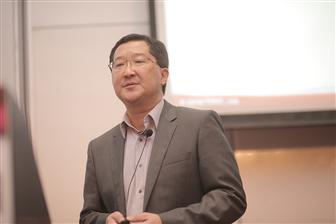 TSMC Senior Director of Design Establishment and Marketing, Suk Lee, gives a talk.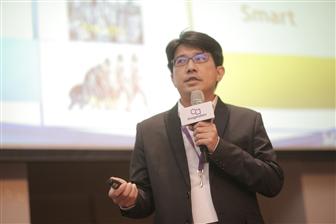 Realtek Product Line Manager Eddie Chang discusses future technological trends from the perspective of smart functionality and display technologies.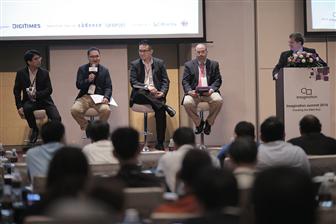 Imagination's Executive Vice President of Marketing, Tony King-Smith, moderates a panel discussing future application trends as well as technical challenges. The panelists are from Imagination's partners, Realtek, Synopsys, Cadence, and TSMC. From left to right: Eddie Chang (Realtek), Jack Chen (Manager of Technical Support Services at Cadence), Chek-San Leong (Silicon Intellectual Property Management IP Alliance Project Manager at TSMC), and Phil Dworsky (Strategic Alliance Director at Synopsys).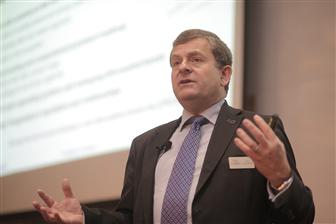 Imagination's Executive Vice President of Marketing, Tony King-Smith, points out the advantages of the MIPS architecture, especially in terms of open operating systems and ISA neutrality.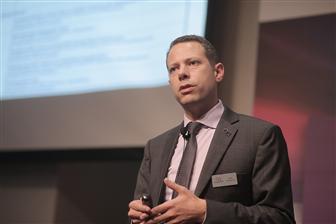 Imagination's Vice President of Strategic Marketing, Andy Thompson, explains how Imagination has built innovative IP platform solutions using its PowerVR, MIPS, Ensigma, and FlowCloud technologies, allowing it to satisfy the needs of future growth markets as well as various developmental requirements.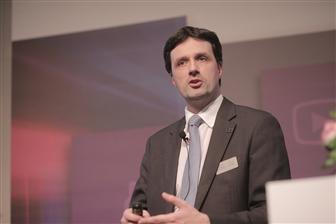 Imagination's Senior Manager of Consumer Strategy and Marketing, Simon Forrest, introduces key considerations for the design of IoT and wearable devices.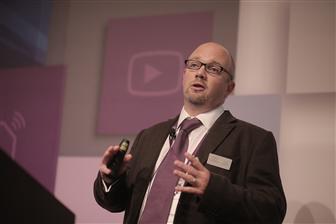 Director of PowerVR Video and Image Business Development, Chris Longstaff, points out that video applications are one of Imagination's focal points.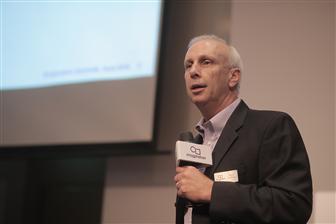 Director of MIPS Processor Business Development, Mark Throndson, points out that the MIPS architecture has unique benefits, allowing it to facilitate seamless migration for high-end, mid-range, and entry-level microcontroller CPUs from 32-bit to 64-bit.