Elo Touch Solutions (Elo), the original inventor of touchscreen technology and a portfolio company of The Gores Group, has expanded its zero-bezel touch technology portfolio with the IntelliTouch Pro projected capacitive (PCAP) solution. Elo's IntelliTouch Pro solution set includes touchscreen, controller and software from a proven and trusted supplier with global support capabilities. Elo field application engineering and development resources stand ready to help OEM customers successfully integrate PCAP touch capabilities into intelligent systems for the automotive, banking, gaming, healthcare, hospitality, industrial automation, retail, transportation and other commercial applications.
IntelliTouch Pro is unique in its ability to be performance optimized for Microsoft Windows 8.1 touch specifications, or focus on optical clarity that brings to life the vivid colors and HD graphics of today's software. IntelliTouch Pro delivers from 10 touch capability at screen sizes up to 32 inches, with roadmap offerings that scale to support up to 60 touches on 4K, 8K and 16K screens over 100 inches in size.
"This is a great new offering that combines Elo's deep expertise in touchscreens, controllers, and drivers with our unmatched system integration experience," said Craig Witsoe, CEO Elo Touch Solutions. "While many suppliers are focused on consumer applications of PCAP such as phones and tablets, Elo specialized in commercial and industrial applications which require higher performance and more specialized custom application characteristics. As the original inventors of touchscreens and a global leader in touchscreen technology, our application engineers are able to help our customers determine the right solution for their specific application."
Elo leverages its research, design, manufacturing, customization and support capabilities to help you avoid integration issues, enable touch on boarders, create unique shapes and curves, and incorporate your logo into your final products. IntelliTouch Pro can be integrated with a variety of cover glass including Corning Gorilla Glass; tempered; chemically strengthened; heat strengthened, anti-glare coatings, and increased cover glass thickness. Injected noise immunity, palm rejection, contaminant rejection, and fast drag response are all enabled through Elo's unique controller firmware and driver software. Going beyond traditional USB HID drivers, Elo drivers support Apple Mac OS, Google Android, Linux, and Microsoft Windows operating systems while providing enhanced capabilities such as touch on release, touch exclusion zones, touch count restrictions, edge acceleration, beep on touch and a real-time application programming interface.
IntelliTouch Pro PCAP technology complements Elo's other zero-bezel touchscreen technologies including the patented iTouch/IntelliTouch ZB surface acoustic wave (SAW) and AccuTouch ZB five-wire resistive touchscreens. All Elo touchscreens are professional-grade and built for continuous use in public environments.
Available worldwide, samples of the IntelliTouch Pro solution can be requested and feature a standard 3-year warranty. Elo will be demonstrating IntelliTouch Pro at SID Display Week 2014 from June 1-6 in San Diego, California and Computex from June 3-7 in Taipei, Taiwan.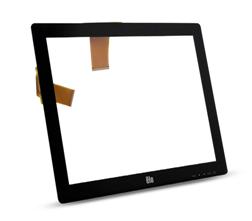 IntelliTouch Pro projected capacitive touch solutions
Photo: Company
White papers:
IntelliTouch Pro projected capacitive touch solutions
IntelliTouch surface acoustic wave touch solutions
AccuTouch five wire resistive touchscreens