This Digitimes Research Special Report examines two aspects of the China smartphone market. The first part covers the China smartphone market, measuring local shipments in China from both China-based vendors and international vendors such as Samsung and Apple. The second portion of the Special Report covers the China smartphone industry and measures shipments from China-based makers and vendors in the local China market as well as their shipments to overseas markets.
Abstract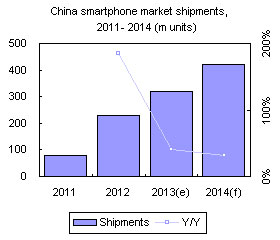 Digitimes Research expects demand in the domestic China market to reach 422 million smartphones in 2014, with 278 million units contributed by China-based smartphone vendors. The continued expansion by international vendors Samsung and Apple will push up their sales to almost 144 million units, accounting for nearly 4% growth from 2013. As competition in the local market heats up, China-based vendors are turning to overseas markets in order to maintain their shipment volumes, especially taking an aggressive approach to penetrating emerging markets, which hold higher barriers for overseas vendors to enter.
The outlook for the 2014 China domestic smartphone market is that fewer local brands will remain to compete in the market. With the general enhancement of software-hardware specifications in 2013, brand-building and channel management have become the key to sustainability. Vendors without the advantage of substantial product differentiation will face the challenge of being eliminated in the short term. On the other hand, local vendors need to deal with inventories with discretion to counter the vigorous attacks initiated by international vendors in the domestic market.
In terms of the China smartphone industry, Digitimes Research expects global shipments of China-based smartphone vendors to reach 412 million units in 2014, a 30.7% increase from 2013. Overseas shipments will account for about 126 million units. While shipments to mature markets are expected to grow on a small scale, shipments to emerging markets are expected to expand at strong rates, mainly due to the low base they are starting from.
In the forecast for shipments from different vendors in 2014, Lenovo and Huawei are expected to reach 50 million units. Huawei has been engaged in overseas markets for a long time so its export portion outweighs Lenovo's. ZTE's and CoolPad's shipments are expected to reach 35.5 million units. TCL has shown a significant growth in exports with shipments expected to exceed 26 million units in 2014, ranking No. 5 on the list. Second-tier vendors Gionee and Xiaomi are expected to ship 20 million units.
Table of contents