Teaming up to Drive RISC Business Opportunities
Press release
Featuring low-power consumption, small size, and a wide operating temperature range, RISC-based devices are playing an increasingly important role in the embedded market. At the panel discussion themed on "Key business growth driver – RISC", Advantech invited executives from Freescale, TI, and Advantech Europe and China to discuss its huge market opportunities as well as the challenges ahead, and how Advantech is collaborating with partners to provide complete RISC-based solutions.
The RISC Market is Booming
From the perspective of power consumption and response time, RISC architecture such as ARM will have a considerable advantage in embedded application. With more and more smart nodes devices will be installed in the smart city, this represents a hug market opportunity for RISC devices.
According to Aaron Su, Director of Advantech Embedded Computing Group, in the smart city network architecture, the middle level and advanced computing needs will still be taken by X86, while the entry-level intelligent system, such as "smart nodes" in intelligent cloud network, will be dominated by ARM. ARM-based micro computing will be the last mile technology of smart city.
Carlos Betancourt, Sitara ARM MPU Marketing Manager of TI, is also optimistic about the future of RISC architecture, saying that it is estimated that ARM-based processors will be widely used in a wide range of IoT markets, such as point of service, smart grid, automotive, medical, and connected home, with CAGR more than 10%.
"The opportunity for ARM in China market is also huge," said Xiaofeng Ou, Sales and Marketing Manager of Advantech China. One of the reasons is that customers may switch from existing X86 architecture to ARM because of better power consumption. At the same time, for a better choice on performance, customers may also decide to upgrade from old models to new ones.
However, though RISC-based products can offer a better P/C rate for embedded applications, there are still many challenges for the customers to us RISC solutions.
Driving Growth through RISC Standards
"As the industry is driving the progress of IoT applications, there are still plenty of challenges to overcome, such as issues of connectivity, power, security, design complexity and rapidly evolving standards," Carlos Betancourt said.
In order to cope with these issues, what the industry needs are: broad variety of wired or wireless standards, the lowest power solutions for any applications, build-in hardware security technology, IoT solutions for everyone, not just experts, and flexible hardware and software portfolios to mix and match.
Stephane Gervais-Ducouret, Director of Global Market for Consumer & Industrial, Freescale, echoed this viewpoint. He emphasized that, in the IoT era, the industry needs more flexible solutions, since one size doesn't fit all anymore. In addition to cost-effectiveness and energy efficiency, the main considerations should also include real-time and user interface, portfolio breadth that enables software scalability, and embedded architecture with a rich software ecosystem.
He pointed out that board solution is the best way for fast adoption while addressing increasing number of new applications. And both TI and Freescale are teaming up with Advantech to offer a wide range of solutions.
On the other hand, Vincenzo Difronzo, Sales and Marketing Manager of Advantech Europe, stressed that the lack of standard makes customers cautious about using ARM architecture because of its low ROI. Adopting RISC-based designs is time and cost consuming. Therefore, minimize design efforts is a must for the wide adoption of ARM architecture in IoT applications.
In view of this demand, Advantech is actively participating in the specification definition for Qseven and SMARC to promote RISC-based industrial standards. In addition, for rugged applications, Advantech has proposed a RTX 2.0 (RISC Technology extended) form factor.
Advantech has collaborated with partners to offer a full range of standardized modules such as Qseven, SMARC, and RXT. In addition to module solutions, Advantech also provides complete 3.5" RISC-based box computer products, such as the newly launched UBC-DS31, to help customers leverage RISC-based products more easily. Through partnering and speeding up the progress of standardization efforts, Advantech is well positioned to embrace the great opportunities of RISC market.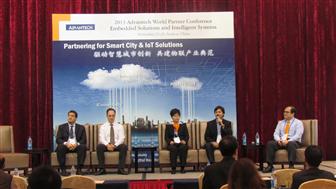 Advantech has collaborated with partners to offer a full range of standardized modules such as Qseven, SMARC, and RXT.
DIGITIMES' editorial team was not involved in the creation or production of this content. Companies looking to contribute commercial news or press releases are welcome to contact us.