Phoenix Technologies speeds up the innovative design of embedded systems with Phoenix SecureCore Technology 3.0
Press release
Official support for UEFI BIOS by Windows 8 facilitates the standardized firmware interface migration that has already been implemented for a long time in the industry. UEFI BIOS design differs from its legacy counterpart by significantly enhancing BIOS features and functionality that help improve innovative firmware layer design for embedded and intelligent systems, in addition to PC-based applications.
Phoenix Technologies, having focused on the BIOS market for decades, launched a new version of Phoenix SecureCore Technology (Phoenix SCT) 3.0 at the end of 2012 that included EDK II support. With its security, manageability, and connectivity features, Phoenix SCT actively supports the diverse applications of UEFI BIOS for embedded systems, while helping embedded system developers devise increasingly differentiated and value-added products.
UEFI BIOS will drive the next generation of embedded applications and development
Compared to the BIOS traditionally written in assembly language, Unified Extensible Firmware Interface (UEFI) BIOS is written in C language with a modular architecture that has better graphics capability and cross-platform support, bringing a new change to the long developed BIOS technology.
Terry Chen, VP, Development Engineering at Phoenix, indicated that since UEFI BIOS was adopted for laptops in 2008, the industry has experienced a painful period of more than four years during the process of migration to UEFI BIOS. The official support by Windows 8 has further reinforced this trend from the beginning of this year.
The x86 architecture dominates the embedded market and the UEFI BIOS migration trend has been gradually emerging. Terry Chen pointed out that, due to the long life and diverse applications of the embedded devices, both new and legacy BIOS architectures will co-exist in the market for a long period of time. For the new generation of connected embedded systems focusing on intelligence, connectivity, and security, innovative design is possible for the firmware layer by utilizing UEFI BIOS to improve the features and functionality of embedded systems. This not only strengthens vendors' customization design capabilities, and improves their after-sale services for their products, but also highlights the importance of BIOS firmware for embedded design.
Phoenix SCT 3.0 helps vendors enhance differentiation of embedded systems
While UEFI BIOS has technologically driven new development, a number of standardized specifications have been developed for software that presents challenges never faced in the past for BIOS vendors having proprietary technology. Terry Chen said that a unified BIOS technology will make an impact on vendors placing importance on proprietary technology, but the improved features of UEFI BIOS will open up more possibilities.
UEFI BIOS is written in a way that is different from the one used for the serial architecture of legacy BIOS. While legacy BIOS is based on interrupt architecture, UEFI BIOS works in timer polling mode with the time-sharing concept where a core hosts the execution of each process. UEFI BIOS also features a shell and file structure, meaning it can be considered a light operating system. Terry Chen said that Phoenix Technologies is committed to the advanced development of UEFI BIOS, and offers more cost-effective and differentiated firmware solutions depending on end-user requirements, instead of only providing BIOS technology.
Phoenix SCT 3.0 has a comprehensive development environment with advanced features
Picken Hu, Senior Product Manager at Phoenix, pointed out that Phoenix SCT 3.0 is a comprehensive solution with a complete build system and development tools. It enables development of diverse customizable solutions, which is the main advantage Phoenix Technologies has over its competitors. In addition, Phoenix SCT 3.0 supports native EDK II used by the next generation of Intel-based platforms and provides backward compatibility with EDK 1117 for developers needing to seamlessly transition to EDK II in a more efficient manner.
Picken Hu explained that the differences between EDK I and EDK II include the package, build system, library, and deployment. For customers, more costs and resources are needed to support different code bases. Furthermore, in an embedded system application, the lifecycle of a customer's terminals is usually more than a decade. Even if the core computing platform is upgraded, ensuring compatibility with the user interface, security mechanism, management features, and hardware as well as software integration, must be maintained. Phoenix SCT 3.0 can provide support for firmware features developed with EDK I on the new EDK II platform without any modification, effectively reducing risks and enhancing cost-effectiveness.
Touch feature
To support the touch features of Windows 8, Phoenix SCT 3.0 is also optimized for touch-enabled devices, providing the new Windows-8 style GUI BIOS Setup and GUI customization tools for a seamless user experience that bridges Windows 8 and Phoenix SCT 3.0 BIOS.
Terry Chen indicated that Windows 8 helps improve the visibility of the touch interface for embedded devices, such as ATM, POS, KIOSK, HMI, Interactive Signage, and Intelligent Retail devices. Consumers can look forward to enjoying better touch features in the future.
Phoenix SCT 3.0 supports programmable touch hot zones. Embedded device vendors can set these hot zones as specific hotkeys or use them to run commands for easily recognizable product differentiation. For example, different hotkeys can be defined for different positions on the screen to run predefined applications, such as BIOS setup, system diagnostics, or to connect to a remote control interface.
User interface
Phoenix SCT 3.0 has a Windows-8 style GUI BIOS Setup interface, which supports touch and multiple languages with graphics effects.
Picken Hu said that Phoenix Desktop Manager (PDM) is Phoenix Technologies' unique customizable GUI BIOS core engine, which has a development environment identical to Windows x86 and provides a WYSIWYG GUI SDK with support for various fonts, color settings, and a virtual keyboard. For BIOS developers who struggle with graphic design, the customizable user interface design process can be greatly simplified with PDM.
In addition, PDM can be used as a platform for differentiation. Customers can run their own or third party UEFI applications in PDM, such as a calculator, QR Code, music player, or even POS system. PDM can also connect to networks and work with features (such as file explorer) developed with UEFI BIOS by Phoenix.
Security
Phoenix SCT 3.0 also provides security and system integrity that are important for connected embedded devices. Picken Hu indicated that for remote devices, Sure Boot, provided by Phoenix SCT 3.0, ensures that these devices can automatically restore to the default BIOS settings or a stable version for a normal boot when a problem occurs. This effectively improves system reliability when they are used in an extreme environment or left unattended.
Unlike Dual BIOS mode of the past, Phoenix SCT 3.0 provides Safe Recovery BIOS2 to further save space and costs for embedded devices without the need to have 2 pieces of Flash ROM. With hidden sectors, two BIOS images can co-exist. When the primary BIOS image is corrupted, the system switches to the secondary BIOS image for restoration. Two sectors are split on the same ROM to reduce space and complexity for hardware design while reducing power consumption and space.
With these added features, you can create a new user experience for embedded systems. Through the UEFI architecture, some simple features, such as a clock, map, thermometer, music player, or calculator, can be integrated in a BIOS application package and directly used during the pre-OS phase, without the need to boot the OS.
Terry Chen explained that, as the UEFI sees BIOS as a firmware OS, with an Internet connection and Sure Boot, the basic features required by a small cloud connected device can be provided without a complete OS. This can bring a noticeable cost-effectiveness for cost-sensitive applications.
Phoenix Technologies' BIOS solutions have been widely used in various embedded devices, such as POS, KIOSK, factory automation, digital signage, networking equipment, the military, and in-flight entertainment systems. Globally renowned industrial PC manufacturers, such as Kontron and Emerson, are their customers. In the future, Phoenix Technologies will aim at customized support services to improve the features of embedded systems.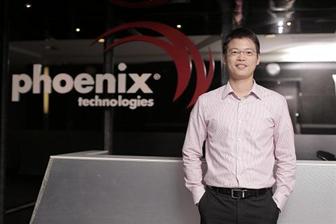 Picken Hu, Senior Product Manager at Phoenix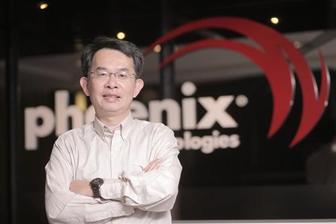 Terry Chen, VP, Development Engineering at Phoenix
DIGITIMES' editorial team was not involved in the creation or production of this content. Companies looking to contribute commercial news or press releases are welcome to contact us.