It is a key issue for OEMs and ODMs to create unique products of their own out of standardized components. However, how can one create a truly unique product that not just looks different? The launch of Phoenix SecureCore Technology (SCT) 3.0 has shown a clear direction for true product differentiation. The event that Phoenix Technologies hosted on November 27 to introduce the new product attracted a full house, prompting meaningful discussions and exchanges between R&D engineers over the possibilities and opportunities of the next-generation UEFI BIOS.
For general users and R&D engineers alike, having to work in a text-only environment while configuring BIOS settings could give them a headache. Switching frequently back and forth between an image-based and touch-enabled operating system and keyboard control is very inconvenient. It may be an even bigger hassle if one works from a mobile device, such as a tablet.
Right at the beginning of the event, Kelly Wu, vice president and general manager of Phoenix Greater China, pointed out that Phoenix SCT 3.0 is a BIOS system that truly supports the latest user interface trend. In addition to native support for touchscreen control, it features a complete graphical user interface (GUI) in the Windows 8 style to enhance control, maintaining a consistent user experience from the BIOS to the operating system. And R&D engineers only need Phoenix's software development kit (SDK) to design their own GUI and innovative BIOS applications, creating IT products that are not only price-competitive and feature-rich, but also unique.
Intel revolutionizes user experience
Intel Taiwan manager Jason LS Chen pointed out that user habits have been changing along with market trends. Hardware performance is becoming faster and faster, and touchscreens have become the mainstream mode of control.
On the hardware side, handsets have become an essential part of life, while tablets are gaining popularity fast. On the software side, cloud computing is an unstoppable trend, while demand for cross-platform applications is growing. Chen noted that Intel and Microsoft have already crystallized their cooperation in the form of the sensational Windows 8, and currently many of the Windows 8 enterprise applications are only supported by Intel, which shows the importance of hardware-software integration.
The Intel-Phoenix cooperation in developing UEFI technology is also an exemplary case demonstrating tight integration between hardware and software. Under the standardized UEFI structure and EDK II environment, developers can design UEFI BIOS systems, firmware modules and hardware drivers that support various hardware-software combinations. They can also help system developers achieve seamless transition to the latest UEFI structure.
Phoenix SCT 3.0 supports the past and eyes the future
The UEFI structure has already been around for many years, and Phoenix Technologies, as an early advocate of UEFI, has been keen to advance the platform and develop related applications. From the UEFI feature-ready Phoenix SCT 2.1, Windows 8-supporting Phoenix SCT 2.2, to the Phoenix SCT 3.0 with EDK II support, they have clearly demonstrated the important role standardized UEFI architectures have played in the development of BIOS systems, firmware and applications.
Phoenix's Product Marketing Director Juliet Chen noted that Phoenix SCT 3.0 is based on the latest UEFI specifications. It supports Windows 8, enhances UEFI funtionality, and meets the latest Security requirement of NIST 800-147 and NIST 800-155. It offers multiple support for touchscreen control, and with the GUI menu, new BIOS systems can be developed effortlessly to enable system boot for a host of products ranging from tablets to servers.
Under the standardized specifications and modularized structure, OEMs/ODMs do not need to make repeat investments on firmware development, as they only need to modify existing modules, and through UEFI Shell - which is supported by Phoenix Desktop Manager (PDM) - and third-party software packaging, the OEMs/ODMs will be able to add new features that differentiate their products from others.
Juliet Chen added that silicon vendors Intel and AMD both look forward to further developments deriving from the EDK II specifications in the next few years. Phoenix SCT 3.0 can sufficiently support each firmware foundation plans, making sure next-generation processors can run compatible systems easily without trading off performance.
Phoenix's Senior Development Manager Jack Wang pointed out that Phoenix's standardized development environment allows any R&D engineers to enlist their previous experience seamlessly, saving them time and effort that would have been wasted on learning a new tool. The company's customizable GUI engine - Phoenix Desktop Manager (PDM) - is a plus for OEMs/ODMs adjusting settings and creating their own GUI BIOS setups.
The exciting Phoenix SCT 3.0
One of the most anticipated talks at the event came from Phoenix's vice president for Development Engineering, Terry Chen, who spoke about the latest technology trends and gave an in-depth analysis of Phoenix SCT 3.0.
The biggest advantage of Phoenix SCT 3.0 is, according to Chen, its cross-platform and cross-code support. The EDK II source code is backward compatible with EDK 1117 and features support for x86 and possibly ARM (both 32-bit and 64-bit) architectures. The advantage shortens time to market for multiple-platform products, and enhances customization as well.
Chen also explained several new features developed by Phoenix's R&D team, such as fast boot, Sure Boot, Safe Recovery BIOS2, and enhanced touchscreen control. Firmware developers can easily upgrade EDK 1117-based functions to the EDK II environment through the Universal Build System, extending the use of BIOS and reducing maintenance cost.
Phoenix SCT 3.0 also sees a major change in its way to access and upgrade firmware. In the past, firmware upgrading had to be completed by going through the S3 Sleep state, but for SCT 3.0, the whole process can be done through a standard system re-boot, saving all upgrade patches in the hard disc drive (HDD) rather than RAM. This avoids RAM's storage limitations and protects firmware data's integrity.
Windows 8 features such as touchscreen control, enhanced security, UEFI Firmware Update, mobility, and new architecture, have higher requirements for BIOS. As Windows 8 requires BIOS to boot up the system in less than two seconds, according to Chen, BIOS needs not only a modularized design to accelerate boot-up, but also even more configurations on demand with the operating system.
Such a requirement has set higher bar for firmware developer, especially in system stability. Say, what should the user do when a firmware upgrade fails? Phoenix SCT 3.0's Sure Boot is the answer - like Win8 fail over, a feature that will automatically load the default image to restore the last functional version or BIOS settings, allowing the system run normally.
Chen pointed out that the feature is a smart function designed to maintain normal operations when there are repeated errors or instability. Its runtime service stack saves users from the trouble of having to manually intervene with the boot-up process.
For integration with the Windows 8, Phoenix SCT 3.0's features, such as Secure BIOS, SecureFlash Tools, Connected Standby, and Windows UEFI Firmware Update (WUFU), have received Microsoft's verification. The service allows any device running on Phoenix SCT 3.0 to easily update its firmware and drivers. Chen also noted that when necessary, OEMs/ODMs may also integrate their validated update patches with WUFU to facilitate their own services.
Demonstration
Phoenix Software Architect Abner Chang and two other company engineers gave a demonstration to the audience on how to customize a GUI with Phoenix SCT 3.0. They showed how to adjust the BIOS settings through touchscreen control, and how to control different interface types with the cross-platform support and Phoenix SCT 3.0's unique GUI modules.
Kelly Wu, vice president and general manager of Phoenix Greater China, noted that Phoenix SCT 3.0 is a brand new UEFI BIOS product and is Phoenix Technologies' answer to the market's demand for cross-platform and cross-device support, as well as to the touchscreen trend.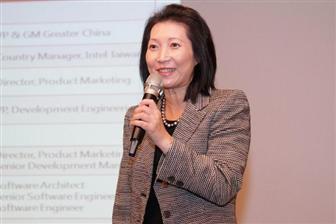 Kelly Wu, Vice President & General Manager of Phoenix Greater China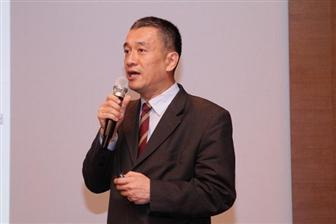 Jason LS Chen, Intel Taiwan Manager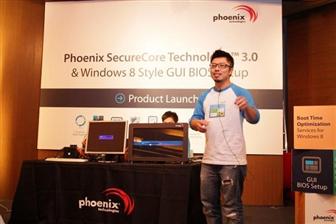 Abner Chang, Phoenix Software Architect
DIGITIMES' editorial team was not involved in the creation or production of this content. Companies looking to contribute commercial news or press releases are welcome to contact us.