American Megatrends (AMI) Announces Aptio V UEFI Firmware for Multi-platform Development
Sponsored content
The impact of mobile devices such as smartphones and tablets has not only changed consumers' habits, but also exposed development engineers to serious challenges from diversified hardware platforms and shortened development time. In particular, the launch of Microsoft Windows 8 in late October 2012 will mark an extension beyond x86 platforms to include ARM architecture. To meet the challenges of working under such a complicated development environment, firmware engineers need a set of BIOS tools that can support multiple hardware platforms without disrupting the continuity of the BIOS development experience.
US-based American Megatrends Inc. (AMI), a founding member of the Unified EFI (UEFI) Forum and a leading player in the global BIOS industry, has long been aware of these challenging market conditions. With this in mind, AMI hosted the "Touch the Future with Aptio V: The Innovative UEFI BIOS" technology forum at the Howard Civil Service International House in Taipei on October 5, sharing information about recent conditions and trends in the market, as well as providing an in-depth review of AMI's newly launched Aptio V UEFI BIOS Firmware. The event also featured a content-rich exhibition area to let participants experience the latest and most powerful development tools from AMI on the latest Windows 8-ready hardware.
AMI maintains a large share of the global BIOS market and a long history of innovation since its establishment in 1985, with over 1,100 employees worldwide and branch offices in many countries. AMI entered the Taiwan market in 1986, in recognition of Taiwan's strengths in the IT industry. In addition to its established presence in the BIOS industry, AMI has also made notable achievements in such diverse market sectors as network storage solutions, remote platform management technologies, solutions for mobile devices and system design services. A perfect example of the diversity of AMI's success is the MegaRAID Host Bus Controller (HBA), which AMI turned into the market leader in its class for several consecutive years before selling the product division to LSI Corporation in 2001.
AMI President and CEO Subramonian Shankar noted that "AMI has been closely monitoring market changes with the aim of providing complete solutions that the IT industry needs most. The Windows 8-supported UEFI 2.3.1 specifications are a good example of our approach. AMI is not only a founding member of the UEFI Forum, but also ahead of the competition by releasing the Aptio development platform with support these specifications, in order to give our partners an early start on preparations for the enormous business opportunities that are expected to come with the launch of Windows 8."
The company's Aptio UEFI Firmware is perfect for cross-platform development, suitable for diverse environments from mobile devices to personal computers and servers. The recently launched, next-generation Aptio V from AMI is able to further reduce developers' learning time thanks to its ease of use, and can effectively shorten new products' time-to-market by incorporating previously developed program modules.
Although the UEFI 2.3.1 specification is known for its focus on fast boot time, enhanced security functions and many other excellent features, in reality, user requirements from different market sectors may be completely distinct. For example, embedded devices may require accelerated boot times, while server equipment may require assistance from remote access service mechanisms to ensure security and system availability. In response, AMI has been extremely proactive in enhancing the functionality of its BIOS solutions to meet needs across the market spectrum. Its FastBoot capability is targeted at embedded devices to shorten system boot time to a mere 0.6 seconds, while AMI is currently engaged in the development of Aptio V for the 64-bit ARM platform to help bring a solution based on the ARM platform to the server market.
"AMI has also recently introduced a unique product called DuOS into the market which allows users to run both Windows and Android operating systems on x86-based hardware," noted Mr. Shankar. "We have observed that some consumers wish to run two operating systems on their tablets and created DuOS to enable Android to run under the Windows 7/8 environment without rebooting." Such innovative solutions not only satisfy the ever-evolving demands of the consumer market, but also allow AMI's partners to introduce unique and eye-catching products to enhance their competitiveness.
Continuity of Development Experience Shortens Development Time
Since the birth of the personal computer, BIOS has always handled the tasks of initialization, hardware inspection and booting the operating system. As the IT industry continues to evolve at a rapid pace, the speed at which new hardware architectures enter the market is so fast that manufacturers and system designers are greatly challenged to quickly learn to use the development tools for these new platforms, as well as deal with an overall lack of qualified firmware engineers. In the face of such harsh conditions, a cross-platform BIOS development tool is the only real solution to the shortage of tool familiarization time and capable development personnel.
AMI's Aptio UEFI development environment meets these challenges head-on, as it is easy to use and can significantly shorten the learning period for newly recruited engineers. In addition, its cross-platform support leverages senior engineers' valuable development experience, accelerating product launches for the consumer market.
The newly-launched, latest-generation Aptio V inherits the strengths of Aptio 4 and adds several key innovations to improve development workflow, such as integration of the industry's latest EDK II implementation and an enhanced Visual eBIOS (VeB) development interface. Aptio V also enables continuity of previous development experience from non-EDK II projects to speed up the product development process by firmware engineers. Furthermore, the modular architecture and integrated programming library in Aptio V help reduce human errors and costs incurred from future product modifications.
AMI's Director of Strategic Marketing, PaiLin Huang explained that "Aptio V represents AMI's latest efforts to satisfy the wide range of challenges that our partners routinely face. Thanks to its cross-platform support, Aptio V can reduce the number of lines in program codes, facilitate better use of personnel resources and shorten development time. It can also contribute to a sizeable reduction in the overall development cost." To further enhance support for its valued partners, AMI is also strengthening its services and providing all of the necessary tools and technology required by OEM and ODM partners in areas such as manufacturing, maintenance and customer support, with the goal of minimizing the challenges that these partners may face during development and production.
Because Aptio V is built with the latest EFI Development Kit (EDK II) at its core, AMI's partners are assured of full support for the complete UEFI specifications with Aptio V. Its design is very similar to AMI's previous-generation UEFI Firmware, Aptio 4.6x; as such, key learning acquired with Aptio 4 is easily carried over to the new firmware platform. Another noteworthy point is that Aptio V retains many of the acclaimed features of Aptio 4, such as its diagnostic and debug capabilities, recovery, enhanced SMM service, PCI Bus support and multiple-language support. Retaining these features allows developers to preserve their design methods and extend existing projects to new platforms, such as those based on ARM hardware.
In light of the rapid pace of changes in the consumer market, AMI has also added several new features to Aptio V to enhance the efficiency of its application. For example, Aptio V provides a number of import wizard functions that allow firmware engineers to quickly transfer their previous Aptio 4 modules, such as the EDK Package, to the new platform - which means that valuable code can still be used in future projects.
Cross-platform Support Helps Clients Seize Windows 8 Business Opportunities
AMI Vice President of Engineering Department Stefano Righi noted, "Aptio V is definitely the best choice for developing Windows 8-based products. In addition to multiple fast-boot options to choose from, it also supports several security specifications, such as TPM, Secure Boot and Secure Firmware Update, to allow users to launch products that suit market demand in a short period of time." Additionally, Aptio V offers a menu-based graphical user interface for adding or removing features, something that helps junior engineers maintain existing development projects with ease.
For example, the Visual eBIOS (VeB) development environment supports multiple operating systems, including Windows and Linux, with cross-platform support for x86, x64 and ARM systems. Not only can VeB reduce the need for coding with complex commands, consistency between Aptio versions and hardware platforms means there is no need to re-learn how to use the tool. Instead, the VeB development environment allows firmware engineers managing different product lines to share their development experience, leading to improved product quality and stability.
AMI understands clearly that cross-platform and cross-OS support are of utmost importance to firmware engineers. Mobile devices, which saw shipments of over 100 million units in 2011, are a great example of the need for such broad support. The majority of mobile devices shipped were based on the ARM architecture, in large part thanks its emphasis on power efficiency. But because development for ARM-based devices is significantly different from that for x86-based platforms, firmware engineers were often forced to re-learn the development tools as they moved between platforms. Aptio V solves this problem by enabling engineers to quickly transplant their x86 development experience and related applications onto the ARM architecture without any compatibility issues.
Tony Lo, AMI Senior Manager of R&D explained that "Developers can easily transform existing program modules to ARM or Android environments through Aptio V's import tool. For firmware engineers that have been working with Aptio 4, it is truly a convenient and useful solution." In cases where engineers may not be overly familiar with the transform function, AMI also provides in-depth technical support to help enterprises quickly adopt the Aptio V toolset and will even provide assistance with transforming existing code.
In short, to respond quickly to the business opportunities that will soon be triggered by Windows 8 and the onset of the mobile generation, AMI's cross-platform Aptio V is not only the most efficient development tool on the market, but also the best choice for enterprises to maintain their hard-earned competitiveness.
MegaRAID is a registered trademark of LSI Corporation in the United States and other countries. Windows is a registered trademark of Microsoft Corporation in the United States and other countries. Android is a trademark of Google Inc. Linux is the registered trademark of Linus Torvalds in the U.S. and other countries.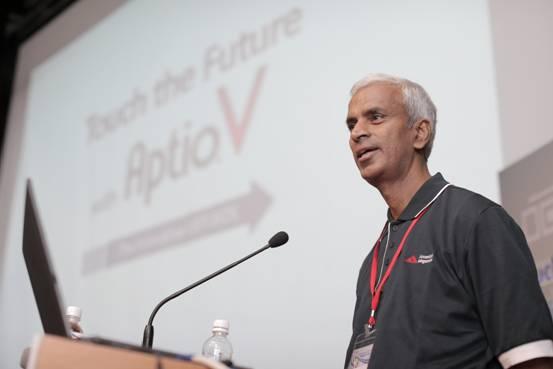 AMI CEO Subramonian Shankar explains how the company has been closely monitoring market changes to provide the IT industry with complete and timely solutions. According to Shankar, with regard to the Windows 8-supported UEFI 2.3.1 specifications, AMI is ahead of the competition by releasing Aptio V with full support for the complete UEFI specifications, giving its partners a head start towards the enormous business opportunities expected to come with the launch of Windows 8.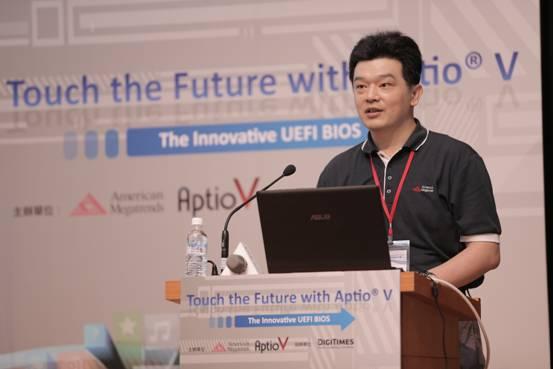 AMI Director of Strategic Marketing Department PaiLin Huang discusses how the company's new Aptio V UEFI Firmware is a complete, multi-platform solution that meets all kinds of development challenges that partners may face.