Ultra mobile ecosystems are re-creating the value of Taiwan's technology industries
Sponsored content
As cloud computing is becoming more prevalent, anytime and anywhere Internet connectivity is becoming the standard for consumers, which has caused IT vendors to dedicate their research to making portable, mobile products. In recent years, Intel has been promoting the ultrabook which is less than 0.8 inches thick, costs less than US$1,000, and can be turned on and connected to the Internet at fast speeds, making it the next wave of ultra-mobile products in the market. The ultrabook along with smartphones that have large-sized screens and tablets are all following the ultra-mobile trend.
As the ultra-mobile trend continues to flourish, existing components, chassis, mechanical parts, energy efficiency and industrial design have been constantly reexamined and restructured to satisfy product developers' demand for thinner and lighter devices. This is creating new technological barriers.
Against this backdrop, Digitimes held the "DTF 2012 Ultra Mobile & Ecosystem Forum" in Taipei on April 25, inviting leading firms in the IT industry such as Intel, DTS, NXP, MPT, Kingston, Asus and AUO to talk about ultra-mobile trends in the industry ranging from platform planning, systems, multimedia, the Internet, power sources, mechanical parts, display panels as well as many other topics.
There was also a stand put up at the forum to display some of the latest products and technologies, and it is hoped that through the forum it could help industries learn more as well as create ultra-mobile products.
Rethinking brand meaning and value: Economies of scale, orders and the popularity of Apple
Colley Hwang, president at Digitimes, revealed that he asked Steve Ballmer what "MIT" meant to him about a year ago when the Microsoft chief executive officer was in Taiwan. Ballmer's answer was "Microsoft, Intel and Taiwan." However, despite Microsoft and Intel reporting record high revenues, Taiwan's electronics industry barely grew last year.
IT players have previously relied on big orders and mass production of products to help with operations in the financial market. But this strategy has come under increasing since Apple's iPad whirlwind in 2010. In the past "PC" meant personal computer, but now it means "Price below Cost."
In an era where pricing competition is fierce, Amazon is using a subsidized hardware sales model to promote its Kindle products. When world-class companies such as Microsoft, Qualcomm and Google leave Taiwan with a market with limited gross profits, we may ask these companies to lower their license fees, said Hwang. But then, we will still have to face the situation where we have no way of using products' added-value as a means to raise the price of a PC to US$1,200 when others can attach a US$1,000 retail price tag on their devices whose product cost is only US$600.
The IT market has already seen big changes. For example, 40% of IT revenues used to come during the first half of a year followed by 60% in the second half. That has changed since 2008. Last year China surpassed the US to become the largest PC market. Although Korea has industry advantages, its foreign debts have increased more than US$80 billion since 2008. Its industry structure is not too healthy. By the end of 2011, the 800 companies that were listed in Taiwan reported a total of nearly US$446 billion in revenues, and 15 of them individually reported more than US$10 billion.
Moreover, brand value has also been experiencing "qualitative change." Seven out of 10 major notebook brands in 2011 were Asia-based, but only Taiwan-based Asustek and China-based Lenovo earned profits. Acer is expected to turn losses into profits in the second quarter of 2012.
Compared with Apple, which manages to have high profits and high market shares by maintaining only a simple product line, major PC makers try to appeal to consumers with multiple and complex product lines with different features for different market and price segments. But their profitability has been far from being ideal. The success of Apple's minimalistic product strategy indicates that there needs to be major changes in strategy within the PC industry.
Striving for resources and the right to speak to enhance Taiwan's IT industry
Hwang said that industry competition has given much emphasis on patents and market share but for brand vendors, their products have not brought them much meaning and value. One example is with Samsung's consumer electronic products. Even though it has been one of the largest CE brands in the world, its profit margin isn't even 2%, which is inferior to Taiwan contract manufacturers.
There are 800 listed companies in Taiwan, forming a big army for the IT supply chain. In terms of the ultrabook, Intel's technology is not the only thing that matters. Attention still needs to be drawn to the eco-system of the related supply chain. Of the US$345 billion China reported in exports during 2010, Taiwan-based entrepreneurs made up two thirds and created more than US$280 billion in production value last year in China as well. Looking at the monumental role Taiwan has been playing in the IT world, we absolutely have the right to require Intel and other world-class companies to give us more resources and assistance, added Hwang.
Hwang concluded that in the development of the world's civilization, Europe, Asia and Africa have always had equal importance. Europe started to flourish after the Industrial Revolution in the 18th century. In the future, populations will become an important strategic resource with the rise of cloud computing and Eastern civilization will again become a dominant force. Taiwan's companies and industries need to constantly enrich their knowledge in the face of future trends.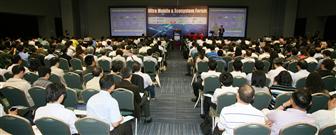 The DTF 2012 Ultra Mobile & Ecosystem Forum attracts hundreds of participants.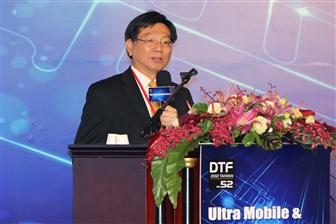 Digitimes president Colley Hwang delivers a talk on how the ultra mobile eco-system can recreate Taiwan's IT industries.