Gigabyte introduces new ultrabook and smartphone at Computex Taipei 2012
Joseph Tsai, DIGITIMES, Taipei
Gigabyte Technology maintains a well-deserved reputation as a major motherboard maker and vendor but the company has also become a talented and successful notebook designer over the past five years. Speaking to Digitimes prior to the Computex Taipei 2012 show, Gigabyte indicated that throughout its experience in the notebook industry and its many years of involvement in the motherboard and graphics card business, the company has kept an overriding goals of providing its clients with the best quality and delivering satisfaction.
The following are excerpts from the interview.
Gigabyte ultrabooks at Computex
With ultrabooks becoming the latest topic and trend in the spotlight for the IT market and at Computex, Gigabyte has prepared a 14-inch ultrabook for demonstration at the show. The machine features Intel's latest Ivy Bridge-based Core i5 processor, DRAM support with no size cap, a full-set of I/O ports, a mid-range discrete graphics card and weighs only 1.5kg. The ultrabook will be ready for mass production and shipments in early June.
For the ultrabook chassis, Gigabyte has adopted a metallic top bezel to maintain sturdiness and an elegant design. The rest of the chassis parts, such as the panel and keyboard frames as well as bottom bezel, are all produced with plastic supplied by Gigabyte's subsidiary in China. This vertical integration allows Gigabyte to achieve advantages in terms of supply smoothness and cost.
The company has also been researching and developing new materials such as glass fiber to reinforce the chassis' sturdiness in order to help reduce the high costs of adopting metal chassis and provide customers ultrabook products at more cost-friendly prices.
At the same time, Gigabyte also wants to provide users with ultrabook products that have the best performance and functions. Due to the limited thickness of an ultrabook, most of Gigabyte's competitors are reducing the number of I/O ports, such as USB, that are available on the notebooks. However, Gigabyte has chosen to feature a four USB-ports design for its ultrabook with two of the port specifications even being USB 3.0. In addition, the company is providing all the standard I/O ports such as D-sub, HDMI, LAN and even the latest Thunderbolt, to continue satisfying its customers with the best functions.
As for performance, although Intel's original intent for the ultrabook was for vendors to adopt its ultra-low-voltage (ULV) processors to reduce power consumption, Gigabyte does not wish its ultrabook to be limited by performance. So the company has decided to adopt a standard voltage (SV) notebook processor for its ultrabook and is using its self-developed dual-fan cooling system to dissipate heat. To optimize performance, the company even equipped Nvidia's GeForce GT 640M discrete graphics card with 2GB of RAM into the machine for consumers to enjoy multimedia and gaming applications.
The ultrabook is also armed with a hybrid storage system, composed of a 9.5mm hard disc drive (HDD) with a density of either 750GB or 1TB, and a 128GB solid-state drive (SSD) paired up with Intel's Rapid Start technology. This combination allows users to resume their ultrabooks from deep-sleep state to ready-for-operation in only seven seconds, while users will still be able to have enough storage space for their files.
For the display, Gigabyte has adopted a HD+ quality panel for its ultrabook with a resolution up to 1600x900, higher than standard 14-inch notebook panels of 1366x768, in order to bring its customers the best image display among all ultrabook products. The ultrabook also features an illuminated keyboard.
In line with Intel on ultrabooks
Although Gigabyte's ultrabook is equipped with leading-edge specifications, the device is still capable of delivering five hours of operation before needing to recharge, meeting Intel's requirements for an ultrabook.
However, since Intel has been pushing for US$699 ultrabook price points, Gigabyte may release a related notebook to meet this target, but the company pointed out that most of the unique features and the best specifications that Gigabyte wishes to provide to customers may not be included in a US$699 machine.
Gigabyte noted that some consumers have misunderstood the idea of ultrabooks, thinking that the devices are simply notebooks with ultra-thin designs. The general belief, therefore, is that customers are paying a premium simply for a thinner form factor. However, Gigabyte pointed out that the extra cost comes from an increased number of features and better specifications that the company wishes to offer its clients.
If Gigabyte decides to offer an US$699 ultrabook, the company expects that as long as the goals for component cost are met, the machine will appear before consumers in the near future, as its experience with thin design and chassis technologies will allow it to develop the product with no serious issues.
Gigabyte pointed out that the ultrabook notebook market will still face strong challenges in the future. The economies in the US and Europe remain weak, and China demand growth is slowing. Competition from mobile devices such as tablet PCs and smartphones also mean that mobile computing customers will have more choices.
In addition to ultrabooks, Gigabyte's gaming notebook business is also being aggressively promoted at Computex. The company plans to showcase its first gaming notebook model to feature an Nvidia's GeForce GTX 660 discrete graphics card, while Gigabyte also has put its exclusive dual-fan design into the device to help cooling for both the CPU and GPU.
The company also cooperated with an international designer to create the gaming notebook's industrial design that features functions such as a Blu-ray drive, hybrid storage system and a 15.6-inch panel, the machine will be priced at only NT$48,900. In the future, Gigabyte is aiming to add new specifications such as a 17-inch panel and RAID support for the gaming notebook products.
Currently, Gigabyte considers the 15.6-inch gaming notebook just an entry-level product. As the company gains more experience, it is set to launch mid-range products by the end of 2012 and high-end products in 2013.
As for the tablet PC business, facing strong competition from Apple's iPad and Amazon's Kindle, there is not much room for other tablet vendors to survive in the consumer market; therefore, currently, Gigabyte is mainly supplying its tablets to enterprise and vertical markets.
In addition to Windows-based tablets, Gigabyte has also developed models featuring an ARM-based processor and Android OS. The company's Windows-based models saw strong interest from the enterprise market in 2011 and the product has already been upgraded with the latest Atom processor. Gigabyte is also already planning to upgrade the processor again when Windows 8 launched. The company has also prepared a full set of accessories such as an extra battery, keyboard and docking station for its tablets to satisfy various needs of enterprise customers.
As for whether the company has plan to develop docking station for ultrabook, Gigabyte pointed out that it has considered it, but is still evaluating the idea and the company is most likely to adopt soft docking, meaning to connect external devices through Intel's Thunderbolt technology; however, the company is in no rush to release any product yet and will first observe ultrabook demand to find any lacked functions of the device that can turn into sub-accessories.
Gigabyte is showcasing its latest ultrabook design - the X11 - featuring an 11.6-inch panel and a carbon fiber reinforced plastic chassis to greatly reduce its weight to less than 1kg and its thickness to only 0.3cm. The machine will be available in July with a price range between US$999-1,299.
The X11 is equipped with Intel's latest Ivy Bridge-based Core processors and 128GB of solid state drive (SSD), while supporting USB 3.0 and Bluetooth 4.0. In addition to hardware designs, the X11's built-in Smart Recovery technology will allow users to restore hard drives.
For Windows 8, Gigabyte plans to launch an 11.6-inch touchscreen panel-based ultrabook at the end of 2012. The device only weighs 1kg.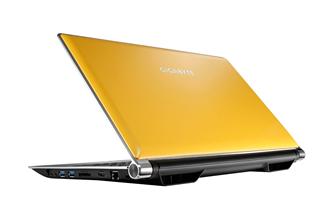 P2542G_GOLDEN001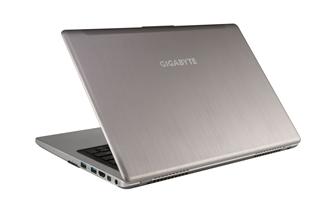 U2442_P010-1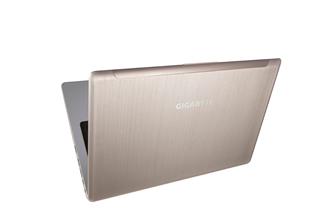 U2442_P010-3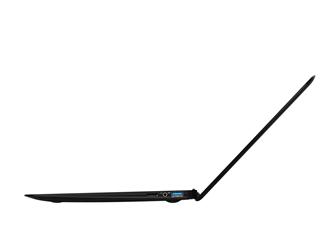 X11_P003-4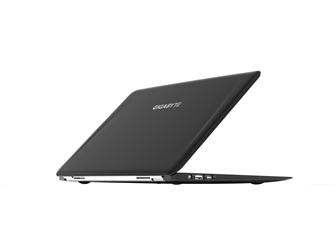 X11_P009-1