AMD multimedia display technology - providing smooth HD multimedia embedded applications
Sponsored content
As the development of the embedded application industry moves towards the Internet of Things (IoT), demand for the playback and digital copyright management of HD multimedia content - found everywhere from giant digital signboards, interactive screen guide systems in public spaces, advertising boards, and mobile devices such as tablet computers and smartphones, to smart TV in the home, smart homes and home monitoring and control - has spurred embedded application devices to include smooth and powerful multimedia display playback technologies in order to cope, in much the same way as happened desktop and laptop computer platforms.
As embedded applications and the IoT trend gathers momentum, multimedia playback becomes essential
At the opening of the Digitimes Embedded Technology Forum in February, Sharon Yen, embedded client product marketing manager at AMD, highlighted the role played by multimedia digital content within the growing trend in the development of the embedded industry towards IoT. Yen cited the example of the huge variety of digital signage, restaurant menus, retail channel advertising, sales tools, and digital scoreboards that are currently on offer. More and more multimedia content is also appearing in outdoor environments. It is therefore absolutely vital that embedded devices are equipped with smooth HD multimedia playback capabilities.
AMD's plans for Radeon Embedded GPU technology are composed of four main computing units: 1) UVD, a third generation united video decoder; 2) COMPUTE, the video computing unit; 3) SAMU (security asset management unit), a digital copyright management unit for first-release videos/movies; and 4) VCE (video codec engine).
The combination of these four units allows your embedded application device to feature smooth and legally authorized playback capabilities for HD multimedia content, as well as the ability to work with display port interfaces including LVDS, VGA, DVI, HDMI and Displayport.
Powerful encoding and computing engines that support a broad range of video formats
Yen began by discussing UVD, the vital video decoder unit. AMD's embedded solution UVD core is already in its third generation, and supports the latest video encoding standards, including H.264/AVCHD, VC-1, WMV, MPEG2, Multi-View Codec (MVC) andMPEG4-DivX; while the decoder also supports bit stream decoding, PIP subtitles, dual stream HD+SD, and dual stream HD+HD. The AMD UVD3 also includes power consumption optimization and supports key multimedia formats, as well as having the ability to work with media player programs including VLC Player, Cyberlink, ArcSoft, Roxio, Adobe Corel, and Microsoft Windows Media Player.
AMD's video engine offers HD playback quality on a par with PCs, with brilliant colors and color adjustment, noise reduction, edge enhancement, enhanced DVD video processing and HD modes, active contrast and brightness, and advanced de-interlacing and reverse processing; it also adds the steady video, noise elimination and de-blocking technologies required for webcams. Using more than 20 industry-leading advanced algorithms, it has achieved the highest ever score on the HQV 2.0 rating software. According to test results from hardware review website Tom's Hardware, AMD GPUs outperformed NVIDIA in every entry-level/mid-range/high-end GPU class review. The AMD Radeon HD 7900 series achieved an HQV 2.0 score of 200, while the Nvidia GeForce GTX 580 and Intel Core i7-2600k integrated GPU scored just 182.
Yen continued by explaining the principles behind AMD's Steady Video technology. For some video scenes with static light source displays and video recording, noise reduction can cause troughs in waveform of the bandwidth during the process of encoding video stream signals, resulting in false movements axis that appear almost to be spinning along the axis of the light source axis and can easily be seen with the naked eye. Steady Video uses pixel correction that refers to the area around the light source to repair the encoding/decoding bit stream bandwidth so that it is smoother and more even, minimizing interference caused by these false movements.
SAMU digital copyright management makes cross-sector online playback possible
Yen also brought up the subject of the SAMU digital copyright management unit built into AMD GPUs. SAMU is capable of decoding streams for protected Blu-ray discs or online video, and playing them back via displays or TVs equipped with HDCP protection mechanisms. She pointed out that, when combined with the UltraViolet hardware and software authorization mechanism, a single physical Blu-ray disc can be authorized for a maximum of six users and watched by a maximum of three users at any one time over a real time stream on any device, such as a computer, laptop, tablet or smartphone. Downloads to any UltraViolet-certified device are also permitted, so that content can be watched on mobile devices with different screen sizes; certified content can be installed and played back on a maximum of 12 devices.
AMD's VCE coding engine supports multi-stream H.264 HD encoding and is capable of processing 1920x1080p encoding in real-time at 60fps. It supports 4:2:0 color sampling and allows multi-channel encoding/decoding stream processing for video conferencing. It also offers pixel quality optimization for games and film scenes, and supports wireless display output using Wi-Fi 802.11n.
Industry-leading multi-screen and wireless signal output
AMD display technology has led the industry for decades. The HDMI standard was included in the RV350 core from 2005. AMD GPUs inherited (ATI's) third-generation Eyefinity technology, and became the first to support and receive DisplayPort 1.2 certification for display port interfaces on August 18, last year (2011), as well as the high-speed HDMI v1.4a standard, and is capable of decoding a maximum resolution of 4096x2160; in addition to supporting 3D display, it can also be connected with six displays that support DisplayPort v1.2's HBR2 (high bit rate) mode via a single connection, so that a 2560x1600 or higher-resolution picture output can be used to implement a variety of flexible multi-screen cross-connection/display technologies, including 3x1 landscape display groups, 1x3 portrait display groups, 3x2 landscape display groups, 3x1 display group plus 1 extended, or 3x1 portrait plus 3x1 landscape display groups.
AMD GPUs' HDMI v1.4a support also includes driver support for 3GHz HDMI output, support for 60fps 3D display at 1920x1080p resolution, as well as 4K-grade high-resolution display output modes including 4096x2160 at 60fps and 4096x2160 at 30fps. The 4K resolutions currently require two or more output cables, but future 4K displays will only need a single connection. AMD's Radeon HD 7900 series is also the first GPU in the world to support this type of next-generation 4K display.
AMD's wireless display technology uses the pathways from the display controller to the video coding engine (VCE) to allow the high-speed hardware to directly grab every single frame with a maximum capture conversion rate of 1920x1080p at 60Hz. This video output can be directly converted into 802.11n wireless signals and send to a front-end video receiver; this not only reduces encoding lag and improves playback performance, but is also the ideal method of optimizing low-latency and interactive video channel computing. As a member of the Wi-Fi Alliance, AMD has also designed application products that support Wi-Fi display technologies. Devices that support Wi-Fi display technologies are likely to appear in the second half of 2012, such as wireless TVs and wireless projectors with Wi-Fi Display support; other such devices include wireless video transmitters that send signals from a PC or laptop to a wireless video receiver box that can be connected to an ordinary TV. When this happens, the ecosystem for wireless display product applications will become even more vibrant.
Multiple audio source encoding/decoding streaming design
Yen pointed out that today's CPUs only support encoding/decoding output for a single-channel audio source; this means that when video is output to multiple screens, only the audio source for one of the screens can be selected. The AMD Radeon HD 7900 series are the world's first graphics cards to allow simultaneous output of multiple independent audio sources, thereby making it easy to cross-connect multiple displays to build video conferencing applications that bridge many people and many screens.
For the sRGB pixel format, AMD GPUs also use precise color correction and preserve details within an image in an orderly fashion using a pipeline method, in order to maintain vivid and brilliant color performance, eliminating picture output that can often cause overexposure problems.
Yen concluded by noting that based on its decades of experience in multimedia display technology, AMD has continued to research, enhance and provide dedicated multimedia processing engine cores for multimedia technology. AMD display technology features industry-leading multiple display cross-connection technology and the highest resolutions; and also leads the industry in terms of passing certification for both DisplayPort 1.2 and HDMI v1.4 display interfaces, as well as complying with open standards for the industry. It is the best core technology for the smooth playback of HD multimedia content on any kind of embedded device.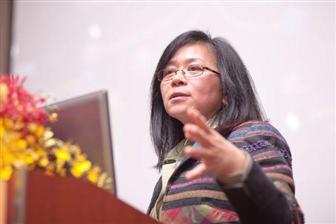 Caption: Sharon Yen, embedded client product marketing manager, AMD
Photo: Digitimes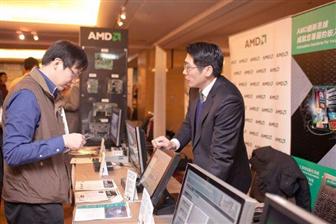 AMD's HD multimedia embedded display technology solutions have attracted attention and enquiries from many clients
Photo: Digitimes