Catering for demand from the industrial computer and machine tool manufacturing industries: DMP invests in development of Taiwan-made SoC products
Sponsored content
Although Taiwan has achieved good results in the embedded device and machine tools manufacturing industries, there has never been a domestically-produced SoC. This has left consumer ICs as the only substitute, causing a raft of problems for product development and design. DMP has therefore independently developed the Vortex86 series of products based on the specification requirements of firms in these sectors and incorporating features from the many SoC products currently on the market. The goal of this is to help Taiwan-based embedded device and machine tool manufacturing companies to carry out more development work with smaller investments, as well as to achieve greater competitiveness in the marketplace.
During the Digitimes Embedded Technology Forum in February, Chen Kunzhi, product manager at DMP, explained that the Taiwan-based embedded device and machine tool manufacturing companies have made considerable progress in product development over the last decade or more, and have won the approval from businesses in a number of nations in Europe and North America. With urgent demand from factories in China for automated equipment, exports have seen large growth and Taiwan is now in third place in the global market behind only Germany and Japan, although it has ambitions of taking second place, said Chen.
Despite the huge size of the output value of the industry, Taiwan-based companies in this sector have not had a single SoC chip of their own for a long period. Virtually all of them simply take chips from the consumer market for use in the industrial control sector. Chen believes that this will inevitably cause problems down the line in terms of product design, quality and interface integration. This is basically why DMP is making such an effort to develop its own SoC product to cater for demand from the embedded industrial control industry.
Following many years of work and investment, DMP has finally developed a truly Taiwan SoC that can be used in embedded systems and machine tools: the Vortex86 series. The design concept for this SoC product was to take the various fragmented ICs on the motherboard - like the CPU, south bridge, north bridge and BIOS - and integrate them on a single chip, Chen said, while noting that the advantage of doing this is that the volume of the device can be massively reduced, making it suitable for a variety of different applications, as well as reducing power consumption and cost.
The range currently includes the Vortex86 SX, the first x86 SoC with power consumption of less than 1.5W; the Vortex86 DX, the first x86 SoC to integrate PWM functionality; and the Vortex86 MX+, the first x86 SoC with an integrated GPU. This diverse range enables companies to choose the SoC best suited to their particularly application sector and CPU clock speed requirements.
Integrating the features of a range of SoC products tailored to the needs of embedded device and machine tool manufacturing companies
For example, DMP has designed three different products - the DX2, MX and MX+ - for the embedded/thin client/HMI application markets; while the SX and DX models are also able to meet the requirements of companies working on embedded control applications. DMP is also catering for the booming HMI/motion control market, as Chen explained, "We plan to build on the DX2 chip and improve its CPU clock speed using 40nm processes, increasing by a significant margin to 1.5GHz, in order to meet the requirements of firms in this sector in terms of the speed and value for money of SoC requirements." These products are currently scheduled for launch in the fourth quarter of 2012.
Manufacturers of embedded form factor products currently on the market all have their own different specifications and types of product, for example the DIMM PC/X-board, ISA half-size SBC, PC/104 series, ETX, EPIC, Qseven, SUMIT, or 2.5-inch/3.5-inch SBC. To quote Chen, "Once we pulled them together and integrated them, we realized that many of the required specifications are in fact commonplace in the industry, such as ISA/PCI/PCIe extension bus, SATA/IDE storage devices, VGA/LCD/HDMI displays and COMs/USBs/LAN/I2C/GPIO/SPI/HAD input/output interfaces."
For this reason, DMP not only integrated all these specifications into its chip, but also brought together specification requirements garnered from a whole range of companies in the industrial control sector. Among these requirements were small size, fan-free, low power consumption, sufficiently long product life cycle, and the ability to continue to operate normally across an ultra-wide temperature range from -40°C to +80°C; these attributes dictate the standards by which the products were developed.
The use of these standards offer significant benefits to DMP's clients. Taking the ultra-long life cycle requirement as an example, Many customers in the industrial control device sector will sign 8-12 year contracts from the outset when they buy products. If the SoC in their product doesn't have a sufficiently long life cycle, they will find themselves facing a lack of supplies for subsequent maintenance work. The inability to update and maintain products is a major concern for such companies.
Features of the Vortex86 series
The DMP Vortex86 range has one other unique feature that marks it out from other SoC companies: a high degree of compatibility with the x86 instruction set that gives it powerful support capabilities in terms of software development. Moreover, a wealth of software tools and development resources for the x86 architecture can already be obtained on the market. It will be extremely simple for companies to carry out consolidation, integration and maintenance in the future. Chen emphasized that while ARM architecture continues to gain traction in the market, the x86 architecture has already been evolving in the marketplace for close to twenty years and will continue to have the upper hand for the foreseeable future. Chen explained that the company is also planning to launch SoC products known as the EX range that are consistent with the power consumption and pricing of ARM architecture.
Taking the Vortex86 DX2 as an example, the SoC chip is based on the company's Vortex86 MX, but extends its feature set with functions including SATA, ADC, motor/motion controllers and full duplex SPI and ISA. This is the first x86 SoC that integrates ADC and motor/motion controllers. Besides providing support for a variety of operating systems including Windows XP, Windows CE, Ubuntu, Debian, FreeBSD, QNX and DOS; drivers for LAN, IDE/SATA, audio and 2D GPUs; and C# example code including GPIO, PWM, 8051, redundancy, WatchDog, ADC and servo motors; it also minimizes peripheral circuits and reduces heat dissipation. It makes use of a 31mm×31mm and 1mm ball pitch design method that is not only more convenient in terms of PCB layout and manufacturing, but also reduces product costs for manufacturers, making products more competitive. The Vortex86 DX2 could be described as the ideal x86 platform for developing motion control.
An integrated CPU module and motion control card allow more tasks to be completed with a smaller investment
The Vortex86 DX2 also has a very friendly BIOS user interface design; for platforms without VGA out, it can also be set up to direct information for display on other platforms via the COM port, Chen added. The Vortex86 DX2 also includes redundancy and MTBF (mean time between failure) calculation mechanisms designed to improve the overall usability of the system for certain key applications. Not only can it automatically switch from the primary system to the secondary system within 1ms of the occurrence of events such as WDT0, WDT1, system restart, external system failures, manual switching, and illegal code; it can also automatically generate warning messages on video or audio devices when the MTBF is about to expire, in order to remind the user to carry out prompt replacement or maintenance. As Chen Kunzhi explained, "This is very helpful in preventing unexpected situations from occurring in a system."
These features make the Vortex86 DX2 extremely well suited to use in motion control platforms for machine tools. In conventional machine tool designs, the CPU module and motion control card are two separate systems than run independently, while other elements such as the PCI Express, ISA, SATA, ADC and GPU are mostly fitted on the PC/embedded board, and the servo motor controller is handled through a separate motor/motion controller. In the Vortex86 DX2, however, these elements are integrated into a single chip, reducing the power consumption and space taken up by the components. It also makes it easy for manufacturers to carry out low-cost/high-performance or middle-layer device setup. The Vortex86 DX2 supports all this. Chen emphasized that this means that manufacturers can complete more tasks with a smaller investment.
Chen also explained that the Vortex86 DX2 SoC is already admired by manufacturers in the embedded and machine tool industries for its low power consumption, long-term supply guarantee, ease of design and manufacture, high degree of integration, powerful software support, simple hardware setup via the BIOS, provision of redundancy functionality for greater usability, and extremely wide range of normal operating temperatures. Chen also hopes that DMP will be able to work together to create new markets and applications with even more manufacturers with ambitions to develop products for this sector.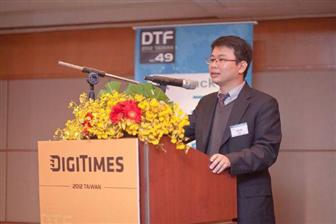 Chen Kunzhi, Product Manager, DMP
Photo: Digitimes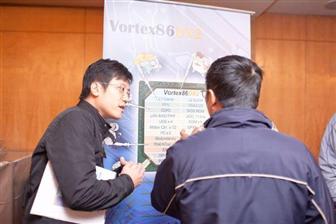 DMP shows off the powerful features of its Vortex86 DX2 SoC to participants at the Digitimes Embedded Technology Forum
Photo: Digitimes