The features of USB 3.0 - such as rapid data transfer rates, and backward compatibility with USB 2.0/1.1 devices that users do not need to adjust to - has led to uptake rates rising rapidly from 20-30% last year to 80-90% in a short space of time. However, there are limitations to the interface breaking into the industrial control sector, such as the lack of a performance boost for existing USB 2.0 devices and the three-meter effective data transmission range. To this end, VIA (VIA Labs), the global leader in USB 3.0 technology, has focused on launching USB2Expressway and other technologies, in order to reduce equipment costs and simplify complex installations, so as to achieve the goal of improving system equipment performance.
In the past, virtually every peripheral device for PCs used a different interface with its own distinct specifications. These interfaces were not only incompatible with each other, but also required users to invest a great deal of time and energy in installing and configuring drivers before the devices could be used, making them difficult to manage and inconvenient to use; moreover, businesses might squander enormous amounts of manpower and time costs as a result. As its name would suggest, the Universal Serial Bus (USB) interface was intended to solve the problems of different versions of specifications and the various issues associated with the various interfaces by creating a consistent industry standard for electronic device data transmission interfaces.
As David Hsu, product marketing associate VP at VIA Labs, noted during the Digitimes Embedded Technology Forum in February, USB specifications quickly made their presence felt in a variety of ICT products, including keyboards, mice, speakers, storage devices, video devices, all-in-one printer/scanner/copiers and industrial control equipment, largely because of their convenience in terms of ease of use, and of plug & play and hot pluggable functionality. Besides being a data transfer interface, a lot of devices even use it as a power socket. Hsu believes that in terms of market uptake, the USB specification could be described as the most successful application interface invention in human history.
USB 3.0 is the major trend going forward
IT technology has continued to evolve year after year since the launch of USB, and as a result, specifications from earlier years are no longer up to the task. Improving specifications is therefore an essential requirement to cope with the operations of today's systems and devices. This is another reason why USB 3.0 has emerged, Hsu explained. As data transfer rates for USB 3.0 are more than ten times faster than USB 2.0, and it also allows two-way transfer, it delivers a marked increase in performance. It is also backward compatible with USB 2.0/1.1 devices and requires no changes as far as the user's habits are concerned. These advantages have enabled USB 3.0 uptake to soar in a very short space of time. USB 3.0 uptake rates were only 20-30% last year, but are likely to hit 80-90% this year, noted Hsu.
Major ICT hardware manufacturers such as Intel, AMD and Nvidia have already started offering products with USB 3.0 interface specifications, and Microsoft's next generation Windows 8 will also follow suite by supporting built in USB 3.0 drivers. For the industrial control sector, in contrast to USB 2.0, USB 3.0 provides ultra-high bandwidth of up to 5Gbps, hot pluggable and plug & play functionality and support for hub structures that integrate multiple port connections, so that a single computer can simultaneously control many devices. For this reasons, manufacturers have already begun to adopt it.
Challenges of bringing USB 3.0 to the industrial control sector
The high performance of USB 3.0 is very helpful to factories or users in terms of increasing productivity. For example, since the launch of USB 2.0 in 1998, a 16MB SD memory card in those days was the same size as a 16GB card today, a thousand-fold increase in capacity. Data of this size would take 8 minutes 53 seconds to transfer at the 30MB per second transfer rate for USB 2.0; At the 300MB per second transfer rate for USB 3.0, the transfer takes just 53 seconds. For factory control devices that make extensive use of USB interfaces, production capacity and operational efficiency can be increased by a factor of ten. This is very beneficial in terms of making a factory more competitive, noted Hsu.
However, before USB 3.0 can truly make its mark in the industrial control sector, there are a number of difficulties and problems that must be overcome, so it is unlikely that it will replace USB 2.0 overnight. Hsu explained that the main reason is that USB 3.0 solutions and customized designs are still pretty complex, and it's not yet at the mature stage where it can support a wide range of applications. The industrial control sector has also yet to fully master the design capabilities for USB 3.0 technologies, so the industry has produced only a handful of USB 3.0 device controller ICs designed specifically for industrial control or embedded platforms. The upshot of this is that USB 3.0 and USB 2.0 devices will continue to coexist in factories for some time yet.
If factories were to switch to a setup using USB 3.0 computers with USB 3.0 hubs, it would still be impossible to improve the performance of existing USB 2.0 devices; in fact, performance would in some cases actually become slower. Hsu explained that when multiple USB 2.0 devices are operating at the same time, they share the single USB 2.0 bandwidth (480Mbps), making it difficult to get the best performance out of the devices (if there are four USB 2.0 devices, each device is only allocated 120Mbps of bandwidth), thereby affecting the overall production capacity of the factory. Moreover, standard USB 3.0 data cables are limited to a length of three meters, so the distance between devices is extremely small. Factories attach a great deal of importance to scale and efficiency, and always require that a certain distance is maintained between the devices being operated and the computer itself, said Hsu. These limitations constitute obstacles to USB 3.0 penetrating the industrial control sector.
VIA Labs' solution: USB2Expressway and USB 3.0 AOC
VIA has created its new USB2Expressway technology precisely to solve the problems discussed above. USB2Expressway applies VIA's USB 3.0 Enhanced HUB concept and unique, independently-developed U3TT chip technology to the "one to many" control model used in many industrial control sectors, providing ample bandwidth of 480Mbps to every USB 2.0 device connected downstream of the hub. USB 2.0 devices used to only be able to share the bandwidth provided by the USB 2.0, so even when no devices were using the USB 3.0 hub's bandwidth, the connections just sat idle. As Hsu explained, VIA's unique design means that USB 2.0 devices on its USB 3.0 Enhanced HUB can now use the up-to-5Gbps of USB 3.0 bandwidth. This makes it possible for every USB 2.0 device on the hub to access the full 480Mbps, markedly boosting device performance.
The three-meter limitation for USB 3.0 signal transfer distances can also be extended by the V0510 high-speed optical receiver developed by VIA. When applied to a USB 3.0 active optical cable (AOC), the technology massively increases transfer distances to as much as 100-300 meters. The main reason we used optical fiber rather than active signal boosters is that optical fiber uses light as a medium, and so is not easily affected by the electromagnetic (EM) interference that would otherwise weaken the signal. Optical fiber also gives out no EM radiation of its own, making USB 3.0 more suitable for use in medical imaging, broadcast TV, digital sign boards, retail applications, and other applications where interference is particularly unwelcome.
Hsu explained that VIA's exclusive USB2Expressway dedicated bandwidth technology not only simultaneously supports multiple USB 2.0 devices, but also provides each port with full and dedicated bandwidth, something that is extremely helpful for improving the overall operating performance of a system. Hsu noted that test data shows that when only a single USB 2.0 device is connected, both standard and USB2Expressway technologies give data transfer rates of around 35MB/s; when the number of devices connected is gradually increased to four, USB 2.0 devices connected via USB2Expressway on average still achieve the same level of performance, while the transfer rate for ordinary connections falls to around 10MB/s. Consequently, businesses don't need to spend large sums of replacing existing USB 2.0 devices in their factories, while complex installation and set up tasks can also be simplified. Users only need to replace their hubs.
VIA Labs is headquartered in Taipei and has worked to further the industry ecosystem for USB 3.0 products since its inception in 2008. VIA is not only the first company in the world to have a full product line covering USB 3.0 hosts, hubs and devices, but has also maintained a longstanding and productive relationship with USB-IF and Microsoft, the two USB giants of USB standard formulation. The company has very strong logic and firmware development teams, and all the core technologies, components, digital circuits and software drivers for its host products were independently developed. Hsu explained that in the space of just a couple of years, VIA has developed four USB 3.0 product lines and successfully shipped them all. Not only does VIA provide USB 3.0 mass production solutions and complete product lines for well-known firms including Buffalo, Microsoft, Acer, Asus, MSI, Gigabyte and D-link, but the USB-IF organization even designated VIA hub products for use in the creation of Interop Trees and Backward Compatibility Trees.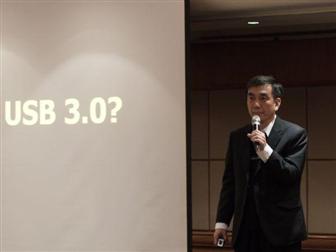 David Hsu, Product Marketing Associate VP at VIA Labs
Photo: Digitimes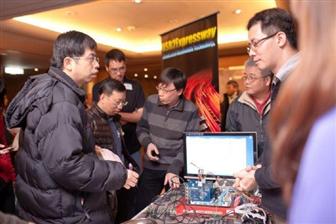 VIA Labs' explaining the advantages of its USB2Expressway technology to participants at the Digitimes Embedded Technology Forum in February
Photo: Digitimes