Embedded platform developers must accelerate development of intelligent systems, says Microsoft
Sponsored content
The integration of the three major IT application technologies, embedded systems, the Internet of Things (IoT), and cloud computing architecture, will trigger an "intelligent system" revolution in the conventional embedded device market creating completely new life, work and decision-making experiences for business managers, employees and general consumers. Microsoft Corporation OEM Embedded Sales Manager, Daniel Li thinks that OEMs must seize the huge business opportunities generated by this revolution, and actively recruit the resources from mature development and management platforms already available on the market to develop the intelligent systems that businesses need. Only by doing so can they stand a chance to succeed in future competition.
Li noted that the availability of low-cost, high-performance chips is promising huge growth potential for the global embedded device market. The use of embedded devices is becoming more and more common in professional fields, daily life and ordinary work environments. "For example, the various handheld devices ordinary people use, multimedia information kiosks, digital signage in hotels, medicare tools, point-of-sale (POS) terminals, on-board infotainment devices, and even desktop game consoles, etc. are all embedded devices of some kind."
As embedded devices are already very common, a further step could be taken to link them to the increasingly popular IoT and cloud computing ecosystems. The front-end embedded devices perform real-time information gathering and context-aware functions, and through the intermediate IoT connection send the information to back-end cloud computing platforms. This forms a wider IT infrastructure that assists business players in conducting diverse analyses and developing value-added applications. Li thinks that this not only offers business players a brand new way of collecting and using information, while supporting their daily operations and enhancing their long-term planning; it also provides a brand new experience for both general consumers and business clients.
Take digital signage for example. Such embedded devices support split screens to simultaneously provide diverse information on weather, tourism, stocks, advertising and news etc. With these devices, stores can also access back-end databases to check their inventories, as well as all previous transactions made during particular times each day. All promotional information can be shown on the front-end display while consumers can access the services offered by the system via such user interfaces as sensors or touchscreens.
Intelligent systems will become the mainstream in the future
Such an operating framework – where connected devices can (through wired or wireless networks) send real-time dynamic consumer information to managers and decision-makers of a business – is an upgrade from conventional embedded systems to intelligent systems that are more helpful to businesses. According to market research firm IDC, shipments of intelligent systems are experiencing staggering growth: currently their global market has reached 1.8 billion units with revenues of about US$1 trillion. The size has already exceeded the sum total of PCs, servers and mobile phones. By 2015, shipments of intelligent devices will more than double to reach four billion units, with revenues soaring to US$2 trillion.
Li said, "In 2010, intelligent systems only accounted for 19% of all electronics devices, but by 2015 their share will increase to one third." In order to raise prices and profits for OEMs in the wake of this new market trend, Microsoft has made corresponding adjustments to its roadmap for Windows Embedded products. Microsoft supports cross-platform front/back-end operations for x86, ARM-based and other hardware architectures in view of the fact that a company may have diverse devices in different departments due to cost considerations and system requirements. Moreover, Microsoft also offers multi-function items and technology to allow companies to easily manage and analyze data, with which they can develop the customized and differentiated solutions that they need.
As for how intelligent systems work, in general their work starts with the huge amounts of necessary data (such as speeds, altitudes, temperatures, remaining fuel levels, etc.) collected via diverse embedded devices. The data is transmitted in real time via various wired/wireless technologies (such as Wi-Fi, WiMAX, LTE and 3G) to cloud/information centers for integration and analysis. Managers can make related decisions and issue instructions based on the data, and these decisions and instructions can be quickly sent to designated devices via the devices' management platforms. The devices then can make adjustments according to the instructions and decisions received.
Highly-integrated back-end IT infrastructure is needed for developing intelligent systems
Li said, "This means that the operation of complete intelligent systems needs the support of a highly-integrated back-end IT infrastructure (covering the Internet, cloud, security, database, devices, system management platform and others) to extend the general embedded devices all the way to the application systems of the company, allowing control personnel at the company to remotely manage and monitor the data and actual locations of each device. This can guarantee overall security and upgrade systems at the lowest cost possible." He stressed further, "Only by doing so can intelligent systems create bigger benefits and allow faster returns on the investments companies make in installing the systems."
Because of this, Microsoft's Windows Embedded development team is now not only focused on the key areas concerning operating system platforms, but also improving data processing functions in order to enhance the capabilities of handling diverse data from embedded devices running on different platforms. Moreover, the development team is also working closely with others who are developing Windows Azure, SQL Server 2008 R2, etc., to enable the inclusion of cloud computing in this infrastructure to help companies make even more in-depth analysis of the data transmitted back from the embedded devices. The Windows Embedded Device Manager and Microsoft System Center Configuration Manager platforms can help IT personnel more easily monitor and control all intelligent systems deployed around their company's IT network. They can also fully solve such problems as unstable connectivity common in the IoT environment, and the complex work of identity management and data access authorization.
For ordinary OEMs, Microsoft also offers its powerful development kits and a range of API tools (such as Windows Embedded Handheld, Windows Embedded POSReady and Windows Embedded Automotive) to help companies quickly customize various solutions according to the needs of different industries and platforms. With these tools, companies have a variety of ways of using intelligent systems. "For example, the ability to capture a user's full body movements allows users to operate a system through gesture or voice instructions. The Kinect body sensing technology that was originally developed for the Xbox 360 game console was officially included in Microsoft's Embedded series in February this year." Li noted, adding that developers only need to use Visual Studio to develop distributed applications to complete the entire deployment from devices to the cloud on a single platform.
Makers must unleash creativity to develop intelligent systems from different perspectives
Li stressed that makers of future embedded devices should not only focus on hardware development. They must assume the standpoint of enterprise users and unleash their creativity to introduce total solutions incorporating the concepts and functionalities of intelligent systems. This is necessary for improving their products' overall value and enhancing their competitiveness in this highly competitive market. "But apart from the completeness of functions and architecture, makers must also consider such important factors as reliability, manageability, performance and product life cycle when developing solutions."
Li said, "Currently Microsoft and its partners have already transplanted the core business processes and related application systems needed by different businesses – from retail, manufacturing to medicare – to this platform. For other embedded device makers, this means that they will no longer have to invest in infrastructure development. When there are upgraded versions in the future, the life and usability of their systems will be fully guaranteed." For example, when Microsoft launches its Windows 8, systems will be upgraded and enhanced directly. For makers, this means significant help for their products to stay competitive in the market.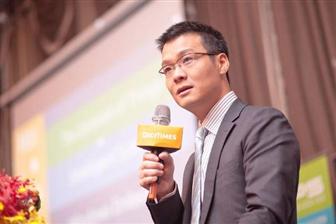 Microsoft Corporation OEM Embedded Sales Manager, Daniel Li
Photo: Digitimes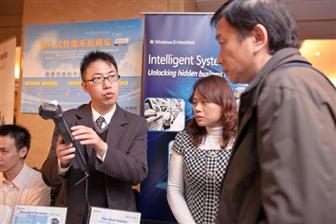 Li answers questions about Microsoft's Windows Embedded
Photo: Digitimes