MWC 2011: Acer announces new products under Iconia line
Press release, February 15; Joseph Tsai, DIGITIMES
In addition to the previously revealed Iconia Tab A500 tablet PC, Acer, at Mobile World Congress (MWC) 2011, announced several new products under its Iconia lines including tablet PCs, a dual-screen notebook and smartphones.
Acer unveiled a new tablet PC, the Iconia Tab W500, running on Windows 7 and equipped with AMD's C-50 processor and Radeon HD 6250 graphics chip for visuals and gaming.
The Iconia Tab W500 features multiple connectivity options including Wi-Fi, 3G (on selected models) or Bluetooth 3.0. In addition, the device also features dual, back and front, Acer Crystal Eye 1.3-megapixel webcams to allow consumers to engage in video chat or video calls with friends.
The Iconia Tab W500 is also equipped with a 10.1-inch multi-touch screen that is complemented by a full-size chiclet docking keyboard as well as Dolby optimized audio for both productivity and entertainment.
Acer also introduced its 7-inch Iconia Tab A100 featuring Android 3.0 and Nvidia's dual-core Tegra 2 processor.
With the Iconia Tab A100's 1024 by 600 resolution and gyrometer control, the device is suitable for entertainment functions such as watching videos, reading books or magazines and playing games.
The Iconia Tab A100 has a 5-megapixel auto-focus rear camera as well as a 2-megapixel front-facing camera for picture taking or live chat purposes. In addition, the device will also be capable of supporting wireless connections such as Wi-Fi, 3G or Bluetooth 2.1.
Acer also unveiled a new concept device, the Iconia that combines the versatility of a conventional 14-inch form factor with a unique dual-screen layout and all-point multi-touch functionality.
The Iconia is powered by Intel's Core i5 processor combining with dual 14-inch displays that support a resolution up to 1366 by 768. Protected by durable Gorilla Glass, the displays are both scratch and finger print-proof.
The device will also feature a virtual keyboard on the bottom display for output. It comes with a full-size QWERTY layout with international language support to give users the same experience of a traditional physical keyboard and features predictive text input for natural-speed typing while avoiding mistakes.
The virtual keyboard also includes a touchpad and a numeric keypad and can be easily switched to handwriting mode.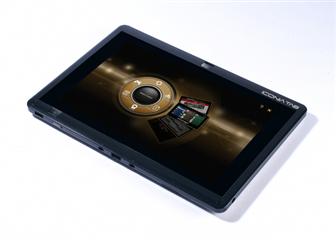 Acer Iconia Pad W500 tablet PC
Photo: Company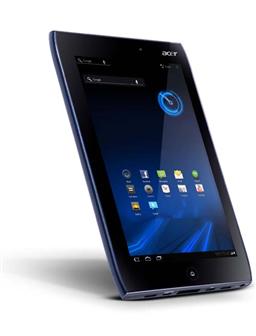 Acer Iconia Pad A100
Photo: Company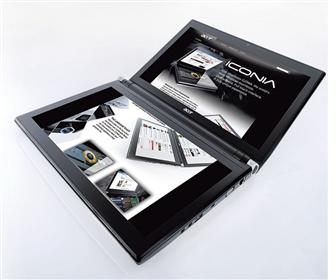 Acer Iconia dual-screen notebook
Photo: Company