Chicago--(BUSINESS WIRE)--NEC Display Solutions of America, a leading provider of commercial LCD display and projector solutions, announced today the addition of the 42-inch V421 to its value-driven V Series. Designed with corporate conference rooms, retail stores and restaurants in mind, these cost-effective LCD displays provide an assortment of features to entry-level digital signage users.
The new V421 dazzles passersby with full high-definition details using high contrast and brightness. Its full selection of inputs, from HDMI to 5 BNC, allows customers the ability to connect a variety of secondary devices to the display, as well as the opportunity to remotely monitor and control the display by utilizing its Ethernet port.
To dissipate potential damage and encourage interactivity, the V421 is protective-glass and touch-panel-ready. Its real-time scheduler enables the advanced scheduling of content and power on/off, which saves both time and energy costs. Additionally, the display offers an advanced cooling fan-based technology to eliminate the possibility of overheating and runs off a high-performance, commercial-grade panel to protect against permanent image retention.
"The value to cost ratio has an enormous significance for basic digital signage customers that want to delve deeper into the digital signage industry," said Luke Bruschuk, Product Manager for NEC Display Solutions. "With integrated video wall technologies and advanced features for frequently used environments, the V421 is a resourceful proponent of cost efficiency and reliability. The V Series enhances areas where static signage is no longer effective and change is necessary without costly implementations."
The V421 will be available for July 2010 shipment at an estimated street price of $999.00. The display ships with a 3-year parts and labor warranty, including the backlight.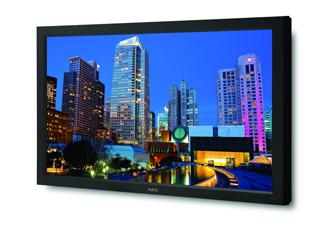 NEC 42-inch V series Full HD LCD display - V421
Photo: Company