Taiwan market: Toshiba unveils 1.8-inch 120GB and 240GB HDDs
Press release, September 12; Adam Hwang, DIGITIMES
Toshiba Digital Media Network, a subsidiary of Toshiba, on September 10 debuted two internal 1.8-inch hard disk drives, a 1-platter 120GB MKxx31GAL and 2-platter 240GB MK2431GAH, for order by vendors or channel distributors in the Taiwan market, according to Toshiba Digital Media Network Taiwan.
Both models have a rotational speed of 4,200-rpm and external dimensions of 54 (W) × 71 (D) × 8 (H)mm. The 120GB model weighs 48g and the 240GB model 58g.
The two models are intended for use in portable media devices, camcorders and ultra mobile PCs.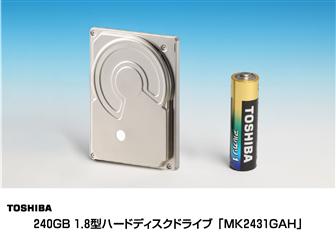 Toshiba 1.8-inch hard disk drive
Photo: Company