Asustek Computer has launched the B50A notebook for the business computing market and two notebooks, the G50V and G71V, for the gaming market.
Based on the Intel Centrino 2 platform and with Asustek's exclusive Power4 Gear eXtreme power management, the B50A offers an extended battery life exceeding five hours, according to Asustek. The B50A also features a spill-resistant keyboard and a built-in LED keyboard light that allows computing in dimmed meeting rooms, highlighted the company.
The B50A is equipped with an integrated fingerprint scanner that offers greater security by reading fingerprints from the underlying live layer of skin tissue and also features a TPM for secure login and encryption, Asustek noted.
Designed for gamers from the inside out, the G Series includes two new models, the G71 (17-inch widescreen) and G50 (15.4-inch widescreen and 15.6-inch widescreen) that feature the Nvidia GeForce 9700M GT GPU.
The G series notebooks feature double SATA hard disk drives, with the G71 offering up to one terabyte in capacity, plus CPU LevelUp technology to offer a range of performance modes to suit different scenarios, Asustek pointed out.
Asustek G50V, G71V, B50A specifications

Model

G50V

G71V

B50A

CPU

Intel Core 2 Duo T9600/T9400/P8600/P8400/P7350

Intel Quad Core QX9300

Intel Core 2 Duo Extreme X9100

Intel Core 2 Duo T9600/T9400/P8600/P8400/P7350

Intel Core 2 Duo T9400/P8600/P8400/P7350/T5850/T5750

Chipset

Mobile Intel PM45 Express chipset + ICH9M-E

Mobile Intel PM45 Express chipset + ICH9M-E

Mobile Intel GM45 Express Chipset

Memory

DDR2 800MHz SDRAM, up to 4GB

DDR2 800MHz SDRAM, up to 4GB

DDR2 800MHz, up to 4GB

VGA

Nvidia GeForce 9700M GT with 512MB GDDR3 VRAM

Nvidia GeForce 9700M GT with 512MB GDDR3 VRAM

Intel GMA X4500HD

Display

15.4-inch WXGA+/WSXGA+ Color-Shine or 15.6-inch WXGA Color-Shine

17-inch WXGA+ Color-Shine or 17-inch WUXGA, High Brightness, Color-Shine

15.4-inch WXGA/WXGA+ Color Shine, Asustek Splendid Video Intelligence Technology
Source: Company, compiled by Digitimes, August 2008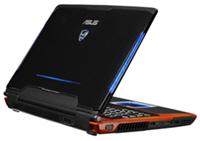 Asustek G50V notebook
Photo: Company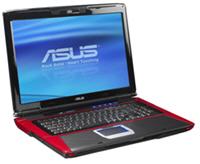 Asustek G71V notebook
Photo: Company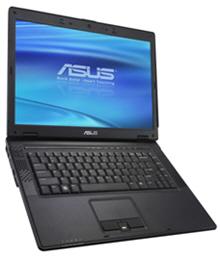 Asustek B50A notebook
Photo: Company