Micro-Star International (MSI) recently showcased a self-developed robot, the TGR-W1, at the Taipei International Robot Show. The company said it is also planning to launch an entertainment-based robot at a later time.
MSI said the basic cost of constructing the TGR-W1 starts at around NT$1 million (US$32,000) and the company is planning to start offering a customization service, meaning final pricing will depend on the size and type of individual orders. The robot was mainly designed for the service industries, to greet guests and act as a tour guide.
MSI is also planning to launch a home entertainment and security robot, the 101-C, between the end of 2008 and beginning of 2009.
The 101-C will initially be sold through IT channels and MSI is considering offering it on an ODM or white-box basis. Since the 101-C targets the consumer market, its price will be set between US$599-699.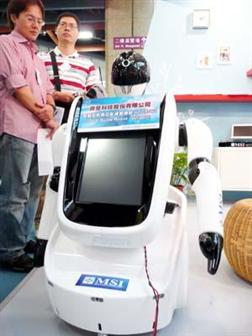 MSI's TGR-W1 robot is designed to greet guests and act as a tour guide
Photo: Ninelu Tu, Digitimes, August 2008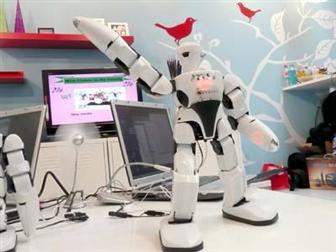 MSI's 101-C robot is designed for home entertainment and interactivity
Photo: Ninelu Tu, Digitimes, August 2008