Asustek Computer has introduced overclocked graphics cards based on Nvidia's latest GeForce GTX 280 and 260 GPUs.
The Asustek ENGTX280 TOP/HTDP/1G graphics card boosts the core, shader, and memory clock performance up from 600MHz to 670MHz, 1300MHz to 1460MHz and 1100MHz to 1215MHz, respectively. The performance boosts help raise the graphics card's 3DMark Vantage Extreme Preset score from 4877 to 5440, an improvement of 12% in speed compared to reference designed board, claimed Asustek.
The Asustek ENGTX200 series graphics cards also feature a 50% performance boost over the previous generations graphics cards, the company claimed.
Asustek: GeForce GTX 200-series graphics card specifications

Model

ENGTX280 TOP/HTDP/1G

ENGTX280/G/HTDP/1G

ENGTX280/HTDP/1G

ENGTX260/G/HTDP/896M

ENGTX260/HTDP/896M

Graphics Engine

GeForce GTX 280

GeForce GTX 280

GeForce GTX 260

GeForce GTX 260

GeForce GTX 260

Video Memory

1GB DDR3

1GB DDR3

1GB DDR3

896MB DDR3

896MB DDR3

Engine Clock

670MHz

600MHz

600MHz

576MHz

576MHz

Shader Clock

1460MHz

1300MHz

1300MHz

1242MHz

1242MHz

Memory Clock

2.43GHz (1215MHz DDR3)

2.2GHz (1100MHz DDR3)

2.2GHz (1100MHz DDR3)

1.998GHz (999MHz DDR3)

1.998GHz (999MHz DDR3)

Memory Interface

512-bit

512-bit

512-bit

448-bit

448-bit

DVI Max. Resolution

2560×1600

2560×1600

2560×1600

2560×1600

2560×1600

Bus Standard

PCI Express 2.0

PCI Express 2.0

PCI Express 2.0

PCI Express 2.0

PCI Express 2.0

DVI Output

DVI-I

DVI-I

DVI-I

DVI-I

DVI-I

HDCP compliant

Yes

Yes

Yes

Yes

Yes

D-Sub Output

Yes, via DVI to D-Sub adaptor

Yes, via DVI to D-Sub adaptor

Yes, via DVI to D-Sub adaptor

Yes, via DVI to D-Sub adaptor

Yes, via DVI to D-Sub adaptor

HDTV Output

YES, via HDTV Out cable

YES, via HDTV Out cable

YES, via HDTV Out cable

YES, via HDTV Out cable

YES, via HDTV Out cable

TV Output

YES, via HDTV Out cable

YES, via HDTV Out cable

YES, via HDTV Out cable

YES, via HDTV Out cable

YES, via HDTV Out cable

Adaptor/Cable Bundled

DVI-to-D-Sub adapter
HDTV-out cable
Power Cable

DVI-to-D-Sub adapter
HDTV-out cable
Power Cable

DVI-to-D-Sub adapter
HDTV-out cable
Power Cable

DVI-to-D-Sub adapter
HDTV-out cable
Power Cable

DVI-to-D-Sub adapter
HDTV-out cable
Power Cable

Software Bundled

ASUS Utilities & Driver

ASUS Utilities & Driver
Alone in the Dark

ASUS Utilities & Driver

ASUS Utilities & Driver
Alone in the Dark

ASUS Utilities & Driver
Source: Company, compiled by Digitimes, June 2008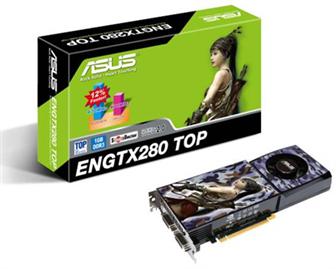 Asustek ENGTX280 TOP/HTDP/1G graphics card
Photo: Company