Asustek Computer has announced the P5E3 Premium WiFi-AP @n motherboard equipped with the latest Intel X48 chipset. The motherboard features the company's EPU technology to combine performance with energy efficiency.
Additionally, the motherboard supports DDR3 2000MHz dual-channel memory, dual PCI Express 2.0 x16 lanes, 802.11n Wi-Fi and Express Gate technology
With only a five second boot-up time, Express Gate technology offers an optional boot-up selection screen that allows consumers to instantly surf the Internet without entering Windows. This convenient application will now allow users to enjoy Skype, IM, YouTube, and webmail access quickly without the need to wait for the operating system to load.
The P5E3 Premium WiFi-AP @n, together with the Rampage Formula, form part of the company's new X48 motherboard family.
Asustek X48 motherboard family specifications

Model

P5E3 Premium/WiFi-AP @n

Rampage Formula

CPU

Intel Core 2 Extreme, Core 2 Quad and Core 2 Duo processors

Chipset

Intel X48 / ICH9R with Intel Fast Memory Access technology

Memory

DDR3 2000MHz memory

DDR3 1200MHz memory

System bus

FSB 1600 / 1333 / 1066 / 800 MHz

VGA

Three PCI Express x16 with CrossFire support

Two PCI Express x16 with CrossFire support

Storage

Six SATA 3Gb/s ports with RAID 0, 1, 5, 10 support

Two external SATA 3Gb/s port

Six SATA 3Gb/s ports with RAID 0, 1, 5, 10 support

LAN

Dual Gigabit LAN controllers

Audio

8-channel HD

Special features

Asustek EPU (energy processing unit)
Asustek Express Gate
Asustek third generation 8-phase Power Design
Asustek WiFi-AP @n

Asustek EPU (energy processing unit)
Extreme Tweaker
Voltiminder LED
SupremeFX II
Source: Company, compiled by Digitimes, January 2008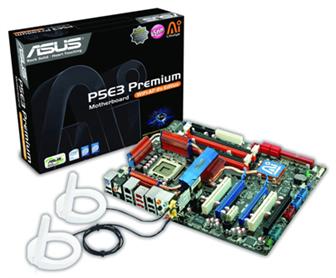 Asustek P5E3 Premium/WiFi-AP @n motherboard
Photo: Company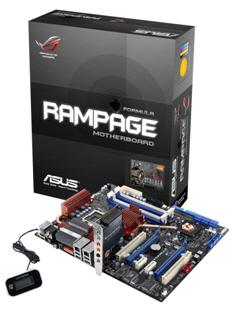 Asustek Rampage Formula motherboard
Photo: Company