Asustek Computer has introduced a pair of overclocked AMD and Nvidia graphics cards aimed a gamers who want to squeeze every last bit of performance.
The ATI Radeon 3850-based EAH3850 TOP/HTDI/512M offers core and memory clock performance boosts from the original 668MHz and 828MHz to 730MHz and 950MHz, respectively. The card also sports 0.8ns DDR3 memory modules to provide faster capabilities in memory speeds. The upgrades help the EAH3850's 3DMark06 score increase from 9883 to 11137, an improvement of 12% compared to reference design boards, according to Asustek.
The GeForce 8800GS-based EN8800GS TOP/HTDP/384M features increased core, shader, and memory clock speeds from 550MHz, 1375MHz and 800MHz originally to 600MHz, 1700MHz, and 900MHz resulting in a 3DMark06 improvement of 8% (9571 to 10399), Asustek claimed.
Both cards features the newly designed Glaciator fansink for better cooling, Asustek added.
Asustek overclocked graphics cards specifications

Model

EN8800GS TOP/HTDP/384M

EAH3850 TOP/HTDI/512M

Graphics Engine

GeForce 8800GS

Radeon HD 3850

Video Memory

384MB DDR3

512MB DDR3

Engine Clock

600MHz

730MHz

Shader Clock

1700MHz

N/A

Memory Clock

1.8 MHz (900MHz DDR3)

1.9MHz (950MHz DDR3)

Memory Interface

192-bit

256-bit

DVI Max. Resolution

2560 × 1600

2560 × 1600

Bus Standard

PCI Express 2.0

PCI Express 2.0

DVI Output

DVI-I

DVI-I

HDCP compliant

Yes

Yes
Source: Company, compiled by Digitimes, January 2008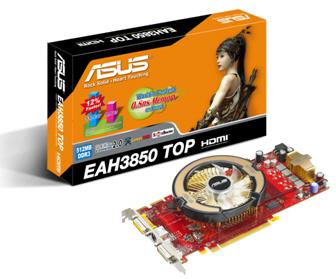 Asustek EAH3850 TOP/HTDI/512M graphics card
Photo: Company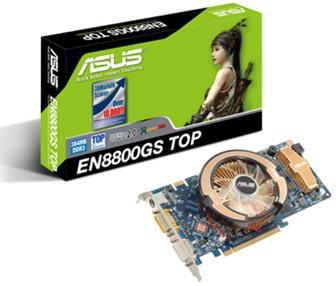 Asustek EN8800GS TOP/HTDP/384M graphics card
Photo: Company