Asustek Computer has showcased several notebooks at CES 2008, including the G70 with dual GPUs, M50 and M70 with terabyte capacity hard drives and U2E with a SSD (solid state drive), according to the company.
The gaming notebook G70 features dual Nvidia GeForce 8700M GT GPUs with 1GB dedicated memory using SLI technology, and a 17-inch diagonal widescreen display with a native resolution of 1920×1200 plus support of dual hard drives and 8GB system memory.
Multimedia notebook PCs including M50 and M70 both feature two Hitachi's 5K500 2.5-inch hard drives for a combined one terabyte capacity to provide large storage capacity for high-definition media and personal data, said the company.
The U2E notebook features a 32GB SSD which allows the notebook to be shock resistant and reliable. The notebook only has size of 11-inch and weight of 2lb and is eco-friendly thanks to its SSD and LED back-lit panel, claimed Asustek.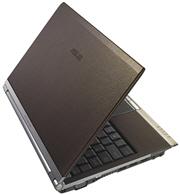 Asustek U2E notebook features a 32GB SSD
Photo: Company