Leadtek Research has announced the launch of its high-performance hybrid TV capture card with the latest PCI Express interface, the WinFast PxDTV2300 H.
The WinFast PxDTV2300 H provides high-definition DVB-T and worldwide analog TV reception, including NTSC, SECAM and PAL plus full screen stereo/SAP support. Users can pick from MPEG-4/2/1, WMV, VCD, DVD and SVCD for recording, and with the 9-in-1 A/V cable, the card can support component video input up to 480p, highlighted the company.
Leadtek also announced the launch of a new high-end graphics card, the WinFast PX8800 GTS 512MB. The PX8800 GTS 512MB offers about 45% higher 3DMark06 performance compared to the company's PX8800 GTS 320MB card, stated Leadtek.
Leadtek WinFast PX8800GTS 512MB graphics card specifications

Item

Detail

Graphics Bus

PCI Express

GPU

Nvidia GeForce 8800GTS

GPU/Memory Clock

650/1940MHz

Memory Size

512MB GDDR3

Memory Interface

256-bit

RAMDACs

400MHz

Stream Processors

128

Output

Dual Dual-Link DVI, HDTV
Source: Company, compiled by Digitimes, December 2007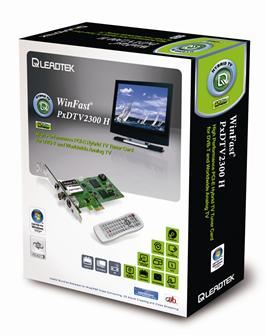 Leadtek WinFast PxDTV2300 H TV capture card
Photo: Company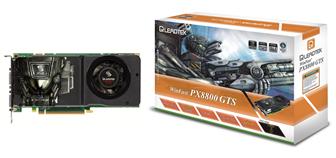 Leadtek WinFast PX8800 GTS 512MB graphics card
Photo: Company