The hype and expectations of a revamp of Apple's iconic iPod product line came to a head with the company's unveiling of a touch screen version of the ubiquitous multimedia player and a video version of the iPod nano as well as a refresh of the company's classic iPod and the announcement of the ability to wirelessly purchase music, at a press event on September 5. The company also announced that the price of its 8GB iPhone will be slashed to US$399.
Apple unveiled it's new 8mm-thin iPod touch, which features a widescreen display with a multi-touch user interface that was first introduced on Apple's iPhone. The device includes Wi-Fi wireless networking, the first on any iPod, allowing Internet surfing with the included Safari web browser and the ability to wireless watch videos on Apple's YouTube application. Users are also able to wirelessly browse, preview and buy songs and albums from Apple's iTunes Wi-Fi Music Store.
The new iPod touch is scheduled to be available later in September in 8GB and 16GB versions and will retail for US$299 and US$399, respectively.
Aside from the new iPod touch, the iPod nano got a makeover and now features a larger two-inch display with 204 pixels per inch, allowing users to play back video at a 320×240 screen resolution. Apple says its revamped iPod nano delivers up to 24 hours of audio playback or five hours of video playback on a single charge. Still sporting a click wheel, the new iPod nano does get a new software interface in the form of Cover Flow.
If listening to music and playing back videos wasn't enough to occupy your time, the new iPod nano comes pre-loaded with a number or games with additional games to be available later from Apple's iTunes Store.
The new iPod nano is encased in anodized aluminum and polished stainless steel and comes in five new colors. Available immediately worldwide, the 4GB iPod nano comes in silver for US$149 while the 8GB model is available in silver, black, blue, green and a red special edition for US$199.
In addition to the announcements of the new iPods, the old iPods did not get left out of the limelight either. Apple unveiled its "iPod classic," which features either 80GB or 160GB of storage. Apple says the 160GB model allows for 40 hours of music playback and seven hours of video playback, while the 80GB model allows up to 30 hours of music playback and five hours of video playback.
Now in its sixth generation, the new iPod classic now has an enhanced user interface featuring Cover Flow and a new thinner all-metal enclosure. The iPod classic is now available worldwide at US$249 for the 80GB model and US$349 for the 160GB model.
Besides new hardware, Apple also announced its Wi-Fi Music Store, offering music fans the ability to browse, search, preview, purchase and download songs and albums from the iTunes Music Store over a Wi-Fi network directly onto an iPod touch or iPhone.
With the iTunes Wi-Fi Music Store, people can start enjoying music they purchase immediately on an iPod touch or iPhone with no computer required. Once they connect their iPod touch or iPhone back to their PC or Mac, downloaded music will automatically synchronize back into their iTunes library, said Apple. If users have only partially downloaded a song or album onto their iPod touch or iPhone, their computer will complete the download automatically. Prices and selection on the iTunes Wi-Fi Music Store are the same as on the regular iTunes Store.
In addition, iTunes customers will now be able to create custom ringtones from select songs purchased on iTunes for US$0.99 per ringtone. Both the new iTunes Wi-Fi Music Store and custom iTunes ringtones for the iPhone will be available later this month.
If the ability to wirelessly preview and purchase songs through Wi-Fi wasn't convenient enough, Apple and Starbucks announced a partnership to make grabbing music while grabbing a cup of java, easier. Customers can now wirelessly browse, search for, preview, buy and download music from the iTunes Wi-Fi Music Store at Starbucks onto their iPod touch, iPhone or PC or Mac running iTunes while at a participating location.
Capable devices will automatically recognize the iTunes Wi-Fi Music Store using a high-speed Wi-Fi wireless network with no connection fee or hotspot login. Customers will be able to browse, search and freely preview millions of songs, including a new "Now Playing" service which displays the name of the song playing in the Starbucks store at that moment, then easily buy and download songs or albums directly to their device, according to Apple. The service will make its debut at more than 600 Starbucks company-operated locations in New York and Seattle on October 2.
Apple announced that it is on track to sell its one millionth iPhone before the end of September, and is chopping US$200 off the price of the 8GB model to US$399. Apple stated that the 4GB version of the iPhone will be discontinued but will continue to be sold until supplies run out.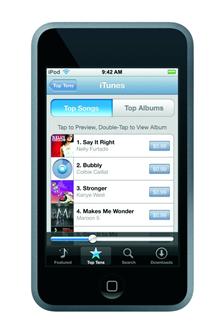 The Apple iPod touch
Photo: Company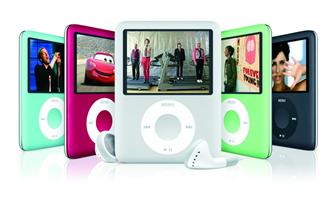 Apple's new iPod nano family
Photo: Company