Seagate unveils Cheetah NS network storage drive
Press release, June 20; Eric Mah, DIGITIMES
Seagate Technology announced its Cheetah NS hard drive, developed for mission-critical enterprise network storage applications with low power consumption requirements.
Leveraged from the same platform as the 15K-rpm Cheetah 15K.5, the Cheetah NS is a new 10K-rpm hard drive that delivers best-in-class capacity, energy savings and performance when compared to standard 3.5-inch form factor 10K-rpm enterprise drives, according to Seagate.
The Cheetah NS features up to 33% more capacity at 400GB along with a 33% reduction in power and cooling requirements, stated the company. This additional capacity and reduced cooling profile in the data center means that the Cheetah NS ultimately delivers the lowest total cost of ownership (TCO) for a wide range of mission-critical enterprise network storage applications, said Segate.
The Cheetah NS delivers higher IOPS performance when compared with standard 10K-rpm drives, according to Segate, noting that with a seek time of 3.9ms, and operating at 10K-rpm, random performance is increased by 10% while sequential performance is improved by as much as 23%. The Cheetah NS is also available in the most advanced interfaces, 3Gb/sec Serial Attached SCSI (SAS) or 4Gb/sec Fibre Channel, noted the company.
Seagate's PowerTrim technology is a set of proprietary features that together reduce the Cheetah NS drive's overall power consumption in the enterprise, said Seagate, adding that using PowerTrim technology, the Cheetah NS helps energy-constrained data centers maximize efficiency with power consumption rated as low as eight watts, resulting in a drive that delivers a best-in-class 34% reduction of power at idle as well as a 33% reduction in operating power compared to other standard 10K drives.
Designed for the demanding workloads of the enterprise, the Cheetah NS is rated with a mean time between failure (MTBF) of 1.4 million hours and is backed by Seagate's trusted five-year warranty. Seagate is now shipping the Cheetah NS to leading OEM customers. The Cheetah NS is expected to be available to the worldwide distribution channel during the third quarter of 2007.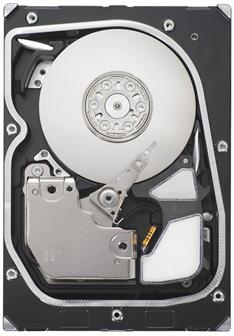 Seagate's Cheetah NS network hard drive
Photo: Company