Axion has begun shipping the AXN-9701 widescreen LCD digital photo frame to channel distributors and retailers in the US.
The new frame has a resolution of 480×234 pixels and brightness control for optimal viewing in any lighting condition. The internal memory on the AXN-9701 can store up to 15 images for viewing without a memory card, according to the company. The frame can display up to 2GB of photos from the memory card and supports flash drives with a direct USB connection.
An auto-sort feature provides an automatic thumbnail view of all the images on a memory card regardless of their location (from all folders), while a thin credit card style remote allows users to control a slide show, single image viewing and other key features from up to 25 feet away, highlighted the company.
Axion AXN-9701 digital photo frame features

Item

Description

Screen size

7-inch

Panel technology

TFT LCD

Resolution

480×234

Built-in memory

Up to 15 pictures

Memory card support

SD, CF, MMC, xD, Sony Memory Stick

Brightness

Adjustable

Music format

MP3

Others

Image auto-sort & thumbnail image generator

Price

US$89.99
Source: Company, compiled by Digitimes, June 2007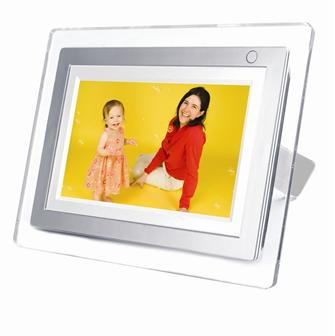 Axion AXN-9701 7-inch digital photo frame
Photo: Company