HTC announced that its recently unveiled Touch handset will make its Asian retail debut in Taiwan.
HTC has selected Chunghwa Telecom (CHT), Taiwan's largest telecommunications operator, as its exclusive partner in retailing the HTC Touch, and the device will be made available to consumers island-wide beginning in mid-June.
The new HTC-designed homescreen of the Windows Mobile 6 Professional-based Touch provides one-touch access to emails, text messages, calendar appointments, and contacts, as well as current weather conditions and forecasts for hundreds of cities around the world, according to HTC.
The HTC Touch is the first device to feature TouchFLO, a 3-D user interface that allows users to move through on-screen options by sweeping their fingers across the screen, or scrolling up and down using a fingertip, stated HTC. The interface can be spun by swiping a finger right or left across the display, providing efficient access to the features consumers use most. TouchFLO also enhances finger touch scrolling and browsing of Web pages, documents, messages and contact lists. The interface has even been programmed to intelligently distinguish between finger and stylus input and then responds accordingly, noted the company.
Specifications of the HTC Touch

Item

Details

Operating system

Windows Mobile 6 Professional with Direct Push Email and HTML email support

Display

2.8'' LCD touch screen with backlight, 240 x 320 dots resolution with 65,536 colors

Camera

2.0-megapixel CMOS color camera

Memory

1GB microSD storage card included / 64MB RAM, 128MB ROM

Wireless connectivity

GSM/GPRS/EDGE Tri-band: 900, 1800,1900, Wi-Fi: IEEE 802.11 b/g and Bluetooth 2.0

Battery life

Rechargeable Li-Ion battery with a capacity of 1100 mAh

Standby time

Up to 200 / talk time: Up to five hours

Dimensions (mm)

99.9(l)×58(w)×13.9(t)

Weight (g)

112 (with battery)

Colors

Choice of two colors at launch - black or green

Suggested price

NT$15,900 (US$481)
Source: Company, compiled by Digitimes, June 2007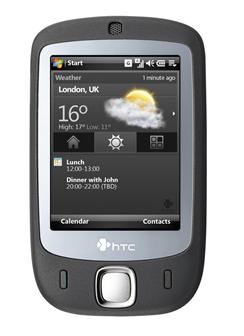 The HTC Touch handset featuring TouchFLO touchscreen interface
Photo: Company