To further boost demand, LCD monitor vendors and makers are now developing new technologies and fuctions for LCD monitor users. During Computex Taipei 2007 (June 5-9), several LCD monitors with various new features are gaining a lot of attention.
Chimei 3D gaming monitor
A 22-inch LCD monitor with 3D technology is highlighted at Chi Mei's booth this year. The new monitor, which is 2D and 3D changeable, has a resolution of 1,680×1,050, a response time of 5ms, a contrast ratio of 1,000:1 and viewing angles of 170/160 degrees. Targeting the high-end market, the product is ready to be volume producted, Chi Mei indicated. However, the company said it has not finalized the product launch date for the model.
The monitor requires a special glass for the 3D effect. With the glass, the 3D effect will not be affected by the viewing angle. As the monitor needs two LCD panels, the production costs for the monitor will remain very high, the company pointed out.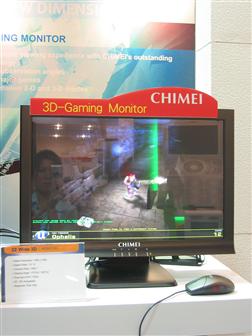 Chimei 22-inch 3D gaming LCD monitor
Photo: Emily Chuang, Digitimes
Chimei first MFM
Chi Mei is also showcasing a 22-inch MFM (multi-function monitor) during the show.
The 22-inch Chimei-branded MFM (CMV222H), slated to hit the Taiwan market later this month, offers a resolution of 1,680×1,050, a contrast ratio of 1,200:1, a response time of 5ms and viewing angles of 170/160 degrees, said Chi Mei.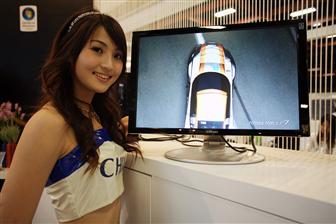 Chimei 22-inch MFM
Photo: Company
Chi Mei said it plans to launch a 26-inch widescreen LCD monitor at the end of the third quarter or the beginning of the fourth quarter. The 22-inch LCD monitor is currently the maximum size for its monitor line up.
Proview pen-touch LCD monitor
Proview is displaying two pen-touch solution monitor prototypes – one 22-inch and one 19-inch LCD touch monitor (TGP 2280W/ TGB980W). The models target specialty applications such as education, e-mail writing, handwriting and signature. Volume production of the models has not started and the product launch schedules for the two models will depend on the market demand, Proview noted.
The company is also demonstrating a 22-inch monitor that has two USB ports and one built-in card reader. The monitor can be positioned as a large-size digital photo frame, Proview said. The 22-inch (FP2226W) monitor features a resolution of 1,680x1,050, a brightness of 500 nits, a contrast ratio of 700:1 and a response time of 5ms, according to the company.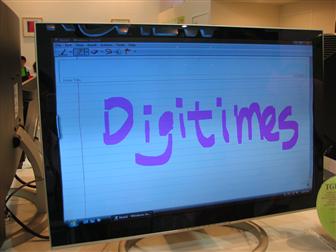 Proview 22-inch pen-touch LCD monitor
Photo: Emily Chuang, Digitimes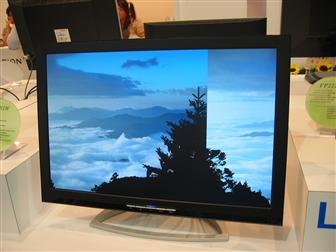 Proview 22-inch monitor with built-in USB ports and card reader
Photo: Emily Chuang, Digitimes