Motorola presented its 2007 mobile devices collection, which included the RAZR 2 series, MOTO Z8, MOTO Q 9 and ROKR Z6 handsets.
The RAZR 2 features a slimmer exterior than its RAZR predecessor, along with new features designed to facilitate communication, according to Motorola. Select models of the RAZR 2 series feature CrystalTalk technology for better call clarity, up to 2GB of on-board memory, external texting with the phone closed and full HTML Web browsing and email access. The RAZR 2 V8, V9 and V9m will offer GSM, 3G HSDPA and EVDO CDMA connectivity, respectively. The phones will be available worldwide starting in July, according to Motorola.
Motorola's Z8 is a HSDPA-enabled handset which offers an ultra-high resolution mobile screen that operates in both portrait and landscape modes and can capture and playback video at speeds of up to 30 frames-per-second. Select versions of the Z8 features ROKR-like music capabilities and up to 32GB of expandable memory. The phone allows for mobile TV access to streamed content from select content providers as well as mobile gaming with access. The Z8 will launch across Europe and Asia in June.
Motorola also introduced the Q 8 (GSM/EDGE) and Q 9 (HSDPA) to its MOTO Q series of phones. The Q 9, a global quad-band 3G QWERTY, based on the Windows Mobile 6.0 operating system, couples a new sleek form factor with a dual-processor HSDPA/UMTS engine, enabling broadband over-the-air at up to 3.6Mbps . The Q 9 will hit shelves in Italy this week, according to the company.
Motorola announced that its newest ROKR, the Z6, will roll into Europe and Asia, following the success of the touch-screen ROKR E6 in China and India. The Z6 is a slider phone with a focus on music playback functions. The Z6 has dedicated music keys and a navigation wheel for instant access to the music library and allows for the transfer of songs using a USB 2.0 connection. The Z6 supports up to 2GB of optional removable memory and supports Stereo Bluetooth wireless technology for wire-free listening on stereo Bluetooth headsets such as the recently available ROKR S9.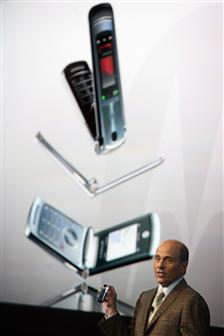 Ed Zander, Motorola's chairman and chief executive officer, introduces the RAZR 2
Photo: Company