Panasonic has introduced two new high definition (HD) video camcorders, the HDC-SD1 and HDC-DX1.
The HDC-SD1 records onto high capacity, solid-state SDHC memory cards, and according to the company, is one of the world's smallest and lightest 3CCD HD video camcorders. Because there are no moving parts in the recording section, the HDC-SD1 is also exceptionally resistant to impact, claims Panasonic.
The HDC-DX1 records directly to DVD discs, eliminating the need to rewind or fast-forward so users can play back a scene immediately after recording, according to Panasonic.
Both models use the high-resolution AVCHD format and feature the kind of 3CCD video recording system used in many professional broadcast cameras, stated Panasonic. The HDC-SD1 provides about one hour of HD recording on a 4GB SDHC memory card and the HDC-DX1 provides about 40 minutes of HD recording on a dual-layer DVD-R disc.
The two new camcorders also incorporate Panasonic's Optical Image Stabilizer (O.I.S.) that minimizes the effect of the hand shake, according to Panasonic, which noted that, because this system is optical and not digital, there is no loss of image quality.
The HDC-SD1 and HDC-DX1 feature a 5.1-channel surround sound system with five microphones. A zoom mic function links the microphone's action to the camera's action. When zooming in on a subject in the distance, for example, the microphones also zoom in and record the sounds specific to that subject.
The Leica Dicomar lens featured in the HDC-SD1 and HDC-DX1 has 13 lens elements in 10 groups, with 21 multi-coated surfaces, and uses low-dispersion optical glass to reduce chromatic aberration, according to the company.
Both high definition camcorders will be available in March, with a suggested retail price of US$1,299.95.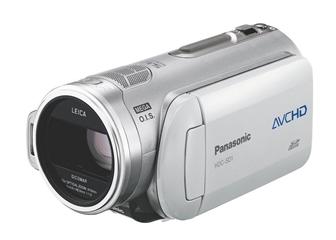 The Panasonic HDC-SD1 high definition camcorder
Photo: Company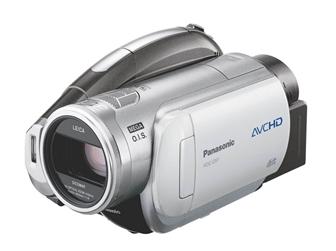 The Panasonic HDC-DX1 high definition camcorder
Photo: Company