Apple is planning to introduce 15.4-inch MacBooks in the second quarter of 2007, according to industry sources in Taiwan. The new model will fill the gap between the company's 13.3-inch MacBooks and the 15.4- and 17-inch MacBook Pros that form its current notebook line up, and is expected to boost shipments of Apple's Intel-powered MacBooks, the sources add.
MacBook shipments are expected to reach 700,000 units in the first quarter of 2007, after enjoying substantial gains in the second half of 2006, say the PC makers. However, shipment growth for the whole of 2007 is likely to be even greater than that of the first-quarter following the introduction of the 15.4-inch model in the second quarter, the sources noted.
Currently, 13.3-inch MacBooks are manufactured by Asustek Computer, while the new 15.4-inch model will be made by Quanta Computer, which also manufactures the 15.4- and 17-inch MacBook Pros for Apple. Foxconn is said to have been in the running for the lucrative 15.4-inch manufacturing contract but was eventually unsuccessful, the sources report.
Prices for the 15.4-inch MacBook models are likely to be more competitive than their 13.3-inch counterparts, due largely to the relatively lower cost of 15.4-inch LCD panels, and will therefore help push further sales of MacBooks, indicated the sources. The 13.3-inch MacBooks are currently available at US$1,099-US$1,499..
The 15.4- and 17-inch MacBook Pros are currently available at a range between US$1,999 and US$2,799, and account for a relatively lower ratio to Apple's total notebook shipments, the source indicated.
Apple's notebook shipments for 2006-1Q 2007 (in 1,000 units)

Period

Shipments

Y/Y change

1Q 06

498

8.3%

2Q 06

787

59.6%

3Q 06

962

51.5%

4Q 06

1,000

70.0%

1Q 07(f)

700

40.6%
Source: IDC Taiwan and sources at Taiwan PC makers, compiled by DigiTimes, February 2007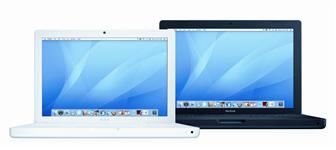 Apple 13.3-inch MacBooks are to be joined by 15.4-inch models in 2Q07 according to sources
Photo: Company