With MSI's (Micro-Star International's) announcement of its Crystal M677 notebook, the company is following a trend set by other top notebook makers that have marketed notebooks aimed at consumers willing to pay a little bit extra for something that, at least in looks, stands out from the mass-produced models seen in coffee shops and boardrooms around the world.
With Asustek's S6F Leather Collection featuring a hand-embossed leather covered shell and palm-rest, and the Lamborghini and Ferrari series from Asustek and Acer, respectively, sporting co-branding from prestigious car makers, it's not that surprising that the MSI Crystal M677 incorporates crystals (120 according to the company) in order to capture the attention of fashion-conscious buyers.
The 120 crystals are set in a ring that circles the MSI logo on the notebook's lid. The lid is painted in what MSI describes as "shiny black UV light solid paint" which protects the notebook while accentuating the crystal ring.
The Crystal M677 features an AMD Turion 64 X2 series CPU and supports up to 2GB DDR2 RAM. The 15.4-inch widescreen display is driven by an Nvidia GeForce Go 7600 graphics processor which, MSI says, is designed to support Microsoft's Windows Vista operating system.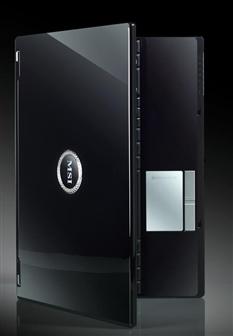 The MSI Crystal M677 incorporates 120 crystals in order to capture the attention of fashion conscious buyers
Photo: Company