The 40th anniversary of the Consumer Electronics Show (CES) 2007 at Las Vegas is being described as an evolutionary rather than revolutionary tradeshow by Best Buy. However, the digital home concept is beginning to show real traction as evidenced by the full lineup of high-definition (HD) LCDs, DVD players, ultra-mobile PCs (UMPC) and other devices. And to tie all these devices together, consumers can count on Microsoft and Apple to come up with a plan.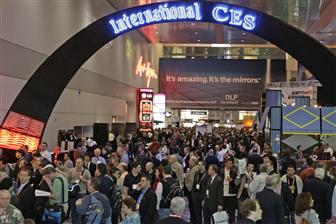 Attendees flooding the CES 2007 show hall…
Photo: CES
Give me more resolution, please…
The pursuit of higher resolutions was evident by seemingly endless number of HD LCD applications at CES. Larger sized LCD TV, of course, is drawing the spotlight but PDP (plasma display panel) and rear-projection TV (RPTV) did not retreat from the spotlight.
Sharp saw its share of "wow factor" by rolling out the world's largest size LCD TV at 108-inches (or 2,386×1,344mm). The company said the LCD TV supports a higher resolution (2.07 million pixels) but lower power consumption than the largest PDP TVs. The introduction of this large-sized LCD TV, again, seems to prove the progress Sharp is making at its eight-generation (8G) plant at Kameyama, Japan, which began operation last August.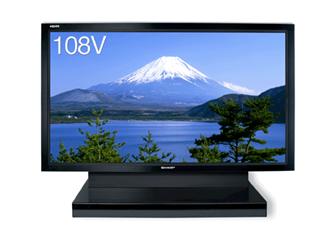 Sharp 108-inch LCD TV
Source: Company
Rival Sony, which has been tirelessly promoting its Bravia line of LCD TVs, including sponsoring the New Year's Eve fireworks display at the world's tallest building – the Taipei 101 skyscraper – is exhibiting its 70-inch full-HD LCD TV (model number: KDL-70XBR3) featuring a resolution of 1,920×1,080 and 120Hz refresh rate at its 100,000 square foot booth.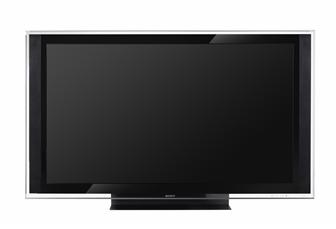 Sony 70-inch LCD TV
Source: Company
While DLP (digital light processing) RPTV continues to fight against LCD and PDP technology in the large-size TV market in terms of both resolution and cost, Texas Instruments (TI) displayed its full HD DLP chip solution. Samsung Electronics last year unveiled a 46-inch model (HLS4676S), which was only 10.6-inches deep.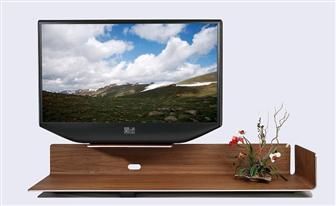 TI DLP-based RPTV with contrast ratio of 100,000:1
Source: Company
Vendors pushing PDP technology, as predicted, have shifted their focus from size to resolution, and HD, once again is the critical issue. LG Electronics (LGE) introduced a 71-inch PDP TV with a resolution of 1,920×1,080 and a contrast ratio of 2,000:1 at the show.
For those not content with current display technologies, Sony was demonstrating two slim TVs that incorporate OLED (organic light-emitting diode) technology. The 11- and 27-inch TVs are about 3mm and less- than-10mm thin, respectively, according to a company press release. The 27-inch model features a full high-definition (HD) panel while the 11-inch TV is designed with a wide-SVGA panel. Sony will soon decide on the mass production schedule for smaller-size OLED TVs.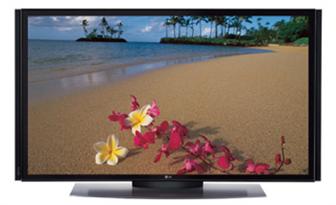 LGE 71-inch PDP TV
Source: Company

JVC 58-inch LCOS RPTV with a depth of less than 11-inches
Source: Company
Unfortunately, fans of SED TVs (a Toshiba and Canon technology) were disappointed to hear that Toshiba canceled its planned to demonstration 55-inch SED TVs
What will be "hub" of home entertainment?
If the selection of displays demonstrated that the TV will be choice for viewing digital content, the competition is just heating up for how that content will be delivered. Both Nikko Citigroup and CIBC believe that network connectivity will be a key feature in 2007. Nikko Citigroup indicated that numerous players including Matsushita Electric Industrial, Sharp, Sony, Samsung and Philips all have LCD applications that support network connections for their displays.
As would be expected, the usual suspects, including Apple (showing its products at the Macworld Conference and Expo 2007) and Microsoft made their latest plays for bringing the digital home together – Microsoft launched a home server while Apple introduced its Apple TV.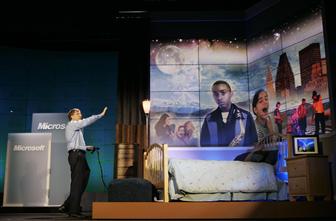 Bill Gates caught peeking into future bedrooms
Photo: Microsoft
The digital decade is coming, said Bill Gates at the keynote speech for CES, and the company's Windows Home Server will provide a connection for the multiple PCs and devices in people's homes, according to Microsoft's plans. The CES announced Windows Home Server connects PCs digital devices and printers, in order to store, protect and share multimedia content and data. Later this year, HP plans to deliver the HP MediaSmart Server, powered by Windows Home Server software.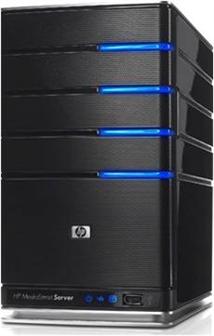 HP MediaSmart Server, powered by Microsoft's Windows Home Server.
Photo: Microsoft
MediaSmart Server is to be powered by a 1.8-GHz 64-bit Sempron processor from Advanced Micro Devices (AMD) with four hard drive bays and four USB ports for printer or external storage connections. Assuming all these bays are packed with 750GB drives, and each USB port is used to connect to similar-sized external drives, the total storage of the HP server tops out at 6 terabytes – enough to satisfy most users the time being. HP has not yet disclosed a concrete shipment schedule yet for the product.
Apple was not as ambitious as Microsoft in the aim to host all multimedia content or data for users, instead, its Apple TV focused on the delivery of content from digital devices to the TV, with the product being priced at US$299. In line with its shift in focus from the PC to other consumer electronics (CE) devices, Apple Computer changed its name to simply Apple.
Peace for now in the blue-laser standards war
While Microsoft and Apple continued trying to woo consumers to their respective platforms, détente could be found in the battle for supremacy in the next-generation DVD standards war. With the competition between Blu-ray Disc (BD) and HD DVD formats keeping consumers from migrating to next-generation devices, LG Electronics (LGE) launched a dual-format DVD player, which will support Blu-ray and HD DVD content. The product is expected to hit the North America market in the first quarter of 2007, although at a price over US$1000.
Movie content provider Time Warner also made a play for peace by announcing its Total HD disc format, which supports both next-generation formats as well. The company stated that while consumers rave about the quality of high definition when they see it, a confusing format dilemma will result in slower consumer adoption of HD technology. Warner Bros. announced that discs in Total Hi Def will be available in the second half of 2007
I'd like my digital content do go…
For those cursed souls forced to leave the comfort of their digital domiciles, mobility was also on the agenda at CES. Samsung, which already introduced its Q1 series UMPC (ultra-mobile PC) last year, advanced the gadget (Q1P-SSD) with a NAND flash memory based solid-state drive (SSD) that comes in 32GB. Weighing in at 1.7lbs and having a battery life of up to three hours, this newly introduced UMPC meets the requirements of some consumers that are pursuing convenient portable solutions.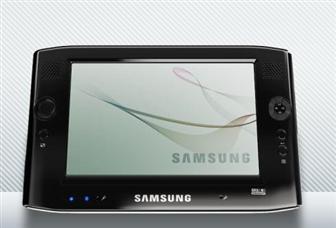 Samsung UMPC with NAND flash-based SSD
Photo: Samsung
Microsoft, of course, was not absent from this market. The Vista-based UMPC displayed by Microsoft at CES comes with a C7-M processor from Taiwan-based VIA Technologies and will be manufactured by Arima Computer, according to sources at Taiwan makers. The UMPC that Gates presented at his keynote is OQO's Model 02, which has a more compact size (5.6×3.3×1.0 inches) than Samsung's device and weighs only 1lb.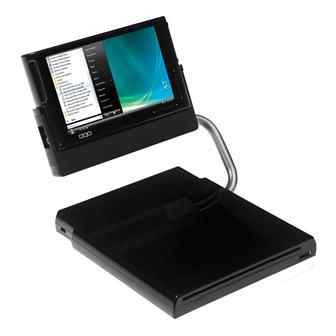 The futuristic OQO UMPC
Photo: OQO
During his keynote, Gates also demonstrated another UMPC from Medion, which is slated to be introduced in late January. The launch date will arrive at the same time as the launch of the consumer version of Vista. Medion's UMPC weighs only 720g and has a 6.5-inch wide LCD screen, compared with at 7-inch screen for Samsung and a 5-inch screen for OQO.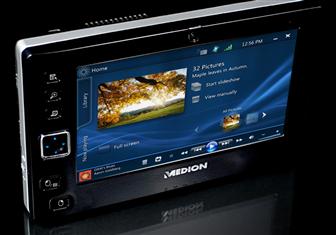 Medion UMPC: Weighing in at only 720g but with a 20GB hard drive
Photo: Microsoft
While showcasing its UMPC at the show, Seamless Internet also announced it would triple its palm-size S-Xgen UMPC shipments from 3,000 to 10,000 devices in the first quarter of 2007. Although extremely small, the device still has hard drive density of 20GB.