Accton Technology on October 4 announced the availability of its first certified Wi-Fi phone for Skype, the Accton VM1185T, to its OEM/ODM customers.
The VM1185T Wi-Fi phone for Skype has been officially certified by Skype's engineering and certification center. The Skype certification is designed to reassure users that the product will be easy to use and will work well with Skype software, according to Accton. Skype Certified hardware products undergo rigorous testing for more than a month to ensure that they meet Skype's high usability and technical quality standards.
Ken Lu, president of Accton Technology, said, "We are very pleased to announce that Accton Wi-Fi phone for Skype passed the comprehensive certification of Skype approval. This Wi-Fi Phone for Skype enables Accton to best meet the needs of wireless networks, with superior capacity and performance."
The Accton Wi-Fi Phone for Skype provides innovative technology, which requires comprehensive integration of data, voice, power management and IP networking. The Skype design validation and testing process lasted four months.
The Accton Wi-Fi phone is one of the first Wi-Fi mobile products for Skype that offers the flexibility to enjoy the benefits of Skype calling without turning on the computer. The Accton Wi-Fi phone for Skype comes with Skype included, enabling OEMs and ODMs to provide consumers with an easy connection to Skype via any personal, business or free public Wi-Fi access point that does not require browser authentication. Also, consumers can easily set up the phone with an automatic synchronization to a Skype account and Skype contacts. The device also supports common Wi-Fi encryption protocols including, WEP, WPA, and WPA2 with PSK support.
Accton's Skype-certified Wi-Fi Phone is now available for its OEM/ODM customers, according to the company.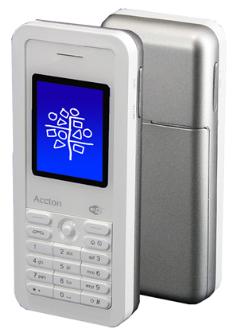 Accton's VM1185T Wi-Fi Skype phone
Photo: Company