Sony on August 22 introduced its HDR-UX1 and HDR-SR1, two AVCHD (advanced video codec high definition) Handycam series DV (digital video) camcorders, in the Taiwan market at a recommended retail price of NT$47,900 (US$1,465)and NT$49,900 (US$1,526), respectively, according to Taiwan Marketing Company under Sony Taiwan. The HDR-UX1 will be available on September 13 while the HDR-SR1 will hit shelves on October 4, noted Taiwan Marketing.
AVCHD is a new high-definition recording format for video camera recorders jointly developed by Panasonic and Sony. Based on MPEG-4 and AVC/H.264 compression technology, AVCHD can record 1080i (interlace scan) and 720p (progress scan) signals onto hard disk drives (HDDs), DVD discs as well as SD and Memory Stick cards, Sony Taiwan indicated.
There will be demand for an estimated 110,000-120,000 DV camcorders in the Taiwan market this year, and Sony expects to maintain a 60% market share in sales volume, according to Taiwan Marketing general manager Hiroyuki Oda.
Main specifications of HDR-UX1 and HDR-SR1 DV camcorders

Item

HDR-UX1

HDR-SR1

Screen

3.5-inch 211,000-pixel LCD touch panel

Image sensor

1/3-inch 2.1-megapixel CMOS

Storage media

8cm DVD discs in the formats of -R, -RW, +RW, +R DL (single-sided double-layer)

30GB HDD

Zoom

10x optical, 80x digital

Actual resolution

Still image

1.991 megapixels for 4:3 (aspect ratio), 1.493 megapixels for 16:9

Video

1.076 megapixels for 4:3, 1.434 megapixels for 16:9
Source: Sony Taiwan, compiled by DigiTimes.com, August 2006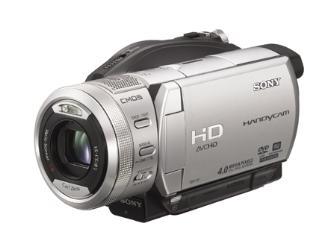 The Sony HDR-UX1 8cm-DVD camcorder
Photo: Company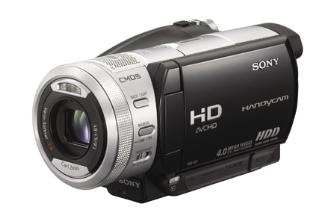 The Sony HDR-SR1 HDD camcorder
Photo: Company