Sony Taiwan late last week unveiled two new Sony HDD (hard disk drive)-based MP3 players, the NW-A1000 and NW-A3000, for launch in the Taiwan market in mid-January 2006.
A recommended retail price is not yet available.
The two models feature the Sony-developed Artist Link, a function for intelligently managing users' favorite songs by systematically sorting them in terms of style and singer and then enabling users to easily pick songs similar to the one they are listening to, according to the company, adding that the Connect Player software enables drag-and-drop transfer of music files between the player and a PC.
Basic specifications of the Sony
NW-A1000 and NW-A3000 MP3 players

Item

NW-A1000

NW-A3000

Screen

1.5-inch OLED

2.0-inch OLED

Storage capacity

6GB

20GB

Life of lithium battery

20 hours

35 hours

Dimension (W, H, D, mm)

55×88×19

65×104×21

Weight (g)

109

182
Source: Sony Taiwan, compiled by DigiTimes.com, December 2005

The Sony NW-A1000 MP3 player comes in four choice of colors.
Photo: Sony Taiwan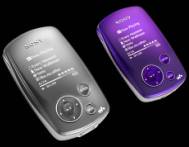 The Sony NW-A3000 comes in two choice of colors.
Photo: Sony Taiwan