Gigabyte Technology today introduced two versions of its flagship 90nm GV-RX18 series graphics card, the GV-RX18T512VB with 512MB of memory and the GV-RX18L256VB with 256MB, based on the ATI Radeon X1800 (codenamed R520) graphics processing unit (GPU).
Gigabyte's GV-RX18 line in two versions will be ready for volume shipment later this month, but a suggested retail price has not yet been set, according to the company. ATI Technologies announced the availability of its 90nm Radeon X1000 family worldwide yesterday. In addition to Gigabyte, other graphics card makers, including Asustek Computer, Micro-Star International (MSI) and Tul, have 90nm cards ready for debut.
In addition to the GV-RX18, Gigabyte will unveil the GV-RX16 and GV-RX13 series, which feature ATI's Radeon X1000 (codenamed RV515, RV530) GPUs sometime this month, said the company.
All of Gigabyte's 90nm graphics cards include an ultra-threaded 3D core architecture and full support for Microsoft Direct X 9.0 Shader Model 3.0 for better performance and graphics processing speeds, according to the company. In addition, the company said that its new series is equipped with ATI's "Avivo" video and display platform, which enables PCs to connect all kinds of digital devices including home theater systems, LCD monitors, HDTVs, projectors and notebooks.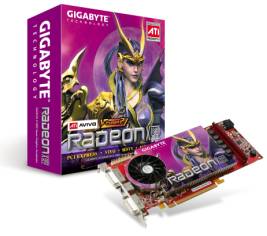 Gigabyte GV-RX18L256VB graphics card
Source: Company