Taiwan-based Shuttle Computer, a designer and manufacturer of small-form-factor (SFF) computers and accessories, announced yesterday that it will begin marketing complete systems from its XPC line of small-form-factor (SFF) computers worldwide. The company already markets complete XPC systems in the US and some European countries.
Shuttle aims to ship about 10,000 complete XPC systems a month in the fourth quarter of this year, including 5,000 units for international markets and 5,000 units for the domestic market, according to company chairman David Yu.
Yu said that Shuttle began shipping complete XPC-branded PCs in the US market in May and to Europe in September.
The company's total SFF PC shipments, including barebones units, are expected to increase 20% this year from 650,000 units in 2003. The company also plans to ship 800,000 units in 2005, Yu asserted.
Yu expects shipments of complete XPC systems to account for 15-20% of Shuttle's total shipments next year.
Yu also said that Shuttle's gross margins will improve substantially in 2005 since its complete systems will carry price tags ranging from US$700 to US$1,000, compared to an average of US$200 for its barebone SFF PCs.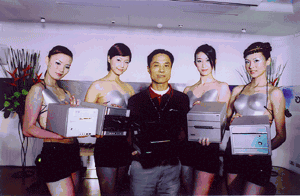 Shuttle displays its small-form-factor products
Photo: Allen Lin, DigiTimes
Shuttle: September 2004 revenues (NT$m)

Month

Sales

M/M

Y/Y

YTD

Y/Y

Sep-04

589

7.7%

0.1%

5,207

5.8%
*Figures are not consolidated
Source: TSE, compiled by Digitimes, October 2004