Taiwan market: LG launches new flagship smartphone, smartwatches
Max Wang, Taipei; Steve Shen, DIGITIMES [Friday 21 April 2017]
LG Electronics has unveiled its new flagship smartphone, the LG G6, in the Taiwan market with the availability to begin on May 1. It is priced at NT$24,900 (US$816) unlocked.
The LG G6 features a 5.7-inch QHD+FullVision display, Qualcomm Snapdragon 821 quad-core CPU, 13-megapixel dual-lens rear camera and a 5-megapixel front camera, with 4GB RAM and 64GB ROM.
LG aims to take a 5-10% share in the local smartphone market in terms of sales value in 2017, according to the company.
LG also launched two Android Wear 2.0-based smartwatches, the LG Watch Sport and LG Watch Style, for sale at NT$11,900 and NT$8,900 respectively.
LG expects sales of its wearable products in Taiwan to increase by 2- to 3-fold in 2017 compared to 4,000-5,000 units shipped locally in 2016.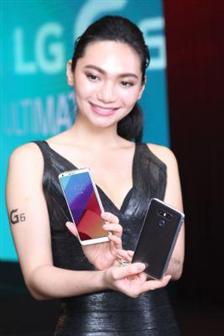 LG unveils the G6 smartphone
Photo: Shih-min Fu, Digitimes, April 2017